SFAF History in Pictures
Our history reflected through archival photos, ads and illustrations.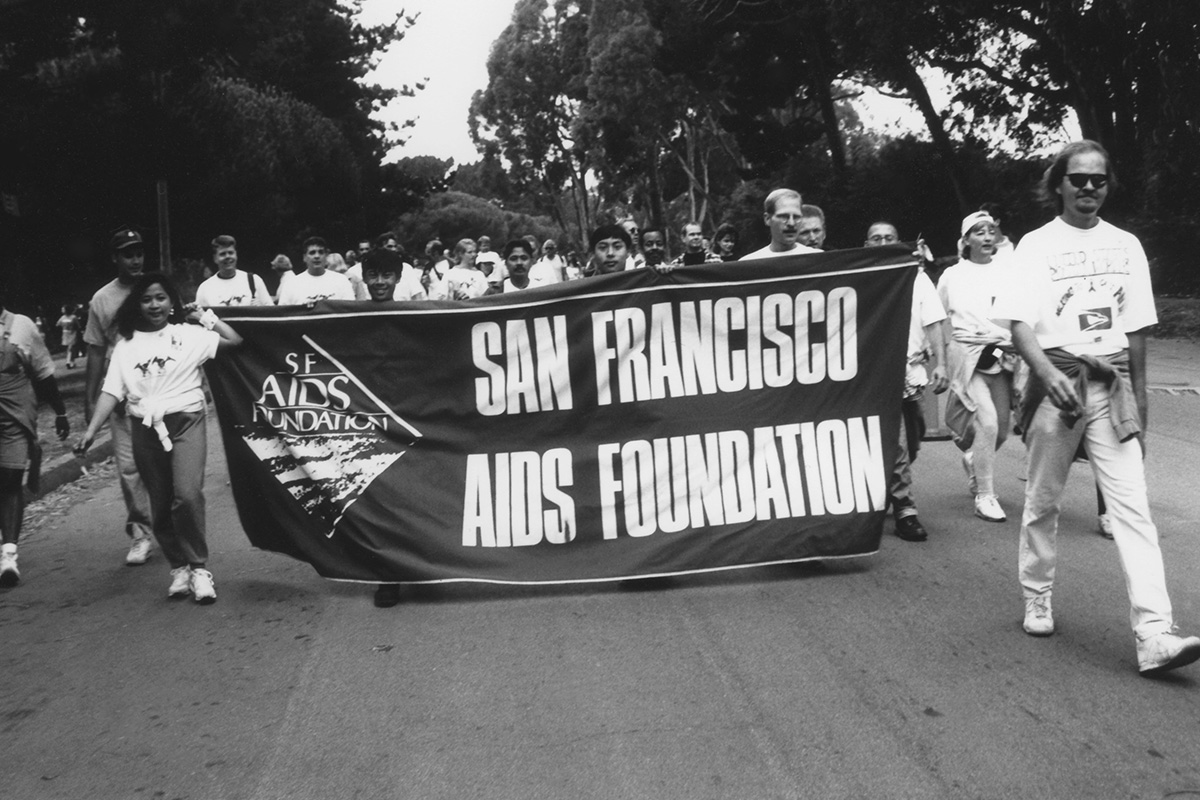 San Francisco AIDS Foundation was founded in 1982 to respond to the emerging health crisis in our city. In the early days, we were a place for people to get information and connect with others going through the same struggle. As co-founder and activist Cleve Jones says, "It was like a triage unit in a war zone."
Today we live in radically different times. But one thing remains the same: We are still serving our community and we remain as committed as ever to seeing an end to the epidemic.
We are proud of San Francisco's bold and pioneering efforts to fight the HIV epidemic. This collection of photos has been pulled from our archives to highlight our work and community involvement since we began in 1982.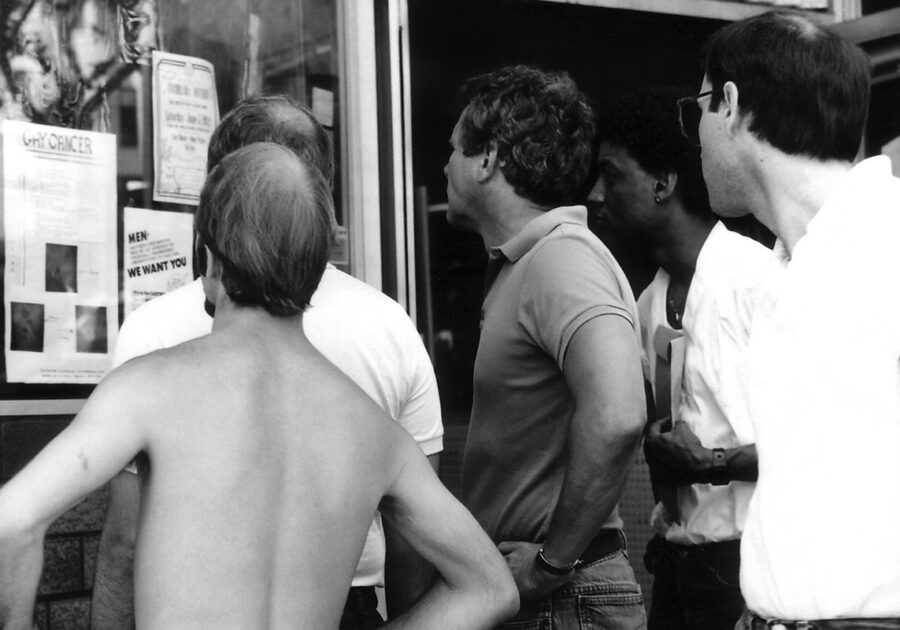 MYSTERIOUS OUTBREAK, 1982
Little was known about the mysterious disease outbreak plaguing gay men in San Francisco.
In the Castro, men gather around one of the many public fliers posted around the community raising awareness about basic AIDS medical information and referral services for those seemingly most at risk in San Francisco: gay men.
Photo by Rink Foto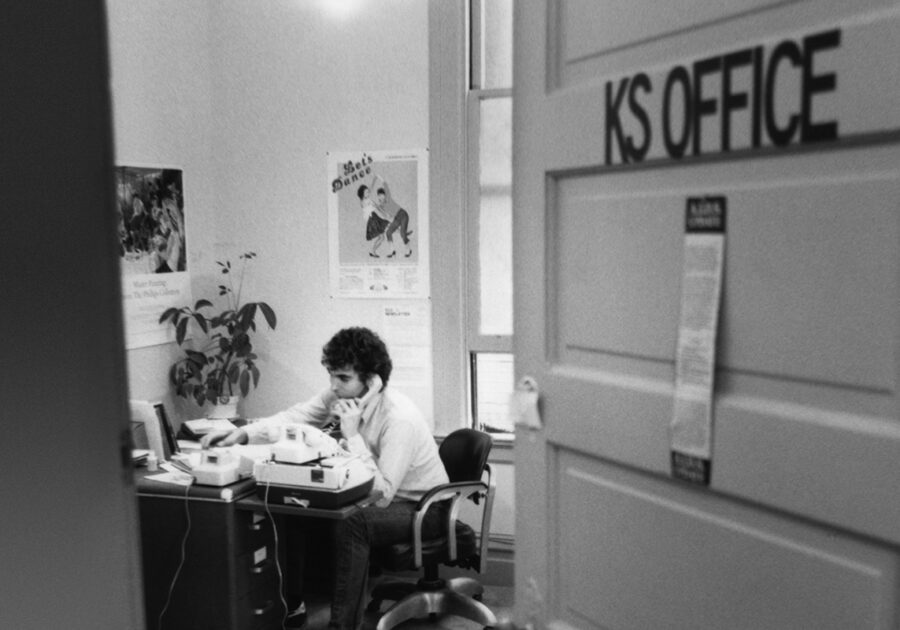 HUMBLE BEGINNINGS, 1982
A group of community leaders (Cleve Jones, Dr. Marcus Conant, Frank Jacobson, Dr. Paul Volberding, Bob Ross, and Richard Keller) form San Francisco AIDS Foundation, then called the Kaposi's Sarcoma Foundation. The organization is the second organization in the U.S. founded in response to AIDS. 
Photo by Mick Hicks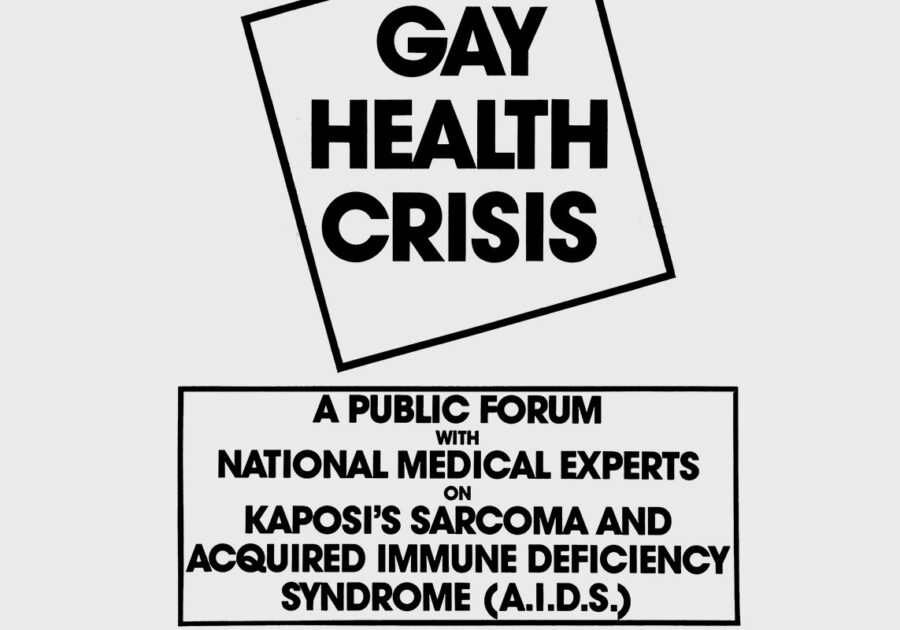 GAY HEALTH CRISIS, 1982
Educating and empowering people living with HIV and at-risk members of the community has always been essential to our mission. We've continued this work by offering community education events, as well as by publishing BETA, our blog covering the latest in treatment issues.
Flyer from San Francisco AIDS Foundation archives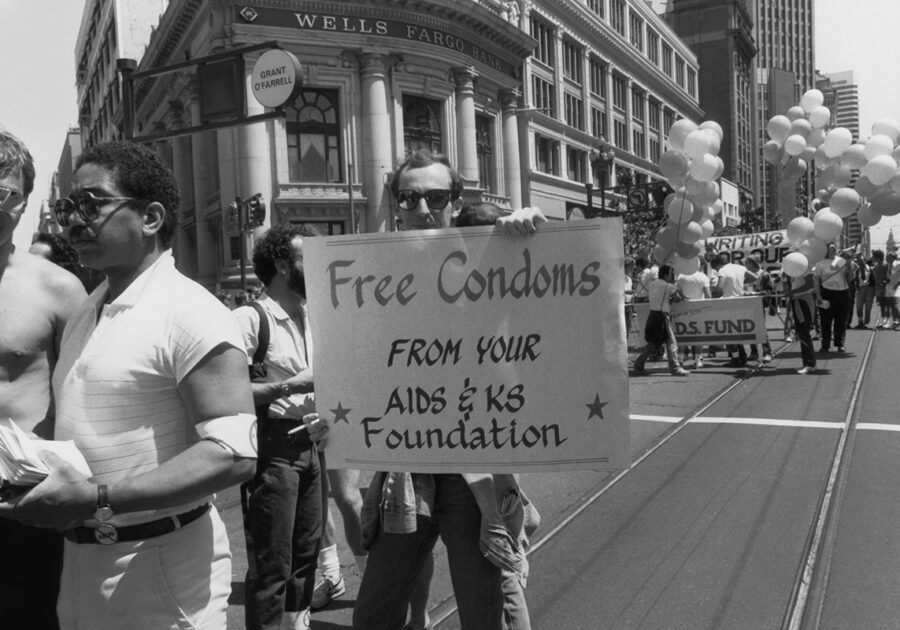 GAY PRIDE, 1983
Volunteers march and distribute education literature and condoms at the Gay & Lesbian Freedom Day Parade. Today, we continue the tradition by distributing more than 800,000 condoms and safer sex supplies annually and taking part in San Francisco Pride and other street fairs.
Photo by Mick Hicks
FIGHTING FOR OUR LIVES MARCH, 1983
San Francisco AIDS Foundation, then known as AIDS & Kaposi's Sarcoma Foundation, sponsors a vigil which starts in the Castro neighborhood – marking the first time people with AIDS have come together in a public demonstration. Today, community events such as AIDS/LifeCycle and Dining Out for Life bring together thousands of people to unite them behind a common cause: to end the HIV epidemic.
Photo by Mick Hicks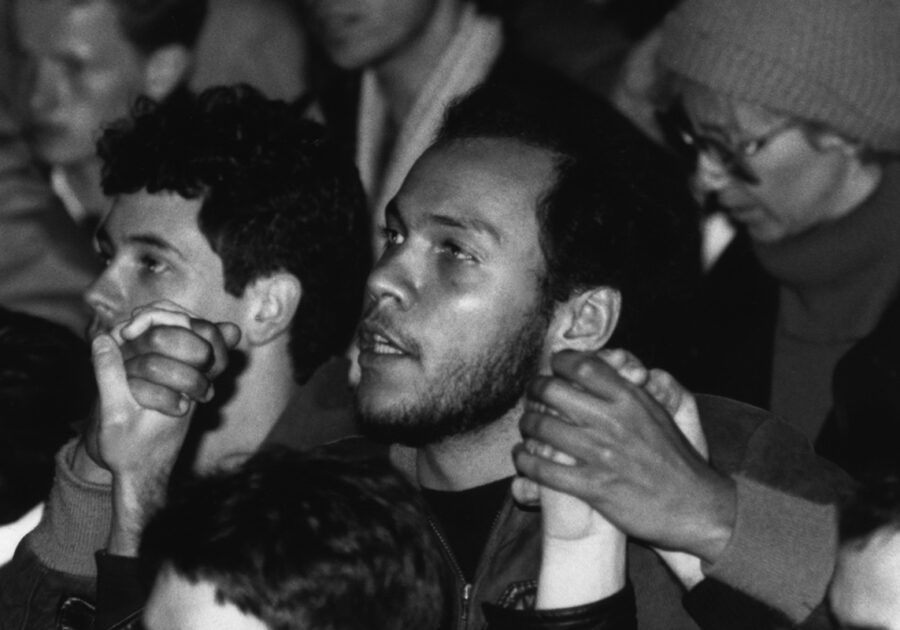 AIDS CANDLELIGHT MARCH, 1983
Thousands of people march down Market Street from the Castro carrying a banner that says "FIGHTING FOR OUR LIVES." It is one the first public demonstrations of people with AIDS and raises critical awareness about the disease in the very early days of the epidemic.
Photo by Mick Hicks
PROCLAMATION, 1983
Mayor Dianne Feinstein recognizes and commends San Francisco AIDS Foundation board members for their dedication and commitment to fighting HIV/AIDS. Today, our policy experts give a powerful voice to all people at risk for or living with HIV at every level of government.
Photo by Mick Hicks
BARTENDERS AGAINST AIDS, 1985
San Francisco AIDS Foundation enlists the help of bartenders to share safer sex information with patrons in this innovative education program which takes advantage of the social role bars play in the gay community.
Photos courtesy of UCSF Archives & Special Collections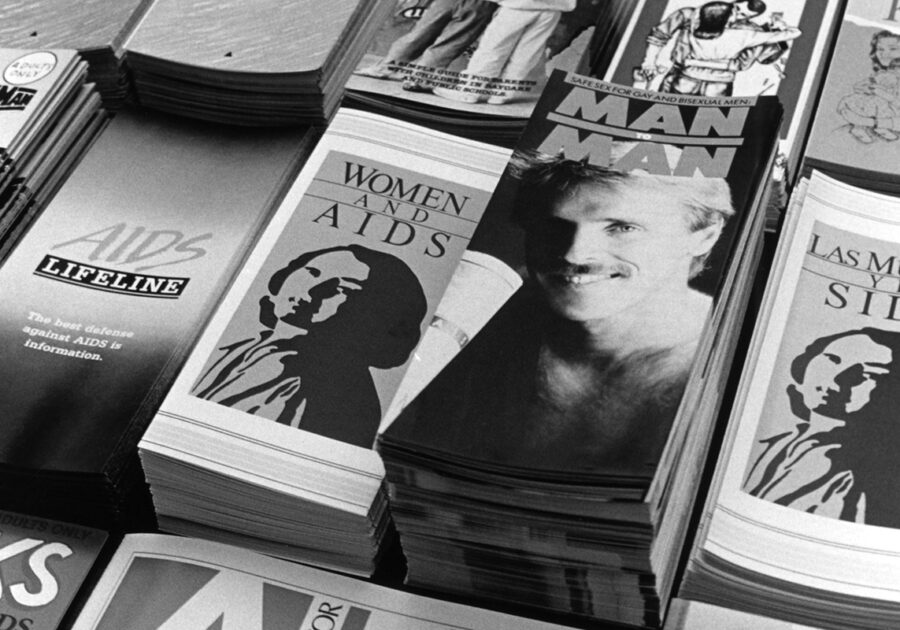 LEARN MORE 1985
San Francisco AIDS Foundation produced the first brochure in the nation about women and AIDS, which earned national recognition since it covers issues from the unique standpoint of women, and included information on transmission, risk reduction, and pregnancy. 
Photo courtesy of UCSF Archives & Special Collections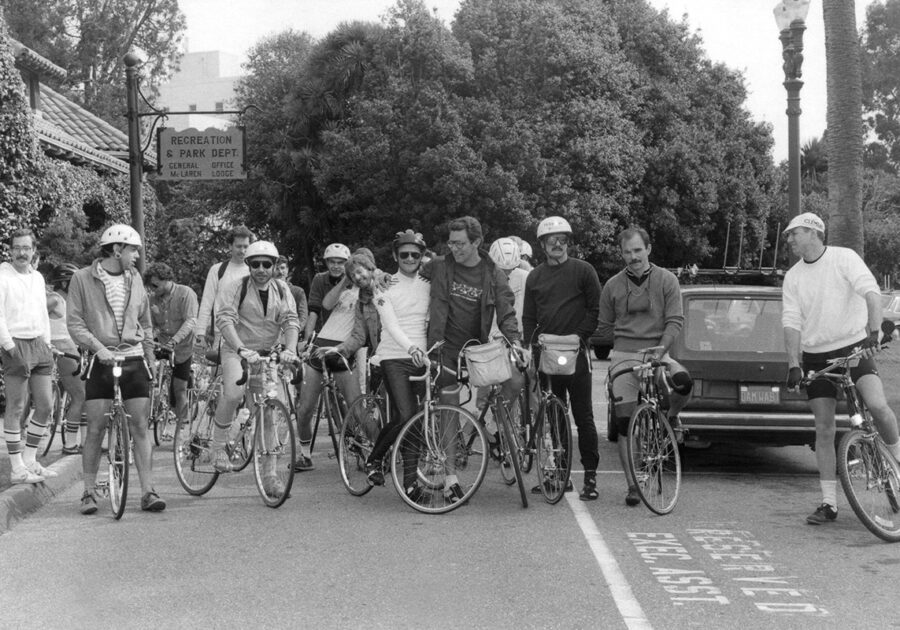 BIKE-A-THON, 1985
Before California AIDS Ride and AIDS/LifeCycle, Different Spokes hosted the first AIDS bike-a-thon. Sixty-six cyclists rode their bikes from San Francisco to Russian River, raising an unprecedented $33,000 to fight AIDS. Today AIDS/LifeCycle – the seven-day, 545-mile bike ride from San Francisco to Los Angeles – is the largest annual HIV/AIDS fundraiser in the world.
Photo courtesy of UCSF Archives & Special Collections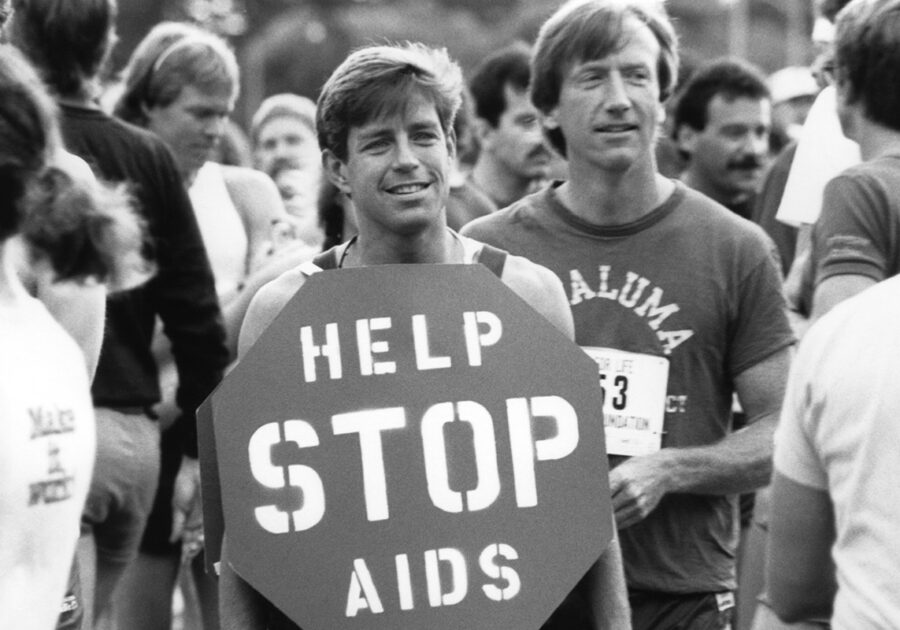 RUN FOR LIFE, 1986
Whether it's running, walking, or cycling, thousands of supporters have banded together throughout our history to raise critical funds and draw together diverse communities for a single purpose: to end the epidemic.
Photo by Mick Hicks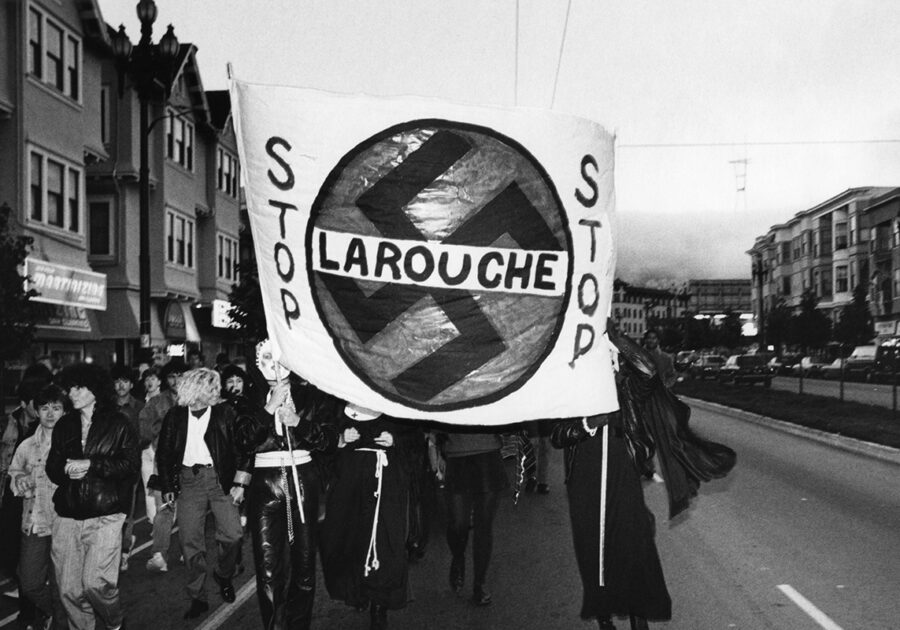 STOP LAROUCHE INITIATIVE, 1986
San Francisco AIDS Foundation along with other supporters successfully advocate against Proposition 64, also known as the LaRouche Initiative, a fear-based initiative that would have restored AIDS to the list of communicable disease and forced people living with HIV into quarantine. We will always support AIDS policy guided by science, not fear.
Photo courtesy of UCSF Archives & Special Collections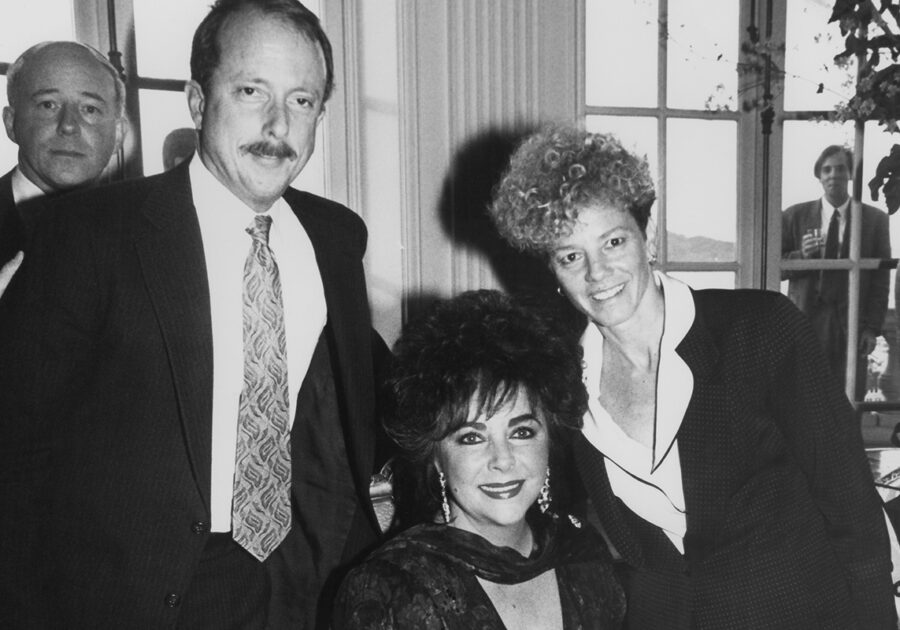 CELEBRITY CHAMPION, 1987
Executive Director Tim Wolfred (left) stands with Elizabeth Taylor (center) at a local fundraising event. Elizabeth Taylor's advocacy and fundraising efforts spanned the world and included several visits to San Francisco to headline the Macy's Passport fundraiser for HIV/AIDS.
Photo courtesy of UCSF Archives & Special Collections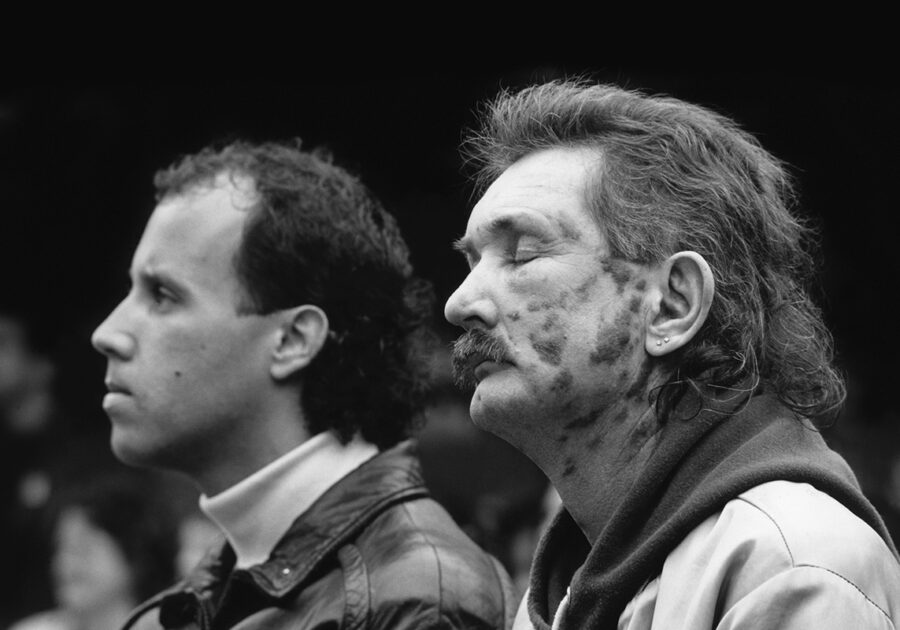 AIDS WALK SAN FRANCISCO, 1987
Kaposi's sarcoma was first discovered in a patient in San Francisco in 1980. The cancerous tumor that causes lesions would later become synonymous with AIDS. The man pictured in this photo joined the very first AIDS Walk San Francisco in Golden Gate Park in July 1987. He was among 6,000 walkers to participate in the inaugural event. The walk started a movement in community activism that lives on today.
Photographer unknown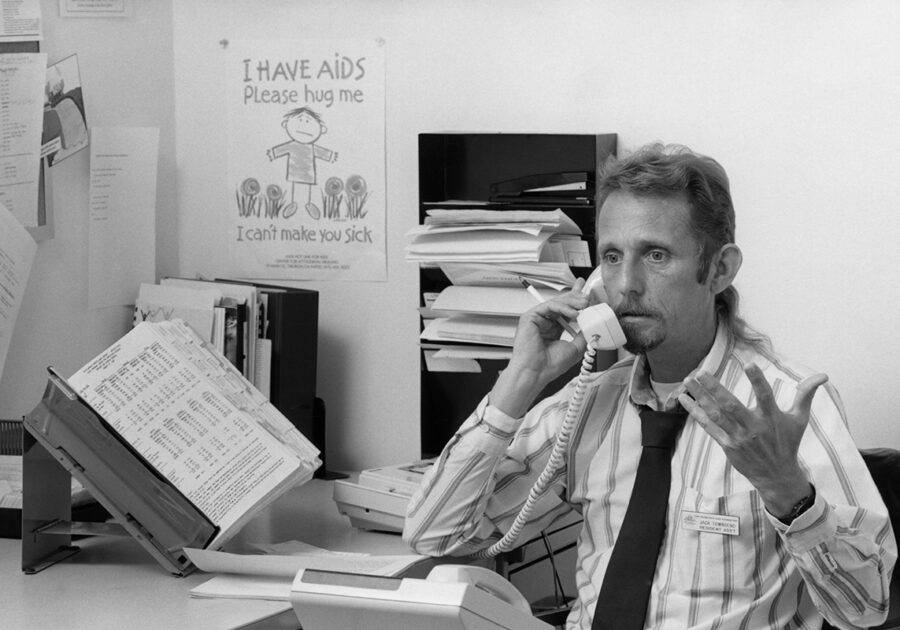 JACK TOWNSEND, 1988
Jack Townsend (pictured) is one of the honorees at San Francisco AIDS Foundation's first annual Leadership Recognition Dinner, which honors the outstanding work of members of our community to fight HIV/AIDS. He is awarded posthumously for his work with the AIDS Hotline.
Other honorees include KPIX-TV for its Lifeline series and Dr. Selma Dritz for alerting the medical community to the dangers posed by the virus.
Photo courtesy of UCSF Archives & Special Collections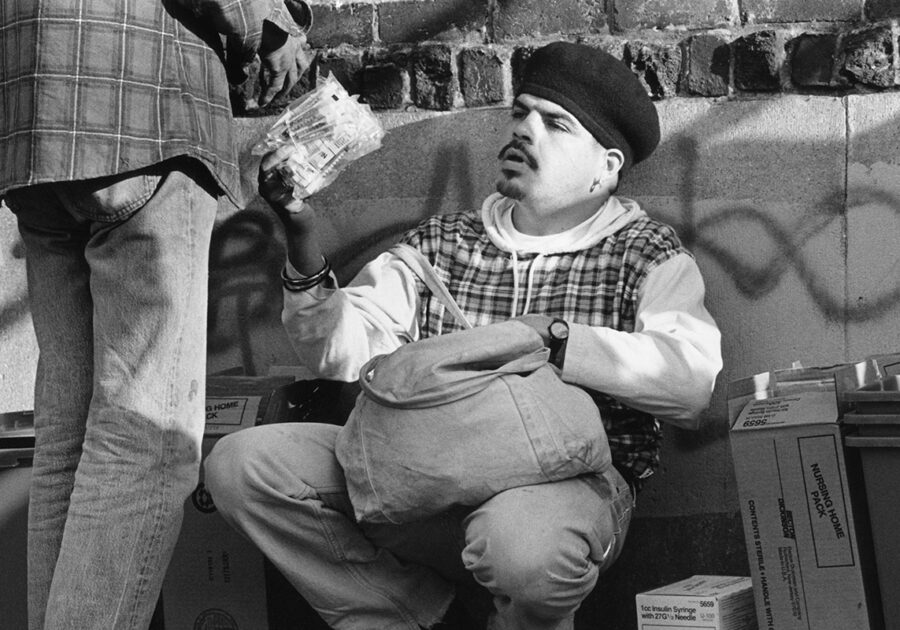 NEEDLE EXCHANGE, 1988
Volunteers provide clean syringes, as well as other safer injection supplies. The needle exchange program began in the city when a group of people recognized they needed to do something to stop the spread of HIV among injection drug users. Acting against the law, they created Prevention Point, an all-volunteer, street-based operation.
Photographer unknown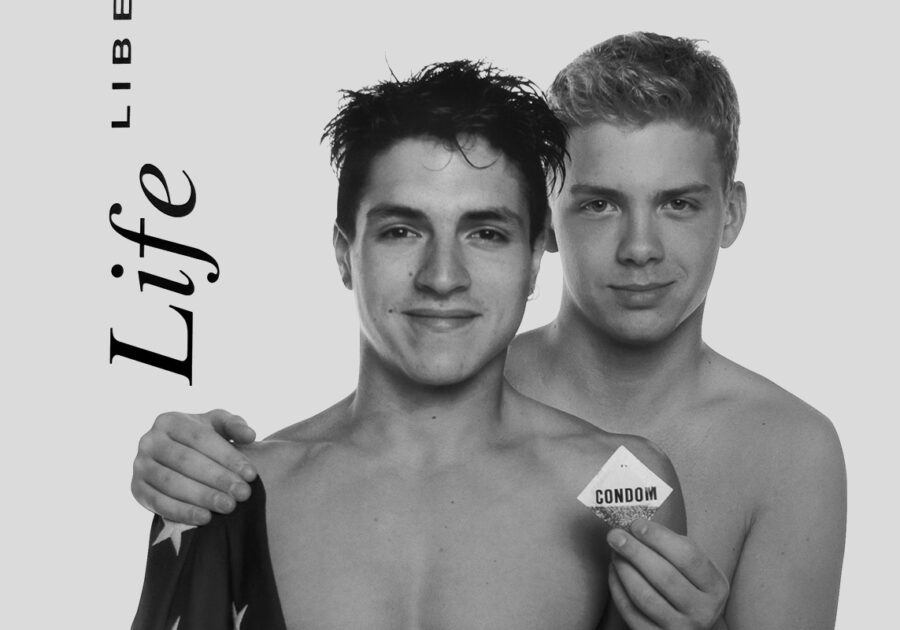 LIFE, LIBERTY AND THE PURSUIT OF HAPPINESS, 1990
Featuring two young gay men draped in an American flag, San Francisco AIDS Foundation promotes a positive, proud outlook toward sexuality and condom use.
Photo by Warwick May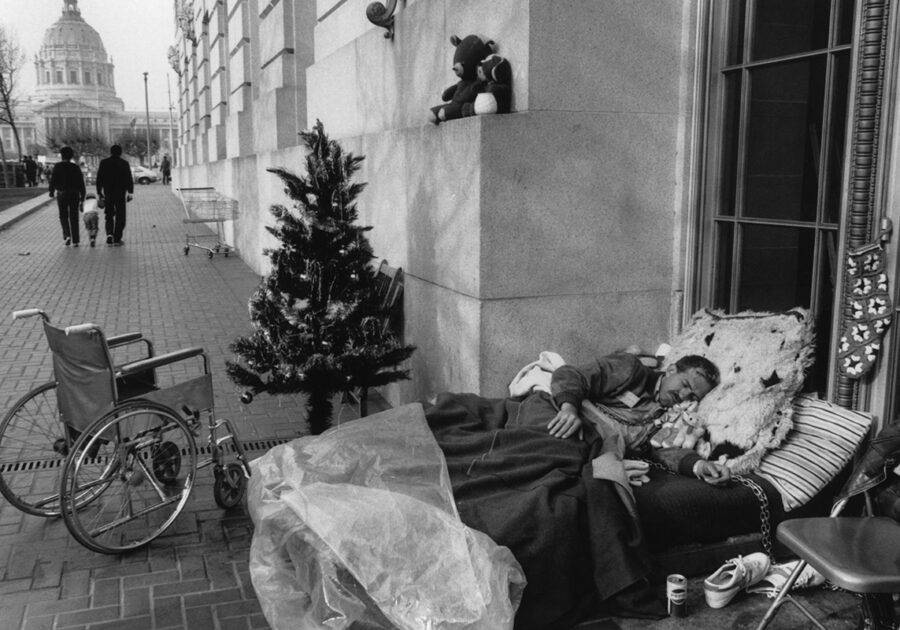 RELIEF, 1990
With programs and services overwhelmed with increasing client caseloads, San Francisco AIDS Foundation realizes that local and state resources will not address the needs of the community. As a result, the foundation plays a leading role in advocating for critical federal funds leading to the passing of landmark legislation of American Disabilities Act to include HIV and the Ryan White Comprehensive AIDS Resources Emergency Act (C.A.R.E.) which provides federal funds for community-based care and treatment services.
Photo by Mick Hicks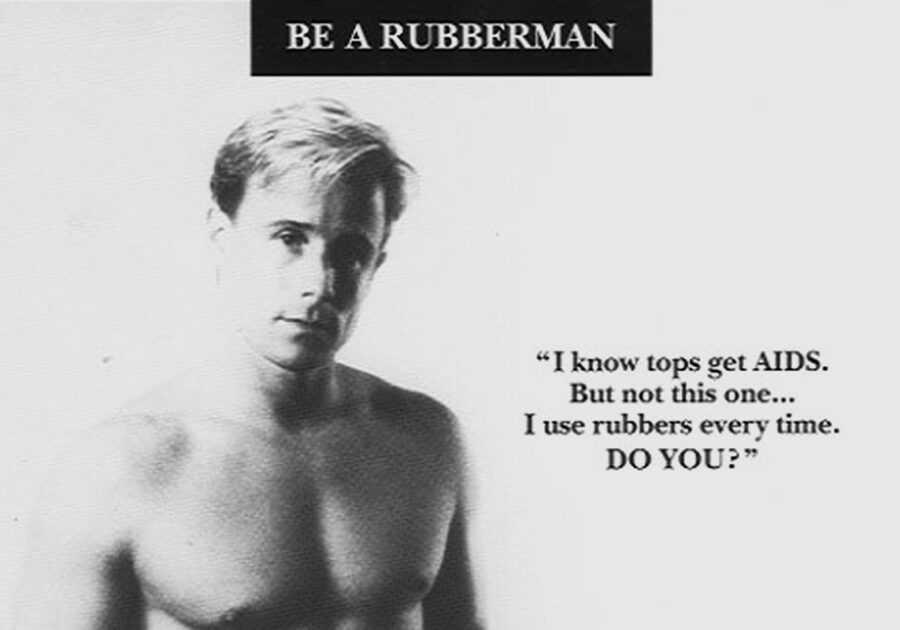 BE A RUBBERMAN, 1990
San Francisco AIDS Foundation reinforces and supports long-term safe sex behavior among gay and bisexual men by idealizing the Rubberman as the everyman role model. In real life, groups of Rubbermen dressed in masks and capes pass out condoms at bars and clubs in popular "bar zaps."
Photo from San Francisco AIDS Foundation archives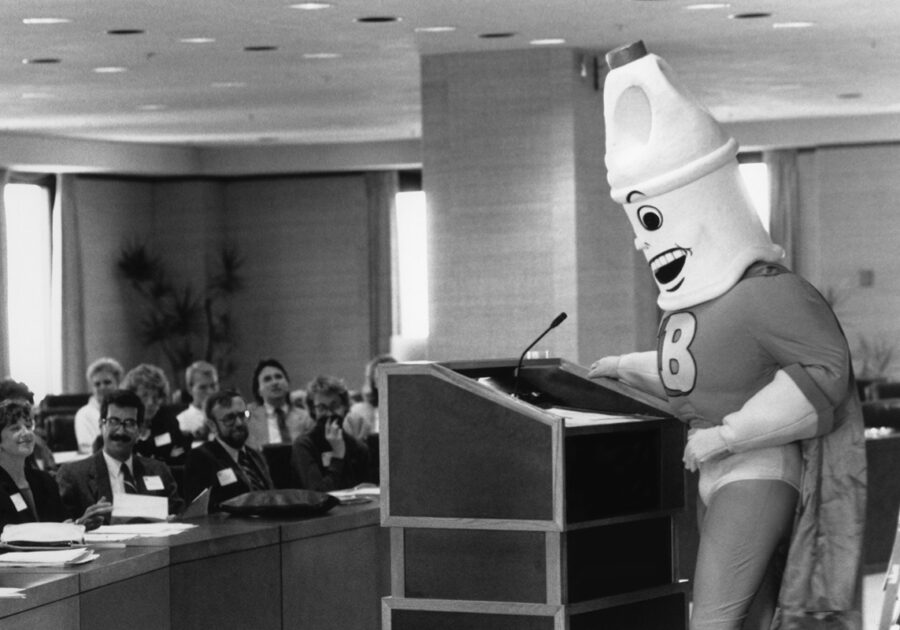 BLEACHMAN, 1990
Bleachman is not your ordinary community speaker or campaign mascot. This costumed superhero dressed as a jug of bleach speaks at a local conference about the success of this innovative HIV-prevention campaign which educates people who inject drugs about the benefits of using sterile syringes.
Photo from San Francisco AIDS Foundation archives
HOTLINE, 1991
At its peak, San Francisco AIDS Foundation's hotline is available in three languages (English, Spanish and Tagalog) and answers over 100,000 calls in a year. When Magic Johnson announces he is living with HIV and retires from basketball, Hotline calls skyrocket to 2,000 per day; for three weeks straight, the call waiting light does not go out for more than 20 seconds at a time as volunteers work to keep up with the demand for information.
Photo from San Francisco AIDS Foundation archives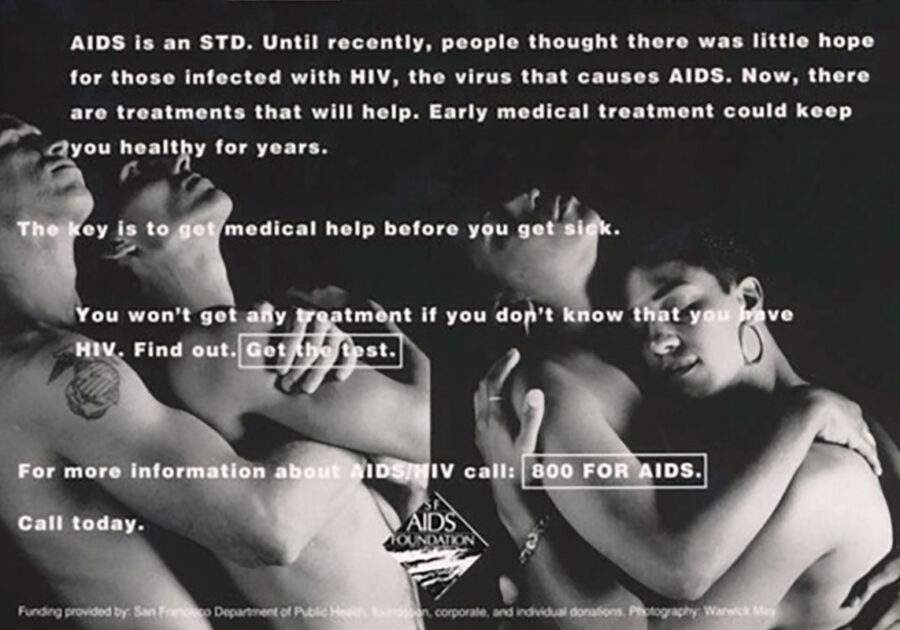 SEX IS GOOD, 1991
Not everyone is fan of this educational HIV campaign which encourages the general public to practice responsible safe sex behavior and to get tested for HIV and STIs. Shortly after this campaign's release, the Marine Corps demands San Francisco AIDS Foundation to stop running the ad because one of the featured individuals has a Marine Corps emblem tattoo; we refuse.
Photo from San Francisco AIDS Foundation archives
BE HERE FOR THE CURE, 1992
At a particularly bleak time in the epidemic, the campaign encourages people living with HIV to seek early medical treatment. Today, the foundation advocates for funding, research, and participation in early medical treatment as a proven method to improve health outcomes and reduce new HIV infections.
A collaborative effort of AIDS Project Los Angeles; Northwest AIDS Foundation, Seattle; San Francisco AIDS Foundation; and Whitman-Walker Clinic, Washington, D.C.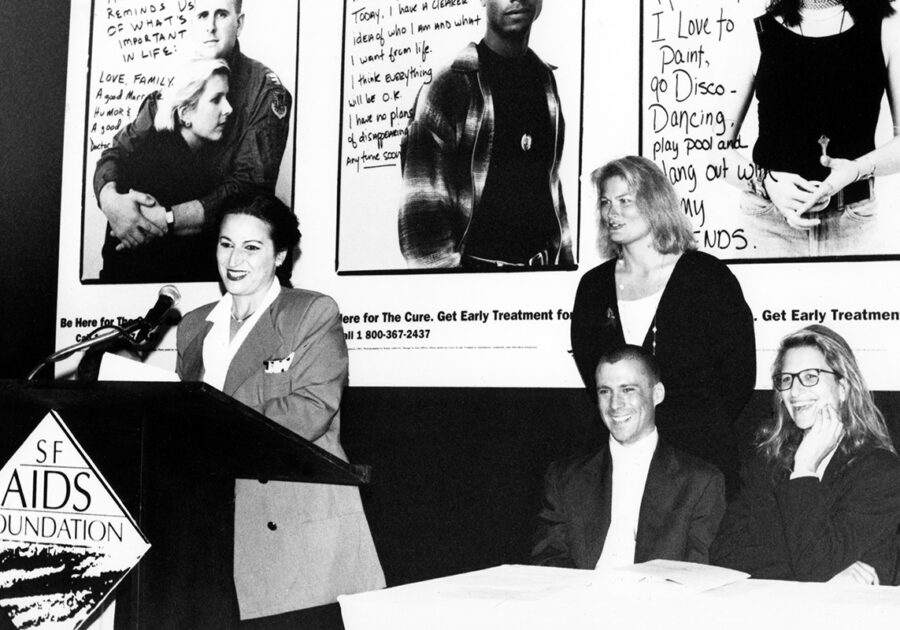 BE HERE FOR THE CURE, 1993
Shown at a press conference for the campaign's kickoff, San Francisco AIDS Foundation enlists the help of renowned photographer Annie Leibovitz (right) to take some of the first public portraits of people living with HIV.
(c) San Francisco AIDS Foundation 1993, Photo by Rink Foto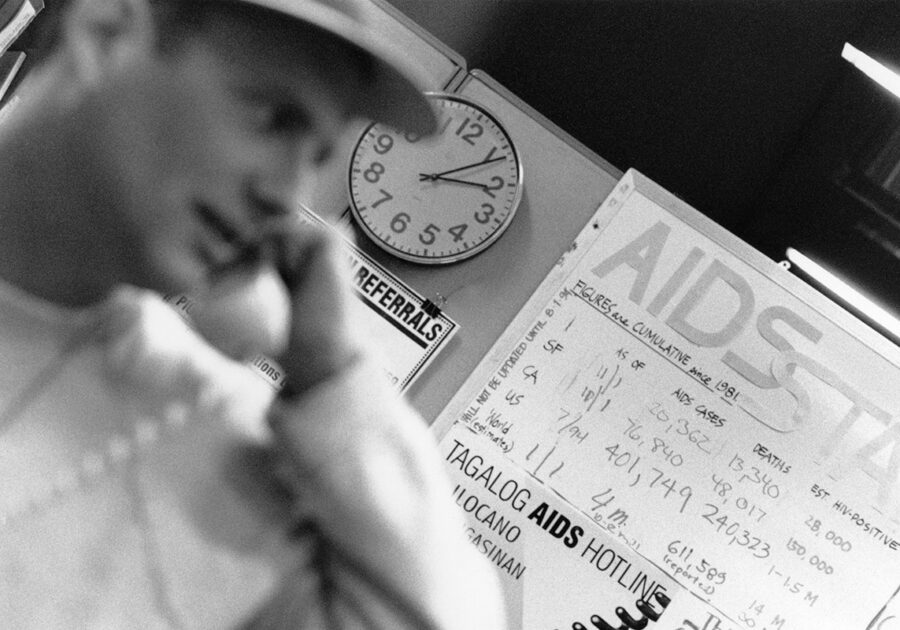 HOTLINE, 1995
What starts as a volunteer-operated, single-telephone hotline service grows into an internationally recognized resource for accurate HIV/AIDS information.
Photo by Susan Vogel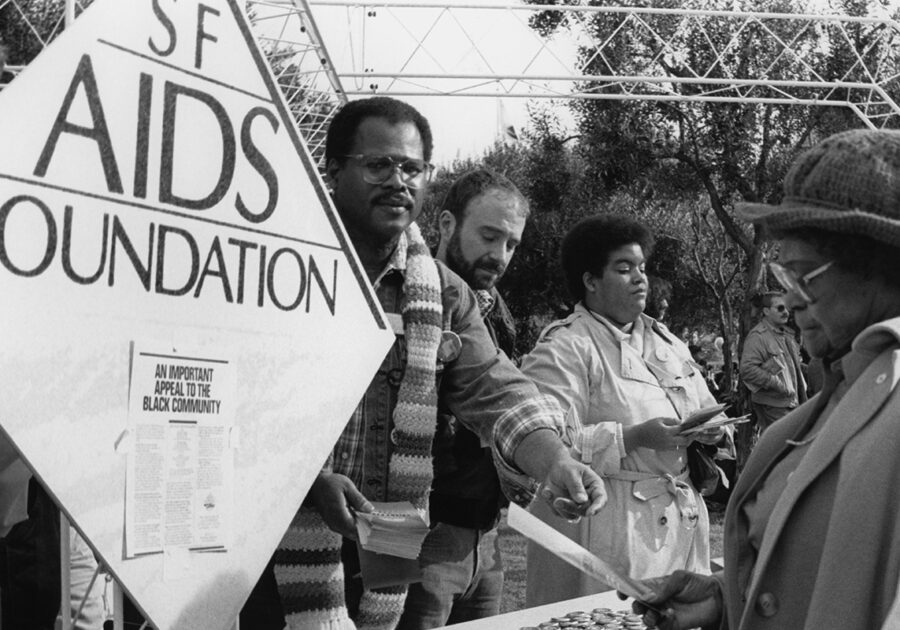 BBE, 1998
Members of the foundation's Black Brothers Esteem (BBE) program distribute information at a rally on Martin Luther King Jr. Day. African American men who are gay, bisexual, and same-gender loving are at a disproportionately higher risk for HIV infection. BBE works to change that.
Photographer unknown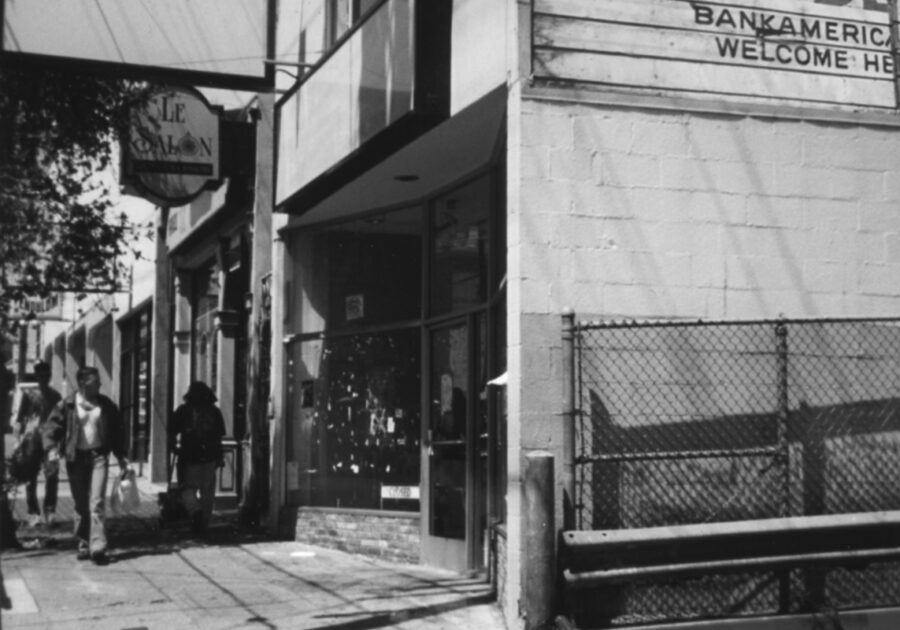 MAGNET OPENS, 2003
Located in a remodeled storefront on 18th Street, Magnet opens as a gay men's health center in the heart of the Castro. This UCSF pilot program is a combination free clinic and community center. In 2007, SFAF merges with Magnet.
Photographer unknown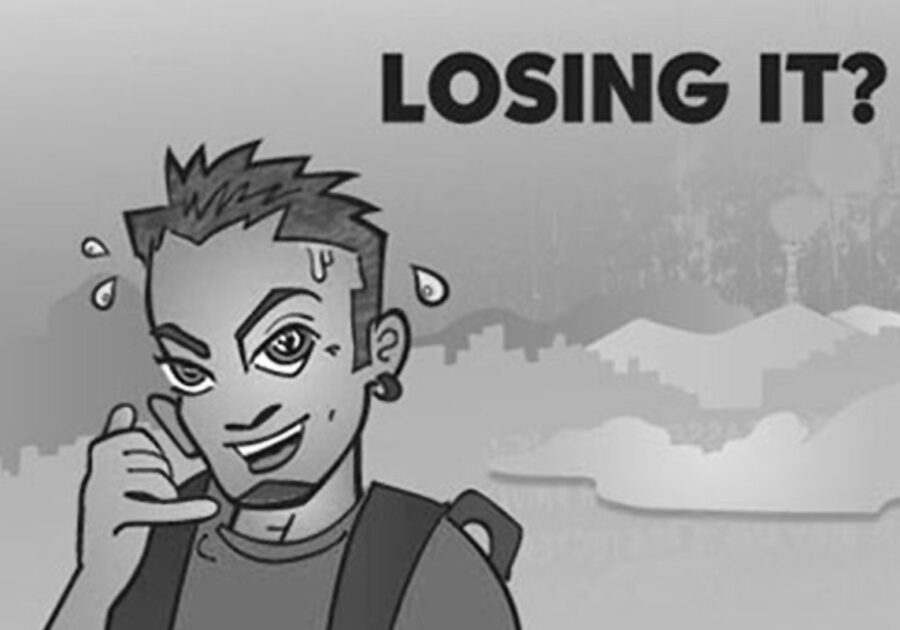 TWEAKER.ORG, 2007
When it was clear that crystal meth was a large community driver for HIV infections among gay men, tweaker.org was created as part of a social marketing campaign to help gay men understand crystal meth and how it affects their sexual risk-taking and overall health.
The website first launched in 1997 by STOP AIDS Project and then was revitalized by the Stonewall Project in 2002. Today San Francisco AIDS Foundation's Stonewall Project continues to maintain this online resource.
Illustration from San Francisco AIDS Foundation archives
HONORING RYAN WHITE, 2009
President Barack Obama signs the Ryan White HIV/AIDS Treatment Extension Act of 2009, with Ernest Hopkins, our Legislative Director of Federal Affairs, present at the bill signing. The Ryan White Program is the largest federal program specifically dedicated to providing HIV care and treatment.
San Francisco AIDS Foundation is one of the nation's leading voices on national HIV-related policy issues. In 1996, 2000, 2006, and 2009, San Francisco AIDS Foundation played a leadership role within the Communities Advocating Emergency AIDS Relief Coalition (CAEAR) to successfully reauthorize the Ryan White CARE Act for five more years.
Photographer unknown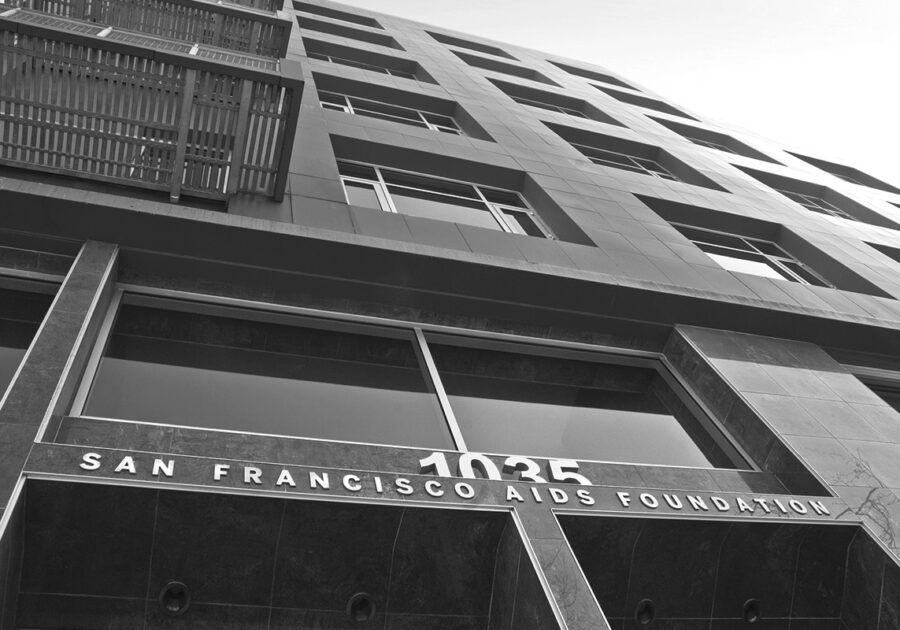 NEW OFFICES, 2011
The foundation moves to a new office building on Market Street. It is situated between the Tenderloin and South of Market neighborhoods.
Photo from San Francisco AIDS Foundation archives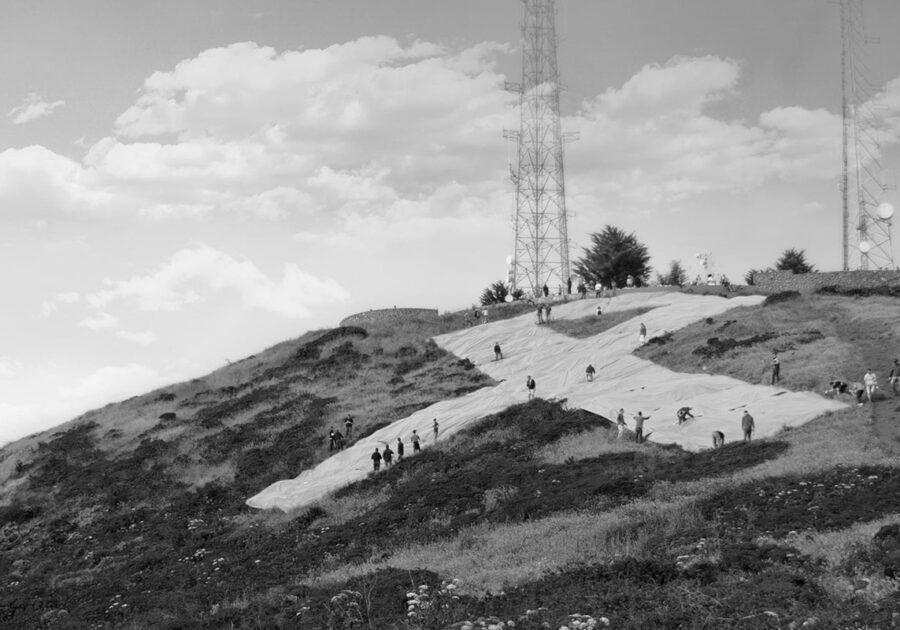 RED RIBBON ON TWIN PEAKS, 2011
On May 22, foundation staff and dozens of volunteers installed the first-ever red ribbon on Twin Peaks to commemorate the thirtieth anniversary of the first reported AIDS cases and highlight the urgent need for increased investment in HIV prevention and care.
Images of the ribbon appeared around the world.
Photo from San Francisco AIDS Foundation archives