We're working to end the HIV epidemic in the city where it began, and eventually everywhere through education, advocacy and direct services for prevention and care. Here is a snapshot of ways our work impacts our communities.
Major decline in new HIV infections in San Francisco
Our work contributes substantially to the reduction of new infections across San Francisco. As the largest community-based HIV test site, we diagnose the greatest number of new HIV cases (alongside Zuckerberg San Francisco General Hospital) and distributed the highest volume of sterile syringes. We also provide high-quality substance use services, linkage to and retention in HIV care, and social support services.
2018 EPI REPORT
Our impact and services provided annually:
Over 25,000 clients served
10,249 people received sexual health services
15% of new HIV cases in SF were identified at SFAF
3,224 individuals receiving PrEP
631 people living with HIV accessed housing subsidies or benefits
51 people cured of hepatitis C
Appreciate the empathy and treating us like people, especially in moments of stress, anxiety, and panic.
Stonewall client
Our sexual health screening has community-wide impact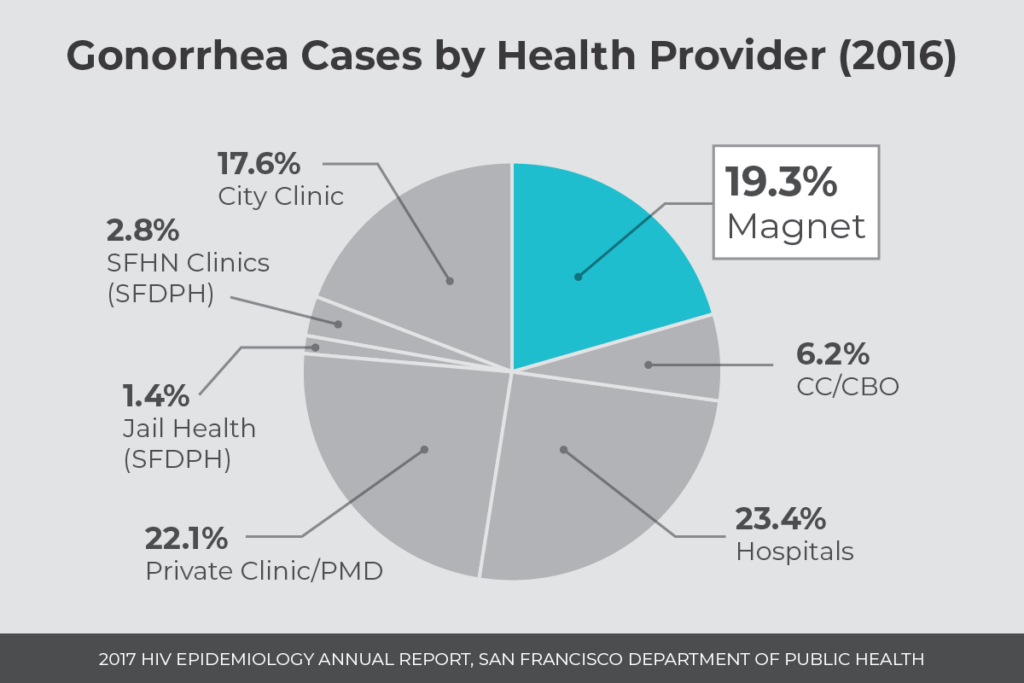 We identify more gonorrhea than any other community clinic. In 2016, we detected 19% of all identified gonorrhea cases across San Francisco. We're also able to provide treatment onsite for STIs.
Get Tested
0
Lives saved by overdose reversals last year
9000
HIV tests provided last year
0
PrEP enrollments last year
HCV treatment successes
In the last year, we piloted and implemented a new model for hepatitis C (HCV) treatment, engaging participants in our Syringe Access Services with high-level support for HCV testing, insurance and benefits navigation, weekly support groups and onsite storage lockers for medication.
PrEP enrollment among people of color
For our most recent year, more than 50% of all active PrEP clients were people of color.
Support for linkage to medical services
312 individuals received one-on-one support for connecting to medical care and other support services, whether they had a new diagnosis or had fallen out of HIV care.
Support for trans and non-binary individuals
TransLife provides support through weekly groups and other activities for more than 161 participants annually.
96% of Stonewall Project participants supported in reaching their goals
The Stonewall Project is a substance use and harm reduction program designed to support individuals to improve their health and wellbeing. Clients create goals that are specific to their lives, be it improvement in their sexual health, reduction or change in their use, or change in how their substance use impacts their lives. Last year, we helped nearly all of our clients reach their goals.
PROP successfully reduces stimulant use
Positive Reinforcement Opportunity Program (PROP) is a contingency management program that offers methamphetamine and cocaine users a chance to earn gift cards for non-reactive urine screens. A preliminary analysis shows that 63% of PROP participants had stopped their stimulant use by the end of the 12-week program.