We're creating a future where health justice is achieved for all people living with or at risk for HIV. That means ending the HIV epidemic Here is a snapshot of ways our work impacts our communities.
Major decline in new HIV infections in San Francisco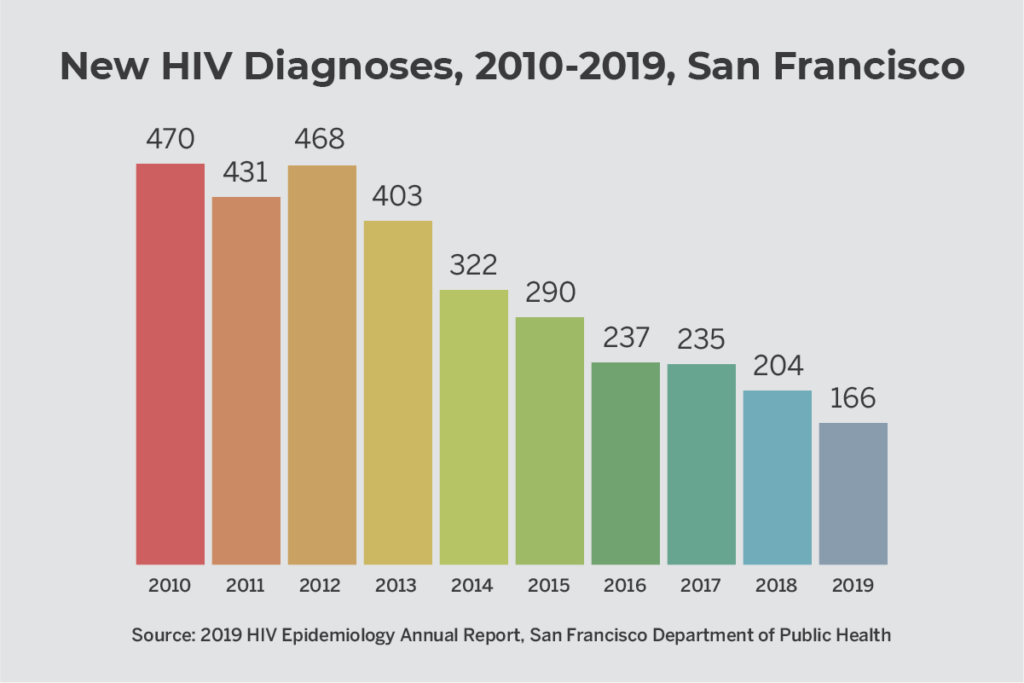 Our work contributes substantially to the reduction of new infections across San Francisco. As the largest community-based HIV test site, we diagnose the greatest number of new HIV cases (alongside Zuckerberg San Francisco General Hospital) and distributed the highest volume of sterile syringes. We also provide high-quality substance use services, linkage to and retention in HIV care, and social support services.
2019 EPI REPORT
Our impact and services provided annually:
Over 21,000 clients served
10,000 clients (estimated) provided harm reduction services
26,000 doses of Narcan distributed
More than 15,000 substance use treatment clinical visits
9,619 clients received sexual health services
3,222 hepatitis C tests provided
3,141 people receiving PrEP
More than 700 people living with HIV received housing subsidies or benefits
Appreciate the empathy and treating us like people, especially in moments of stress, anxiety, and panic.
Stonewall client
Our sexual health screening has community-wide impact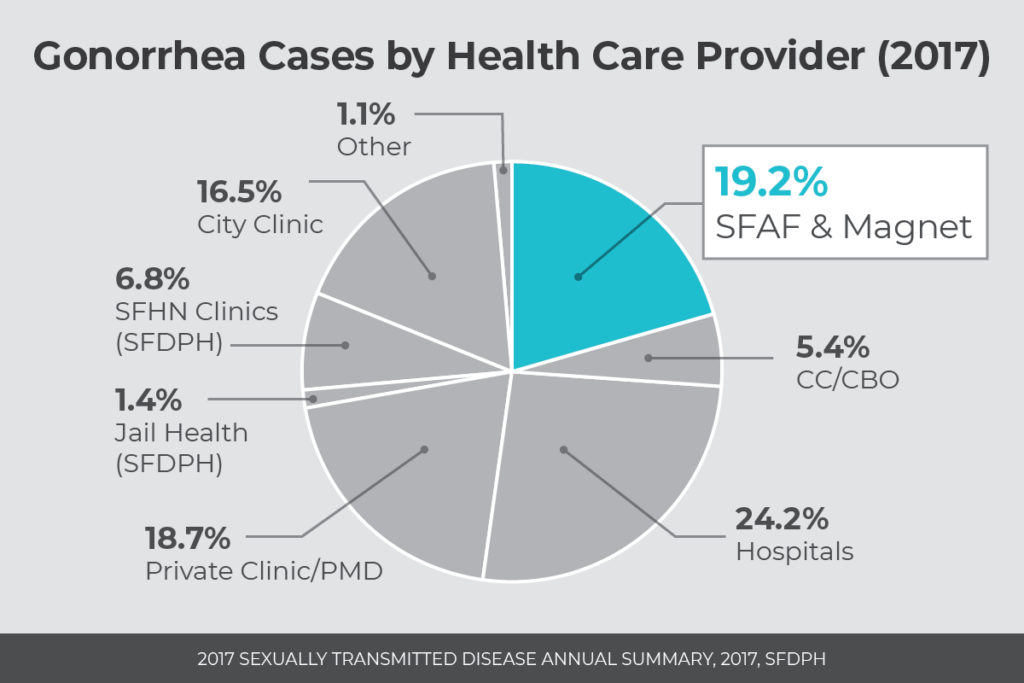 We identify more gonorrhea and chlamydia than any other community clinic in San Francisco. In 2017, we detected 19.2% of all identified gonorrhea cases, 16.3% of all syphilis cases, and 12.1% of all chlamydia cases across San Francisco. We're also able to provide treatment onsite for STIs.
Get Tested
10000
doses of Narcan distributed last year
3000
HIV tests provided last year
0
PrEP enrollments last year
PrEP enrollment among Black, Indigenous and all people of color
More than half of people accessing PrEP are Black, Indigenous, and people of color (BIPOC): 61% of new PrEP enrollments and 57% of PrEP clients overall were BIPOC.
The QTPOC at Strut program, which is currently paused due to the shelter-in-place order, has reduced PrEP enrollment times for BIPOC clients, by making same-day PrEP and clinical appointments available during events.
Rapid and interim HIV treatment among BIPOC
The percentage of BIPOC clients accessing HIV treatment has increased. 58% of individuals accessing rapid HIV treatment were Latinx, and 67% of individuals accessing rapid HIV treatment were BIPOC. Among people accessing interim HIV treatment, 37% were Latinx and 57% were BIPOC. The number of people accessing interim HIV treatment overall has increased.
Viral suppression among long-term HIV survivors
Among our clients age 50 and over, more than 90% are engaged in medical care and are virally suppressed. This exceeds city-wide targets for viral suppression.
96% of Stonewall project participants supported in reaching their goals
The Stonewall Project is a substance use and harm reduction program designed to support individuals to improve their health and well-being. Clients create goals that are specific to their lives, be it improvement in their sexual health, reduction or change in their use, or change in how their substance use impacts their lives. Last year, we helped nearly all of our clients reach their goals, during more than 15,000 clinical visits.
PROP reaches new clients to reduce meth use
Positive Reinforcement Opportunity Program (PROP) is a contingency management program that offers people who use methamphetamine and other stimulants the opportunity to earn gift cards for non-reactive urine screens in addition to harm reduction substance use support. Last year, the program expanded to serve clients at the Harm Reduction Center, our drop-in syringe access service site in the Tenderloin/SoMa neighborhood.
Overdose prevention and response
Last year, we distributed 26,000 doses of Narcan, an overdose prevention medication, to clients and community members. We trained 5,052 people on how to use Narcan and respond to overdose, and 1,355 overdoses were reversed by SFAF-trained individuals.
Syringe pick-ups across San Francisco
Our Syringe Pick Up Crew responded to reports of improperly disposed of syringes across San Francisco, picking up and disposing of 176,386 syringes last year.
HCV treatment successes
Last year, we engaged people with high-level support for HCV testing, insurance and benefits navigation, weekly support groups and onsite storage lockers for medication. We conducted a total of 3,222 HCV tests, 54 clients started HCV treatment, and 39 achieved SVR12 (a cure).