SFAF leads in new "Doxy PEP" prevention strategy
More than 600 clients have accessed a medication to prevent the acquisition of bacterial sexually transmitted infections (STIs) through SFAF's clinic.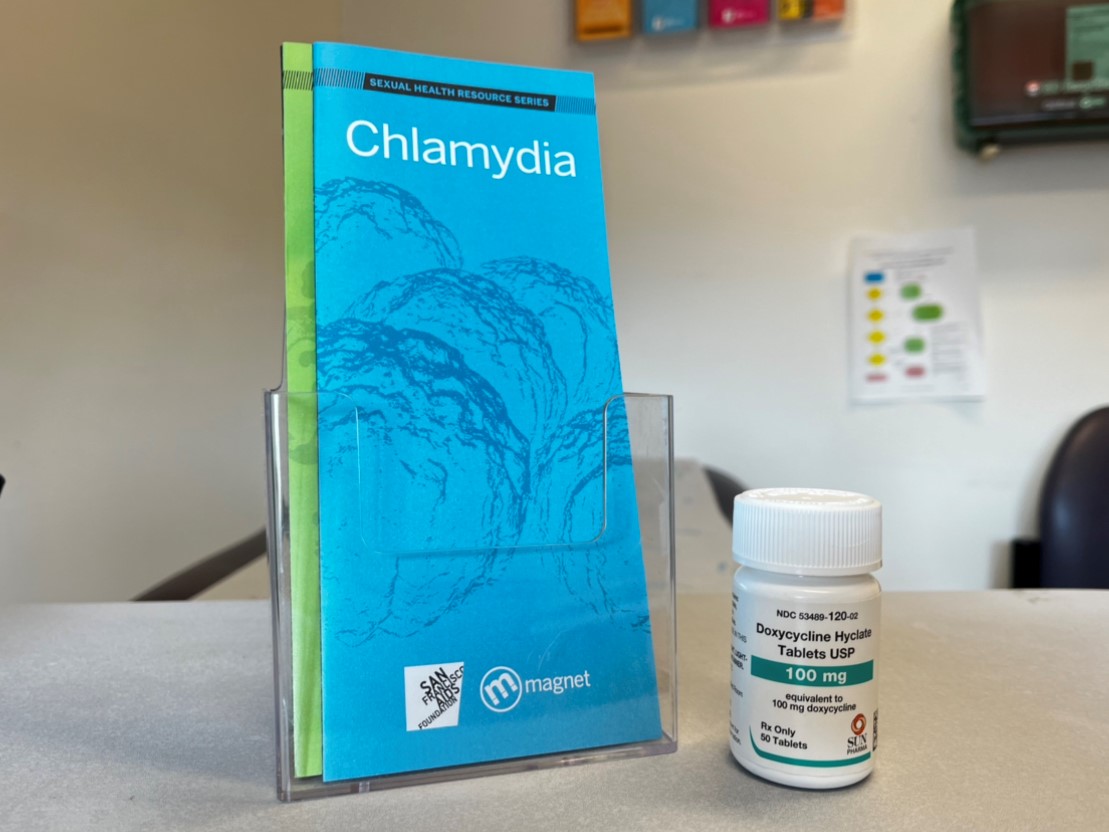 Contact: media@sfaf.org
SAN FRANCISCO, February 8, 2023–San Francisco AIDS Foundation is leading the nation in a new strategy to reduce transmission of bacterial sexually transmitted infections (STIs) including chlamydia, gonorrhea, and syphilis. Known as "Doxy PEP," the strategy involves taking the antibiotic doxycycline after sex to prevent infection. Since SFAF's clinic first began offering this new strategy in December, 2022, more than 600 clients have started Doxy PEP–making SFAF one of the leading providers of this new strategy nationwide.  
"We are proud to be a leader in San Francisco and across the nation in offering Doxy PEP to people who may be at risk for bacterial STIs including gonorrhea, chlamydia, and syphilis," said Tyler TerMeer, PhD, SFAF's CEO. "For many years, we've had to rely on condoms and testing to prevent the spread of STIs, so it's exciting to have a new prevention strategy that will likely dramatically change the landscape of sexual health in our communities." 
"Many of our clients are excited about this new prevention strategy, and they are reporting that it is an easy way to reduce risk of some common STIs," said Jorge Roman, RN, MSN, FNP-BC, AAHIVS, senior director of clinical services. "We've been able to incorporate Doxy PEP services into the flow of our clinic, and have found that the majority  of our clients have been interested in adopting this strategy once they have more information about it." 
Out of 607 Doxy PEP prescriptions provided, the vast majority (80%) have been provided to clients taking PrEP for HIV prevention. About 90% of prescriptions have been provided to people who identify as cisgender men, about 5% to genderqueer masculine-identified people, and about 3% to people who are transfemme. At this time, Doxy PEP is not recommended for cisgender women although it is currently being studied.   
SFAF recently launched a Doxy PEP media campaign to increase awareness of Doxy PEP in San Francisco. 
San Francisco Department of Health issued guidance to San Francisco healthcare providers on prescribing Doxy PEP in October, 2022, following study results with men who have sex with men and transgender women which showed that Doxy PEP effectively reduced acquisition of chlamydia, gonorrhea, and syphilis. In the study, HIV negative participants on PrEP showed a 66% reduction in STIs during the study, while people living with HIV showed a 62% reduction in STIs. 
Cases of gonorrhea, chlamydia, and syphilis have been on the rise in San Francisco for more than 10 years, and San Francisco Department of Public Health said that reducing STI rates in San Francisco is an urgent public health priority. In 2022, there were more than 5,200 cases of gonorrhea, nearly 6,500 cases of chlamydia, and more than 1,600 cases of adult syphilis. 
# # #