About Doxy PEP for prevention of STIs
Condomless sex? One dose of the antibiotic doxycycline after sex (Doxy PEP) can prevent sexually transmitted infections (STIs).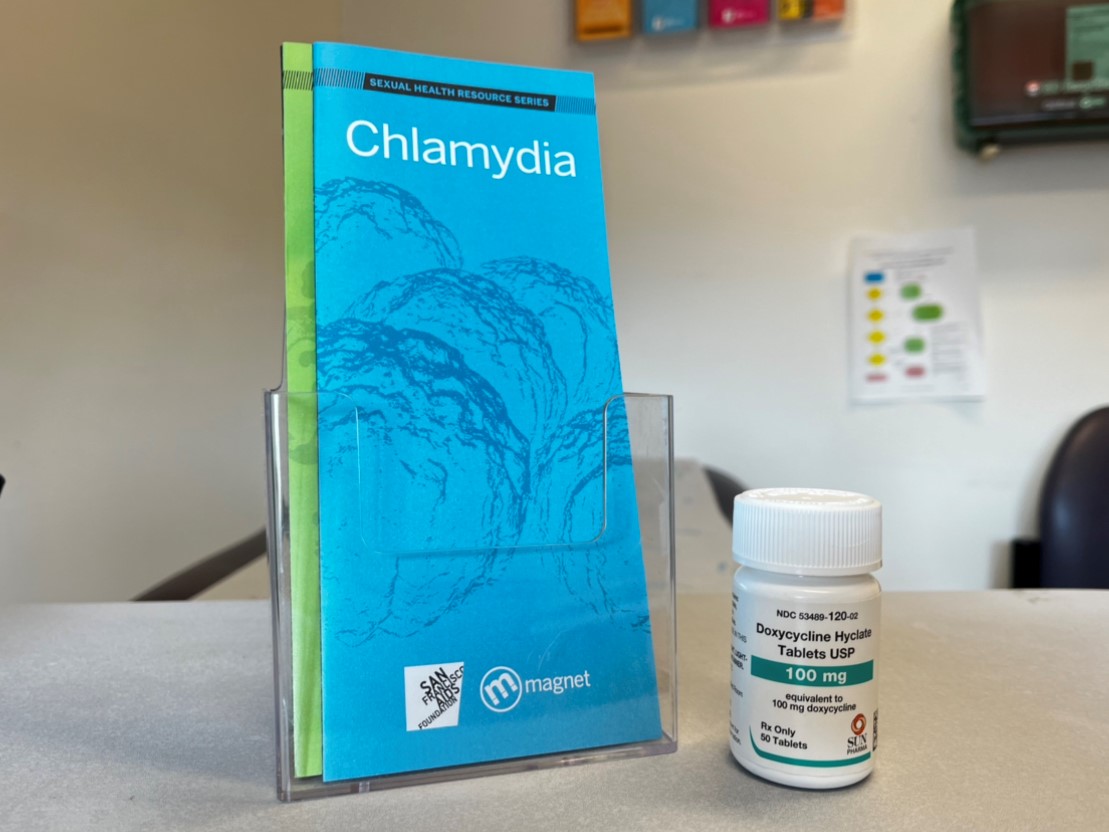 About
The San Francisco Department of Public Health is now recommending Doxy PEP for certain individuals including cisgender men and trans women with a history of bacterial STIs and condomless sex in the past year. SFAF is also providing Doxy PEP to men who have sex with men, trans women, trans men, and other TGNCI+ folks who may be at risk for chlamydia, gonorrhea, and syphilis even if they have not been diagnosed in the past year. Doxy PEP is not currently recommended for cisgender women at this time, although it is being studied and we hope to have results soon.
Effectiveness 
Recent research showed that Doxy PEP reduced bacterial STIs overall by 66% (among people on PrEP), and 62% (among people living with HIV). Doxy PEP was effective in preventing chlamydia, gonorrhea, and syphilis.   
How to use it 
200 mg of doxycycline taken within 24 hours (no later than 72 hours) after condomless oral, anal, vaginal and/or front hole sex.

If you have sex again, take another dose 24 hours after your last dose. You can take Doxy PEP as often as every day, but don't take more than 200 mg every 24 hours. 

Take doxycycline with plenty of water. If you get an upset stomach, try taking it with food. 
Reminders 
Don't share Doxy PEP with others. If your friends or partners want to use it, refer them to us or their provider.

Wear sunscreen if you're taking Doxy PEP. It can cause your skin to be more sensitive to the sun.

Avoid dairy, calcium, antacids, or multivitamins within 2 hours before or after Doxy PEP. These can reduce absorption in your stomach.
Cost 
Doxy PEP is not expensive. If you have insurance, you may have a copay when you pick the medication up from the pharmacy. If you are uninsured, and receive Doxy PEP from Magnet, we may be able to provide you with free medication.   
How to get it 
If you're a client at SFAF's Magnet clinic and have an appointment with a nurse, ask your nurse for a prescription. 
If you're a client at SFAF's Magnet clinic and don't have an appointment or don't have an appointment with a nurse (e.g., have an Express appointment), call 415-487-3131 and leave a message for a member of our nursing team. We'll call you back with more information. 
If you're not an existing client at SFAF's Magnet clinic, you have a few options. 
Ask your primary care provider or sexual health care provider about Doxy PEP and if they can provide a prescription. If they don't know about Doxy PEP, ask them to visit:

sfcityclinic.org/providers/guidelines/hiv-and-sti-prevention

for more information. 

Visit San Francisco City Clinic. Call 628-217-6600 for an appointment. Drop-in appointments are also accepted based on availability. 

Drop in to the Magnet clinic at Strut (470 Castro St.) in the morning when we open (Tuesday – Saturday, 10 am). Stopping by in the morning before we open will result in a higher likelihood of securing an appointment. Due to capacity, we are not able to guarantee appointments for all drop-in clients.  
Curious about drug resistance?
We know that drug resistance may be a concern for people to be aware of before beginning Doxy PEP. Here is information about Doxy PEP and drug resistance from SFAF's medical director, Hyman Scott, MD, MPH.