A substance use program that restores hope–one small step at a time
PROP is a harm reduction program for people interested in changing their use of stimulants like meth and cocaine.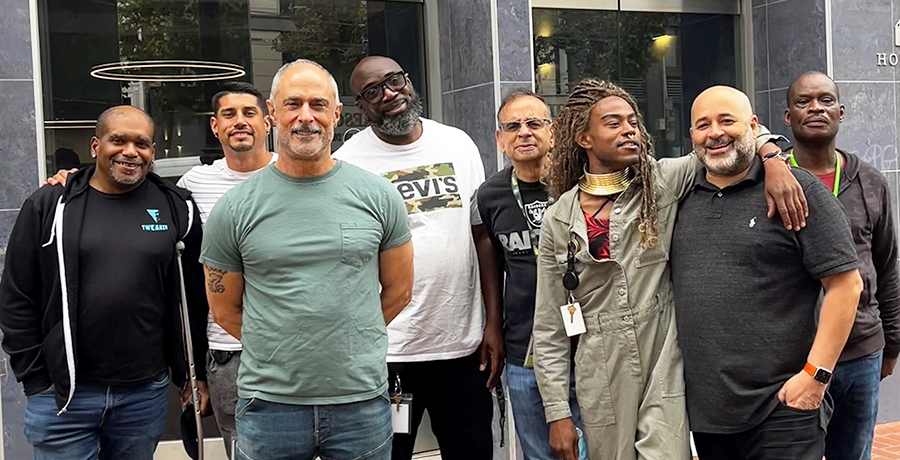 Every week, a small team of seven counselors and health educators at San Francisco AIDS Foundation inspire and support clients from all walks of life in changing their use of stimulants like meth and cocaine. The PROP program, based on the philosophy of harm reduction, accepts and includes people whether or not they aim for a goal of complete abstinence. Some complete the 12-week program having ended their relationship with stimulants, while others adopt strategies that lessen the negative impacts of drugs or make other changes in their lives. 
"A lot of the work we do is building people up," said Wayne Rafus, manager of contingency management services. "We want people to be able to take these small incremental steps to address their substance use–and that takes self-esteem. That's why we ask people questions like, 'What are you good at? What do you want to do? What kind of jobs do you hope that you can hold?'"
PROP is a contingency management program that provides small incentives (in the form of gift cards) to participants who produce non-reactive (negative) tests for stimulants when the support group meets. Although the incentives can be motivating for people who already wish to stop or reduce their use, PROP staff say the magic of the group comes in the form of regular meetings in a safe and welcoming environment, plus a special blend of harm reduction and peer support. 
"We provide a space where people can just come and be who they are," said Roy Tidwell, contingency management coordinator. "People can come in, and just get away from it all for a bit. I've literally seen people come in, sit down in a chair, set their baggage down, and just breathe a sigh of relief. And the most important part of PROP are the groups and the conversation. There's no shame around drug use–we talk about what people are using, and then we move forward. We're building relationships."
Anthony Arauza, a health educator who once participated in PROP, said PROP helped him stay grounded and stay connected to his goals. 
"It motivated me to become more conscious and aware towards my mental state, which contributes to a mass understanding of my actions and choices towards healing and acceptance of my own well-being," said Arauza. "The group made me feel so welcome. Even after graduating, I kept dropping into the program. I volunteered with the energy healing sessions, and for acupuncture nights. Part of the healing was to understand that there's nothing wrong with us. We reflect, and we treat people how everyone wants to be treated–with respect."
Tomas Llorence, a health educator, said that PROP has played an important role in the lives of many people in his social circle. "The impact on my community–even the small number of people in my orbit–has been pretty big. Everything I have heard has been positive–there has been lots of restoration of hope."
Rick Andrews, the director of contingency management, said that the recent addition of new staff has enabled the team to expand accessibility to the program to underserved communities most impacted by stimulant use and overdose. 
"Our new team members are just magical–they come to the work with passion and lived experience," said Andrews. "Some are even former PROP participants. This diversity and lived experience is critical to our ability to welcome participants who may be distrustful of outsiders because of prior experiences with systems that all too often do not reflect the communities they serve."
The work can be challenging when appropriate outside support services need to be identified, especially when participants have a long history of "provider trauma." 
"It can take years for someone to accept a referral to a counselor, mental health provider, or other service provider," said Tyrone Clifford, manager of contingency management services. "I recently had a client agree to seek out trauma therapy–it's great to see people accept support in this way." 
"We get to know participants," said Tidwell. "And over the years, you get to know the truth about who that person is. The work we do, it's not a quick fix. Participants may benefit years down the line." 
PROP operates at our main office (1035 Market Street), at the Harm Reduction Center (currently closed due to fire damage), and at a mobile site in the Bayview. More info about PROP.
---
Want to join PROP? 
Contact: