Condoms & Safer Sex Supplies
We distribute hundreds of thousands of condoms and other safer sex supplies every year. You can get them in many local bars and other businesses. Or you can stop by any of our locations to pick up all the free condoms and lube you need.
We have external and internal condoms, as well as lube.
If you would like information about joining our condom distribution program, email us at info@sfaf.org.
Condom Fit
Wearing a condom that fits correctly enhances pleasure and reduces the chance of a tear. Condom dimensions, shape and the lube you use change your experience.
Straight fit condoms are straight through the shaft.
Examples are Crown, Lifestyles Ultra Sensitive, Lifestyles Latex Free, Kimono Microthin, Trustex XL, Beyond Seven
Flared condoms are roomier at the top.
Examples are Lifestyles King XL, Lifestyles Ultra Thin
Form fitted condoms have a snugger fit.
Examples are Lifestyles Snugger Fit, Iron Grip
Lube
Water-based lube washes away with water. It tends to dry out faster during sex, but you can always use more or use spit or water to rehydrate. Water-based lube is OK to use with sex toys.
Silicone-based lube lasts longer during sex, and does not wash away easily with water so clean up can be more difficult. Silicone lube can stain sheets and damage silicone-based toys.
WHAT IS A CONDOM?
A condom is a thin piece of material worn on a penis during sex that blocks HIV and many sexually-transmitted infections. Condoms made of latex rubber are the most common, but if you have a latex allergy, condoms made out of a thin plastic (polyurethane or polyisoprene) are manufactured.
Condoms can also be used on sex toys, too. Depending on the type of sex toy, it is important to know if the condom is lubricated with silicone or water-based lube–as silicone-based lube can damage silicone toys. Hard plastic toys can be used with any type of lube or condom.
WHAT LUBE SHOULD I USE WITH A CONDOM?
Water-based and silicone-based lubes are safe to use with latex condoms. Avoid any oil-based lubricants (like massage oils, baby oil or Vaseline-brand petroleum jelly) because these can cause condoms to break.
HOW DO I PUT ON A CONDOM PROPERLY?
WHERE CAN I FIND CONDOMS IN SF?
Visit any of our locations and we'll have an assortment of condoms and safer sex tools like lube and internal condoms available for you — all free.
WHAT'S A SINGLE-USE INTERNAL CONDOM?
An internal condom is wider than other condoms and it fits inside your vagina or anus. Only use internal condoms once, then throw them away.
ARE INTERNAL CONDOMS SAFE FOR ANAL SEX?
Yes, internal condoms are approved by the FDA for both vaginal and anal sex. When internal condoms were first offered, they were call "female condoms," but the FDA renamed them to de-gender them and provides a more inclusive description of who can benefit from it.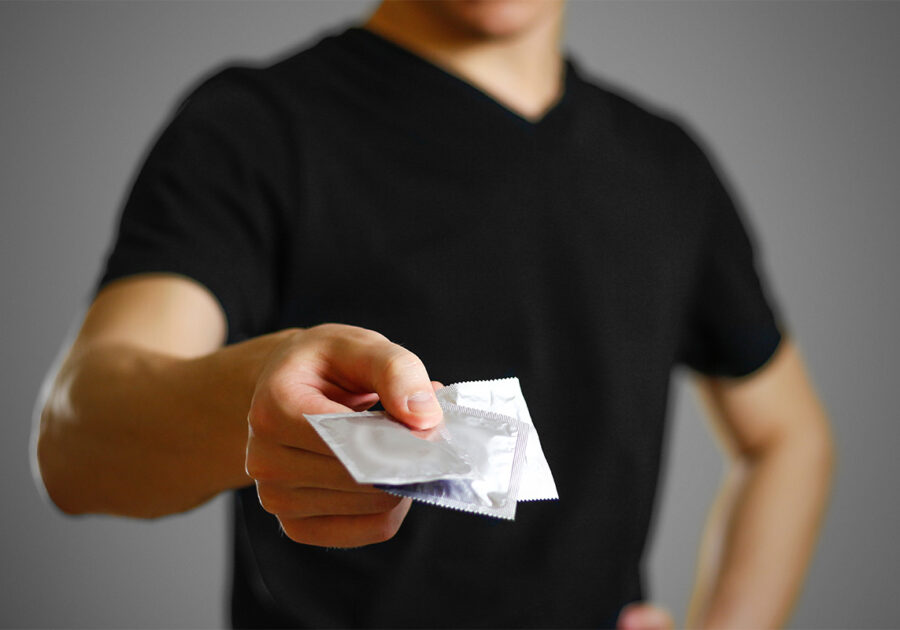 Find Condoms
Visit any one of our locations during business hours to find all the condoms condoms & safer sex supplies you need.
LEARN MORE