We offer free, confidential testing for HIV, hepatitis C and sexually transmitted infections (STIs) like chlamydia, gonorrhea and syphilis. HIV and hepatitis results are available in 20 minutes. Individuals requiring treatment are referred to Magnet, our health and wellness center in the Castro. You can also get your test results online.
Everyone is eligible for our services. However, we do aim to prioritize testing among communities at increased risk for HIV, STIs and hepatitis C. This includes our LGBTQIA community, trans and gender non-binary people, people of color, people who use substances, women and femmes, youth, people in the sex trade, uninsured individuals, immigrants, among others.
Get Your Results
I had a drop-in appointment today to get tested. The phlebotomist and nurse practitioner treated me with love and care. If I had to go to any clinic to get tested, this would be the first place I'd go to.
Melissa
Yelp Review
Standard sexual health screening
These appointments are for folks with health concerns like symptoms or exposure to STIs, and for folks seeking same-day treatment who do not have positive test results yet. This visit includes HIV testing, a full STI panel, and time with a nurse to discuss concerns or questions.  
Drop-in (first come, first serve):
Drop-in instructions: Appointments are limited as our services are in high-demand. To book a same-day appointment, grab a ticket from the ticket machine outside the building starting at 9:30 am each day, and come back at 10 am when we open. If you aren't back at 10 am or if you lose your number, we will give your spot to the next person.

If you arrive without an appointment and we are booked, we will do our best to refer you to another sexual health provider in the area, but cannot guarantee their availability. Getting a ticket does not guarantee there will be an appointment available on the same day. 

We do not schedule ahead of time for screenings unless you have already tested and have a positive test result, or you are in our PrEP program and are due for a refill on your prescription.
Magnet Express: HIV & STI testing
Magnet Express visits are for people who are seeking routine, preventative testing but do not have symptoms, have not had any STI exposures, and do not need same-day treatment. This appointment includes a full STI testing panel and HIV testing, but no visit with a nurse. 
You will self-swab for STIs and a phlebotomist will draw your blood.
Drop-in when Magnet is open (Tuesday – Saturday, 10 am – 7 pm).
There is limited availability and appointments are first-come, first-served. Stop by early in the day for the best chance of securing an appointment.
If you have symptoms or concerns, please stop in for a standard sexual health  screening appointment instead of an Express visit. Drop-in service for STI testing.
Accessibility: There are no stairs to enter the lobby level at Strut from the street level. The building has three floors, and there is a stairwell with handrails and a wheelchair accessible elevator. There are 26 steps from the lobby to the 2nd floor and 48 steps from the lobby to the 3rd floor.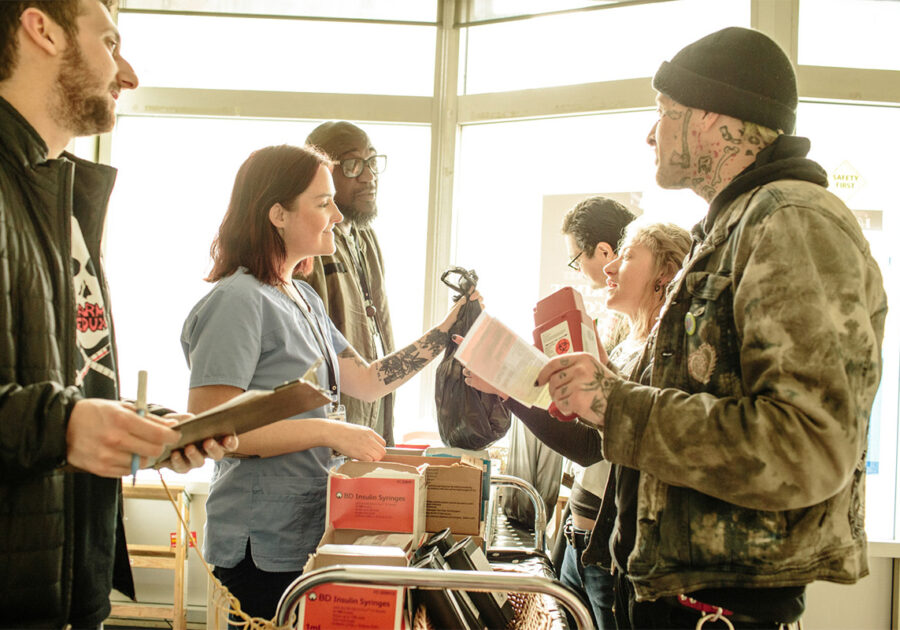 Harm Reduction Center
117 6th Street (at Mission Street)
San Francisco, CA
At the Harm Reduction Center, we provide drop-in testing for community members who have a relationship with substances. Overdose prevention education and Narcan training is also available.
Clinical services are available at the Harm Reduction Center.
Access Services
Get your test results & make appointments through our online client portal.
Not in San Francisco? Find HIV testing sites and care services near you.
DOES HIV AND STI TESTING COST ANYTHING?
There is no fee for HIV and STI testing services. We cover the costs of our services through donations from the public, support from SFDPH, and government and grant funding.
DO I NEED INSURANCE OR AN ID TO RECEIVE SERVICES?
At no point during your testing visit will you need to provide us with health insurance info or identification.
If you have health insurance and can afford to access HIV and STI testing another way, please consider your options so that we might provide services to people who do not have those same options.
WHAT SHOULD I EXPECT DURING MY VISIT?
Each of our sites has slight variations in testing flow. No matter which location you choose, you will be cared for by certified sexual health educators and expert medical personnel.
At registration, we ask you to fill out a form with basic information including name, date of birth and contact information. All information you provide to us is protected by HIPAA–all of our services are confidential. After you are registered for your appointment, you will be given a tablet to complete our intake survey. The intake helps us to learn more about you and your health concerns. All the information is optional. This intake survey allows us to tailor your counseling session to your specific needs.
Once the intake is completed, a phlebotomist will collect a sample of your blood for HIV, hepatitis C, and/or syphilis testing. Post-phlebotomy, you will have the option of completing a counseling session with one of our test counselors. Your counselor can answer any questions or concerns that you have. They can also provide you with referrals to other services. If you are doing a chlamydia and gonorrhea test, this is when we collect specimens for those tests. We collect these via swab, and we suggest swabbing the parts of the body that you're using during sexual activity. We offer a urine test as well.
WHEN AND HOW WILL I GET MY RESULTS?
HIV and hepatitis C rapid test results are received the same day that you test. All other results will be delivered via our web portal. You can expect results to be delivered to the portal within a week. If you do not have an email address and are unable to access results via our web portal, you may obtain your results in person at any of our locations.
If any of your results are positive, a nurse will contact you to set up treatment at Magnet. Treatment is provided free of cost.
WHAT HAPPENS IF I TEST POSITIVE FOR HIV?
We are here to support you no matter what your test result is. When clients test positive for HIV, our focus is providing them with emotional support in that moment. We understand that receiving such significant news can bring up a range of emotions, and we want our clients to know that they are not alone. We are able to link HIV-positive clients with a Health Navigation team member. Our Health Navigation team provides clients with individual support to help people take charge of your health and get the care they need. We can help people testing positive for HIV started on HIV medication on the same day.
ARE MY RESULTS KEPT CONFIDENTIAL OR PRIVATE?
All the information we collect is protected under HIPAA. We will not contact you for any reason other than to provide your health results.
0
HIV tests provided at all sites last year
0
percent of all STIs in San Francisco were diagnosed at Magnet last year