Why did a safe-sex poster spark controversy in 1984?
The model used on the poster, Robert Gray, shares a bit of history from the early years of AIDS, and why SFAF's poster sparked racist and homophobic backlash.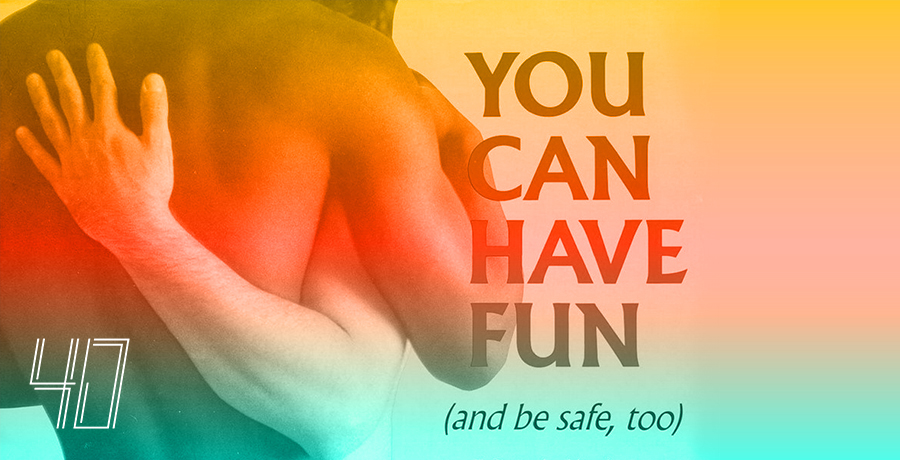 This article was produced in honor of San Francisco AIDS Foundation's 40th anniversary, which we are commemorating in 2022.
---
From its inception, San Francisco AIDS Foundation has approached the prevention and treatment of HIV/AIDS in a very sex-positive manner. From the beginning, they have known that neither being HIV-positive, nor the fear of contracting the virus, should prevent one from having a rich, satisfying sexual life. As the virus spread through the gay community, the Foundation became a fervent advocate for safe-sex practices.
In 1984, Rick Crane, director of the Foundation at the time, hired famed local photographer Mick Hicks to photograph two men for a safe-sex poster to be put in the city's gay bars, baths, and other locations. Hicks worked for virtually all the LGBTQ newspapers in the Bay Area and had spent a year and a half photographing people with AIDS, chronicling their struggle with the disease. He quickly accepted the commission.
At the same time, a young Black man named Robert Gray, a native San Franciscan raised in the Bayview Hunter's Point area of the city, and a proud sixth-generation descendant of the Georgetown 272 (a group of 272 African slaves who were sold, in 1838 by the Jesuit priests who ran George University to keep the school afloat), was rather well known in the Castro and Tenderloin areas. "I had started meeting and dating guys in my junior year in high school," he told me. "I went to high school four or five blocks from the Castro. I would find my way up through the bar scene during that time, sneaking into gay bars and discos." Of course, he realized that AIDS was rampant through the city.
One day, as 24-year-old Robert wandered down Castro Street, a man approached him and asked if he would pose for a photo for a safe-sex poster for San Francisco AIDS Foundation. "The gentleman advised me that a young photographer named Mick Hicks was looking for two subjects, one Black male and one white male, for the poster. Having seen so many of my personal friends succumb to this deadly virus, I felt it was something I needed to do to help stop the spread of this horrific disease. I asked myself, 'Why not?' With AIDS affecting so many of my gay brothers and sisters, I felt it was my responsibility to do something to contribute to AIDS awareness and prevention. I needed to take action, whatever I could do to be a voice of action and help my community." He agreed on the spot to do the poster.
"You Can Have Fun (and be safe too)" read the final poster. The image that Hicks created featured Robert, shot from the back, embracing a white model (Hicks' partner Nick Cuccia), his white arm and bubble-butt standing out prominently against Robert's skin. Even the Chronicle columnist Herb Caen took notice of the photo. The sex-positive message of the poster advocated "mutual masturbation," "erotic massage," "imagination and fantasies," and "limiting social drugs." The poster portrayed and promoted gay sex as normal, expected behavior, and emphasized the pleasure that could be had while still protecting oneself against transmission of the virus. The poster caused a huge sensation and started appearing in gay bars, discos, and bathhouses from San Francisco to New York. Mr. Gray told me, "As the young kids would say today, 'it went viral,' no pun intended!"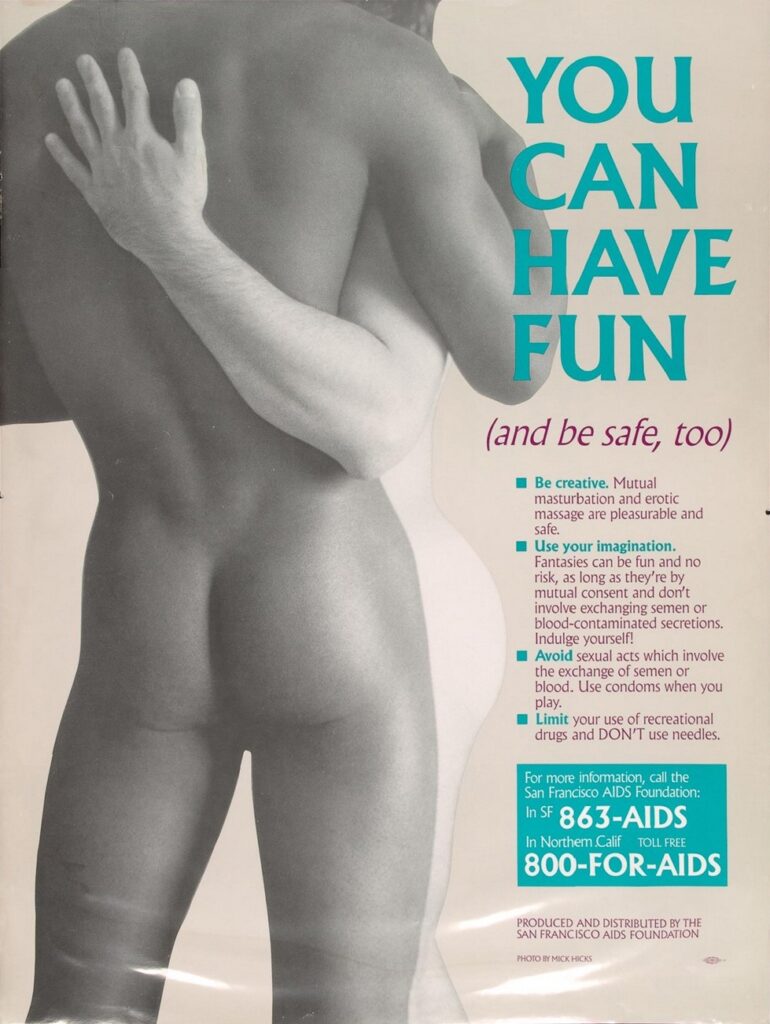 Regrettably, the poster also launched a two-pronged backlash, one prong based in religious prudery, the other in racism.
By asserting that gay sex could be both fun and safe, the poster was the first to portray gay sex as normal, healthy, and fun. Even before AIDS, gay sex had been viewed as aberrant, "unnatural." As an offshoot of that prejudice, AIDS was thought by many as a visitation of the wrath of God on immoral men who were violating God's law. How many times did we hear in the early 1980s, "At least AIDS is killing all the right people"? The poster's sex-positive message was condemned as an affront to decency and family values.
Even more lamentably, the poster inadvertently shone a light on the racial animus within San Francisco's gay community. As Rick Crane told the Bay Area Reporter in 2014, "Gays as a group were considered second-class citizens and, ironically, gays themselves were treating gay blacks the same way — as second-class citizens." Although racial tensions had eased somewhat from the flashpoints of the '60s and '70s, there was still a clear racial divide in the bars in the Castro. The Pendulum was the Castro's only gay bar where black men and white men went comfortably to meet; the other Castro bars catered primarily to whites. The Trap, located in the Tenderloin district, also catered to interracial couples. Thus, some of the bars and other establishments refused to display the poster, deeming it "unacceptable." Regarding the response to the poster, Gray said, "I would go into bars, and I would hear the chatter amongst people about the poster. I heard some really positive things, but also some really negative, racially motivated things.
"At the time that I did the poster," he continued, "I had no idea that it would be so controversial. Honestly, had I known this upfront, I might not have done it. But looking back on it now, I would do it again because it was the right thing to do." But still, he laments, "Who would have thought that a photo would open my eyes to the racism within the gay community? We are so much more alike as a people than different. One would think we could get along better and come together for a cause greater than us individually. Being a proud Black gay man, I must fight harder than most for myself and for those who come after me."
These days, Robert Gray is still that proud Black gay man who changed the face of safe-sex advocacy. Sixty-two years old now, nearly forty years since he posed for the SFAF poster, he is semi-retired and lives in Vallejo, California. He is now a widower, having lost his partner of 42 years (his husband since 2013). He remains quite proud of the poster to this day, even if that pride is somewhat tempered by what he considers a lack of recognition for his work. "I thought over time I would see the poster in the gay pride parades or that I would be given some special honor from major players in the movement, like GLAAD. There is still a lot of racism in the gay community."
---
Commemorating 40 years 
Join us every month in 2022 as San Francisco AIDS Foundation marks 40 years of service to the community.
On this occasion, we take a look back and share our storied history of leadership in HIV prevention, education, advocacy, and care, and HIV history in San Francisco and the Bay Area since the beginning of the epidemic.
As we look back on our history, we approach the future with hope, and with a renewed sense of all that our passion and ingenuity can bring to enact positive change in our community. We will act in bold and brave ways to reach an end to the AIDS epidemic, and ensure that health justice is achieved for all of us living with or at risk for HIV.
After 40 years, we will not lose sight of our commitment to our community, and our vision for a brighter future.