From Hotline to Online
Awe-inspiring efforts by early AIDS volunteers and staff made it possible to get the word out about HIV treatment, prevention, and care.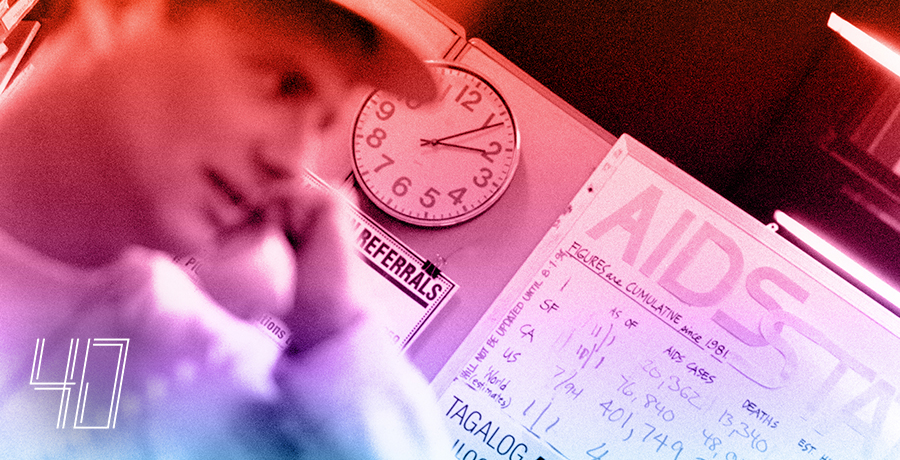 This article was produced in honor of San Francisco AIDS Foundation's 40th anniversary, which we are commemorating in 2022. 
---
In the early years of the AIDS epidemic, it wasn't always easy to get accurate, timely information about HIV treatment, prevention, and health. In the very early years, good information was hard to come by simply because not much was known–by anyone–about the virus that was causing AIDS. In later years, misinformation about the virus and treatments became entangled in difficult-to-understand medical truths about HIV and AIDs.
"You have to remember that this was pre-internet," said Vince Crisostomo, SFAF's director of Aging Services. "A lot of us relied on our networks of friends and other people living with HIV and AIDS to get information. You'd attend events–like a healing circle–and people would show up claiming to know about a new treatment. Unfortunately, not all of the information that people heard or shared was accurate or trustworthy." 
In the early years of the epidemic, volunteers at SFAF's AIDS Hotline were central to efforts to expand knowledge and share accurate information about HIV prevention, testing, and treatment.  
In April of 1982, our organization began with a volunteer-operated, single telephone Hotline providing information (what little there was) and referrals for people with questions and fear about this new disease. By the fall, the Hotline was becoming nationally recognized for its up-to-date information about what would come to be known as AIDS, and from there grew with city funding and ever-growing community support. 
By 1983, the Hotline and medical callback services were identifying and referring to treatment nearly 25% of SFAF's AIDS cases. At its peak, Hotline volunteers and staff were answering thousands of calls per month, with notable increases in call volume around the times when celebrities came out publicly as living with HIV or AIDS, and when there were notable developments in HIV care. When the first antibody test for HIV became available, SFAF partnered with the local TV station KPIX to share the news and the number for the Hotline where people could get more information about where to get tested.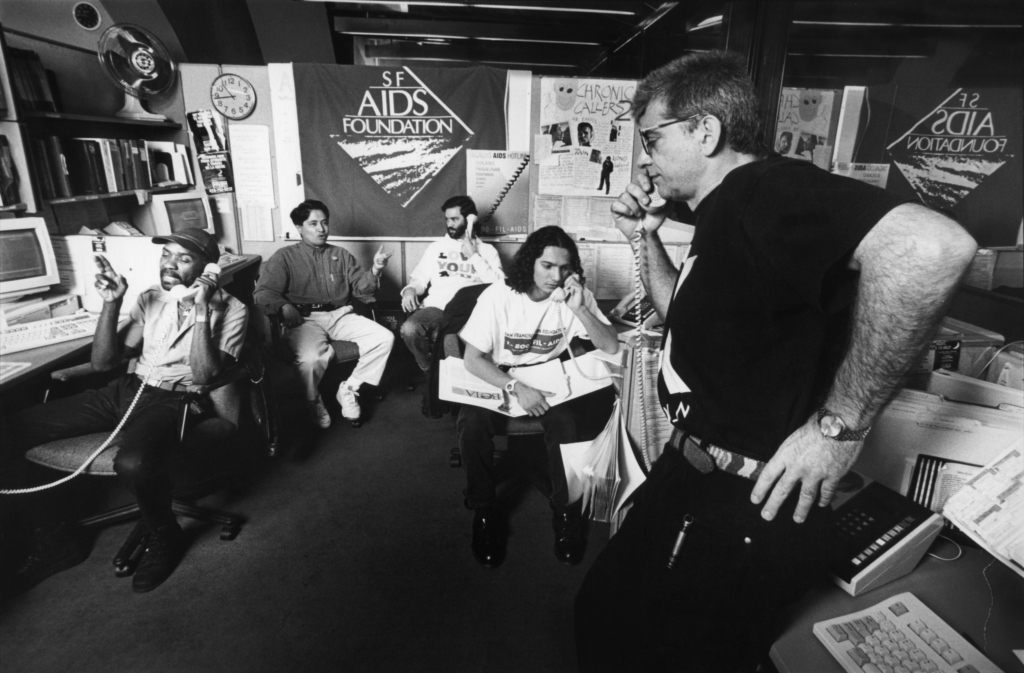 Larry Zapatka, SFAF's director of budget, finance, analysis, and contracts, volunteered on the Hotline in the early 1990s. He remembers that there were eight volunteers managing the phones at any given time, in three languages, and that the phones were in operation between 9 am and 9 pm. 
"We turned a switch on in the morning, and as soon as you did that the phones would start lighting up with callers," he said. "There would sometimes be lulls, but most of the time the phones would be ringing all day. We would oftentimes get a rush of calls if something happened in the news, like if information about a possible new drug came out. People would call and ask, 'When can I get it?'" 
Zapatka said that they received calls of all kinds. Everything from, "My friend just tested positive for HIV. Where can we go to get help?," to, "I just had unprotected sex. What should I do?" 
"It was almost like we were counselors," said Zapatka. "We would get people calling, crying, who were suicidal–which is why we had connections to a suicide prevention hotline. The most difficult calls were from people with questions you just didn't know how to answer. Like someone would call and say, "My son is dying. How much longer does he have?" 
In the days before the internet, Hotline staff relied on reference binders and printed materials produced by the Education Department and other agencies in the state to share information. 
"The Hotline was in the middle of the Education Department," said Zapatka. "It truly was a beehive of activity with people coming in and out all the time, phones ringing off the hook, and people running around packaging up safe sex materials. We had all of these reference binders above the phone banks that we would use to look up referrals–there were more than 200 AIDS organizations in the city at the time." 
Brochures, public advertising, books, magazines, and other publications were important ways that SFAF and other AIDS organizations distributed information about treatment and prevention.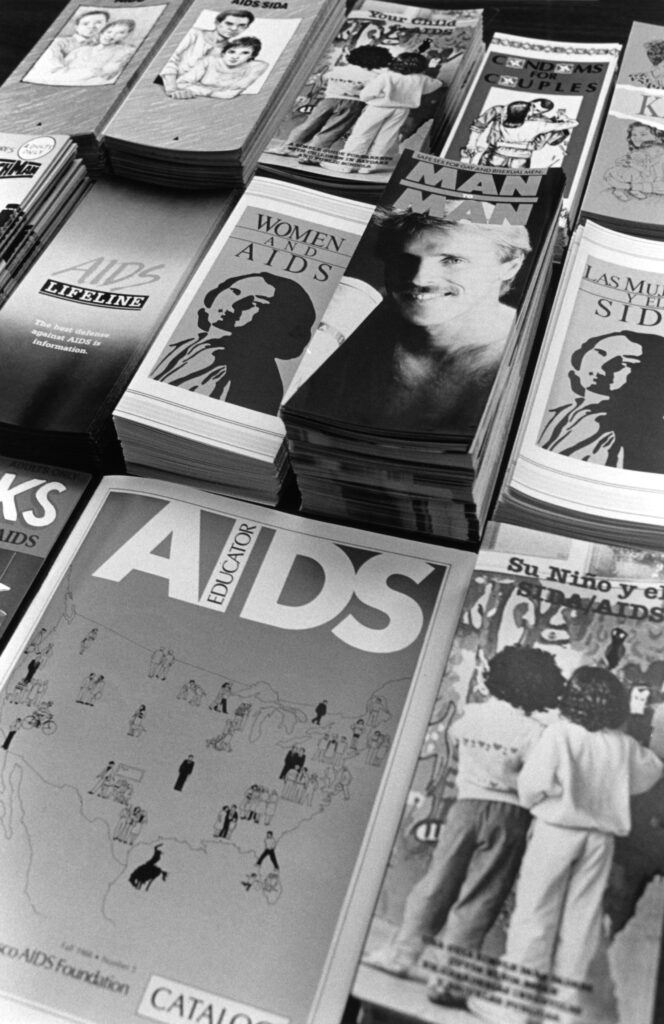 Les Pappas, who worked in HIV prevention and education at SFAF from 1984 to 1994, remembers the urgency with which the agency had to craft and share messaging around HIV prevention and treatment. 
"There was always so much going on during that period," he said. "We were depressed, we were sad, and we were energized–all at the same time. You had to kind of balance all of the loss and the fear with some hope that you might actually be able to do something about this. We couldn't sit back and passively respond. We couldn't wait. We had to act with urgency, and we had to take risks."  
Pappas and his team were the first in the U.S. to develop large social marketing and advertising campaigns to promote the harm reduction practice of using household bleach to sterilize needles and syringes used to inject drugs as a way to prevent HIV transmission. (With the advent and scale-up of syringe access programs, cleaning syringes is no longer recommended.) To make the information accessible and interesting to community members, they developed a cartoon character "Bleachman" to be the mascot for their messaging. 
"We knew if we were going to be a credible source of information among injection drug users, we would need to communicate with people in a way that validated their humanity," he said. "Almost all other messages for people using drugs at the time were just putting people down and really telling people how bad they were. We didn't want to do that." 
Over the years, Bleachman appeared on educational and campaign materials including TV PSAs, flyers, posters, comic books, T-shirts, and more. Pappas had a Bleachman costume made, which was used during in-person outreach and educational events in the Tenderloin and other San Francisco neighborhoods. Bleachman also appeared at demonstrations, community events, press conferences, and fundraisers in San Francisco and other cities.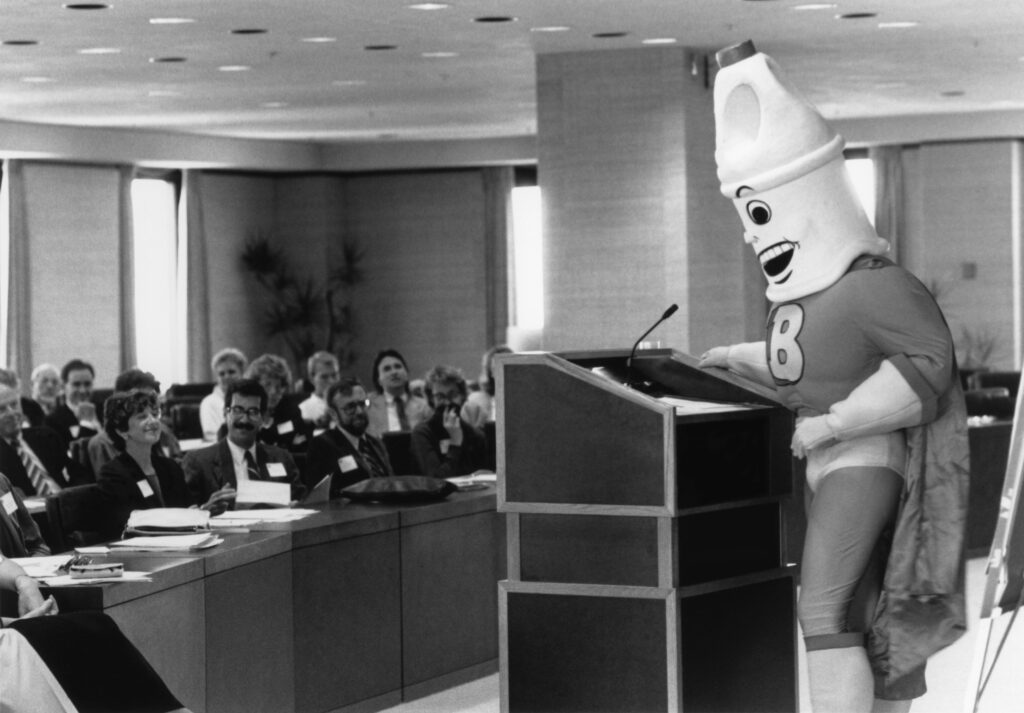 "Bleachman was invited to AIDS Walk in Palm Springs, and I remember meeting Sonny Bono who was the mayor at the time. We also met Kirk Douglas, and Betty Ford who also made an appearance. It was a great way to really kick start that conversation around using bleach to prevent HIV transmission." 
The advent and wider-use of the internet opened up new awareness-building possibilities for the agency, and in the late 1990s and early 2000s, many SFAF educational resources were moved or began online. 
One resource, developed more than 20 years ago by STOP AIDS Project, was acquired by SFAF and lives on to this day. The website, tweaker.org, shares harm reduction information on using crystal meth with gay men. Because sex oftentimes accompanies crystal meth use (and at the time meth was considered a "driver" of HIV transmission), the website took a sex-positive, non-judgmental approach to sex and drug use, with graphic and frank language and imagery that captured the realities of the intersection between meth use and sex for gay men.
Another resource from SFAF, the Bulletin for Experimental Treatment of AIDS (BETA), moved from a printed publication to online in 2013, opening up the ability to quickly get the word out about new developments in treatment and prevention. In the first years, the new BETA website delivered information about a game-changing new way to prevent HIV–PrEP. Readers visited the site to read the science behind biomedical approaches to HIV prevention and first-person accounts of what it was like to take PrEP, and the site kept pace with the science as more became known about PrEP effectiveness in preventing HIV.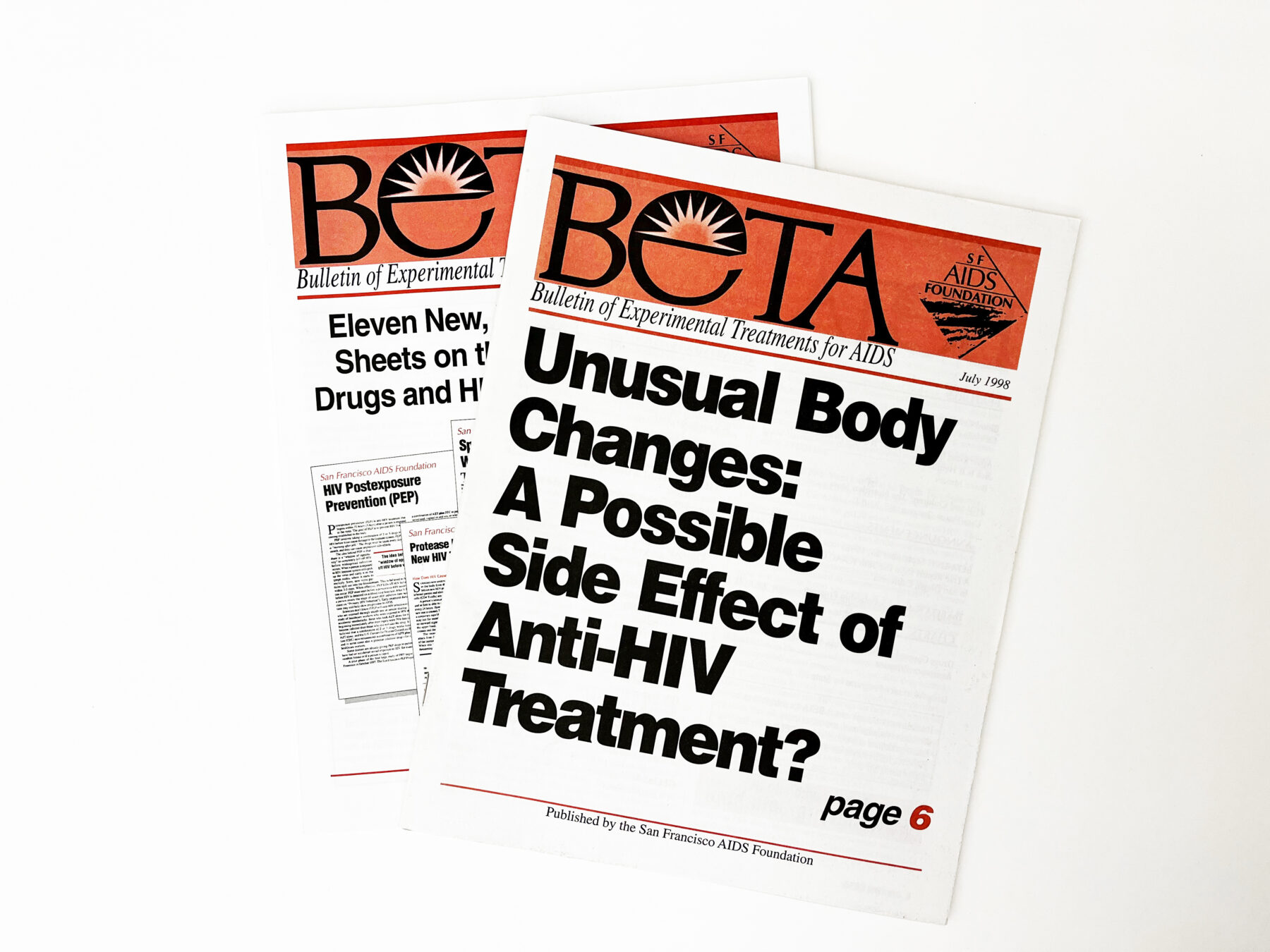 Over the years, the channels through which we've reached the community have evolved to take advantage of advances in technology. Now, you can find out more about HIV, PrEP, harm reduction, and more by visiting us online or by coming to an upcoming event, group, or support session.
---
Commemorating 40 years 
Join us every month in 2022 as San Francisco AIDS Foundation marks 40 years of service to the community.
On this occasion, we take a look back and share our storied history of leadership in HIV prevention, education, advocacy, and care, and HIV history in San Francisco and the Bay Area since the beginning of the epidemic.
As we look back on our history, we approach the future with hope, and with a renewed sense of all that our passion and ingenuity can bring to enact positive change in our community. We will act in bold and brave ways to reach an end to the AIDS epidemic, and ensure that health justice is achieved for all of us living with or at risk for HIV.
After 40 years, we will not lose sight of our commitment to our community, and our vision for a brighter future.