From Living to Thriving
Our history serving and honoring people living and aging with HIV.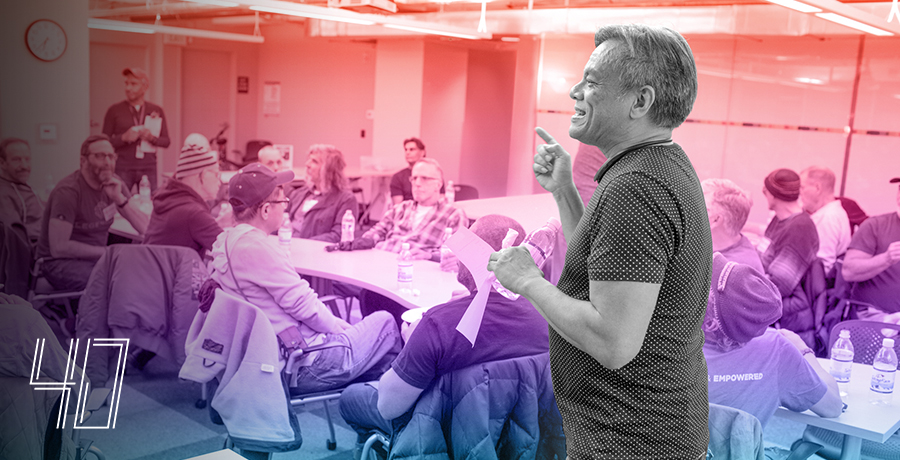 This article was produced in honor of San Francisco AIDS Foundation's 40th anniversary, which we are commemorating in 2022. 
---
Since the start, San Francisco AIDS Foundation has existed to identify and meet the ever-changing needs of people with HIV and AIDS. Early in the epidemic, we played a central role in answering critical questions around experimental treatments, maintaining the city's waitlist for HIV housing, and meeting basic social and case management needs of people living (and dying) with HIV.  
Our work began to change in the late 1990s, and throughout the 2000s, as the availability of protease inhibitors, the continued roll-out of highly effective ARVs, and universal treatment all changed the landscape for people living with HIV. People began to live. 
"My first realization about the issue of HIV and aging was 10 years ago, at the AIDS conference in Washington D.C.," said Joanie Juster, a long-time volunteer for the AIDS Memorial Quilt and other HIV-related organizations and causes. "There was a photo display of older people with HIV.  The portraits were gorgeous, and this was kind of ground-breaking at the time. It was a new field. Just the concept of living long enough to become an elder with HIV is something that, 20 or 30 years ago, was inconceivable." 
While worthy of celebration, these advances also presented new challenges to a healthcare system unequipped to serve people with a unique set of physical, mental health, and social needs. 
"It wasn't until about 2006 that people began paying attention to and focusing on the needs of older people living with HIV," said Vince Crisostomo, long-term survivor and director of Aging Services at SFAF. "That is when the 'Research on Older Adults with HIV (ROAH)' study results were publicized by ACRIA in New York. This study, with 1,000 HIV-positive adults over age 50, highlighted the needs of this population, and sounded the alarm on the resources that would be needed to care for older adults with HIV in the coming years." 
In San Francisco, the numbers spoke for themselves. In 2004, about 30% of people living with HIV were over age 50–just four years later, that percentage rose to approximately 40%. By 2008, nearly half of San Franciscans with an AIDS diagnosis were over age 50. 
It was about this time–in 2009–that the City of San Francisco began work on the issue. Members of the HIV Health Services Planning Council and the Mayor's Long Term Coordinating Care Council began meeting to discuss ways the city might address HIV and aging in San Francisco, and members of these groups formed the Joint Workgroup on HIV and Aging, which is still operating to this day. 
Community members and organizations joined in. 
Gregg Cassin, living with HIV since the mid-1980s, founded the "Honoring Our Experience" retreat in 2013 after realizing the unique social and emotional needs of people who have lived through the AIDS epidemic.  
"I could see that we needed to make space for people that have had a unique and profound experience that only their peers could understand," he said. "We walked through being so at risk of dying, going into the hospital multiple times, losing our circle of friends, losing partners. I wanted to create a program where people were just healed by walking into the room and being with a circle of people who have had this similar experience." 
The weekend-long retreat, through Shanti Project, offers attendees a chance to share their story, connect with others who have lived through similar experiences, and build camaraderie. It is open to anyone whose life has been touched by HIV, regardless of age or HIV status. 
"It was a tragic time, and we need to shed those tears," said Cassin. "We also need to shed the guilt of survival. So that we can instead feel like we live in honor of those who died. We don't live 'instead' of those who died." 
That same year, activist Tez Anderson hosted the first public event for "Let's Kick ASS," an advocacy organization dedicated to raising awareness of "AIDS Survivor Syndrome," a term coined by Anderson to explain the reasons behind years of anxiety, sleep loss, nightmares, and depression. 
"This concept–AIDS Survivor Syndrome–is a version of complex post-traumatic stress disorder," he said. "I've been positive since 1983, and was diagnosed in 1986. My whole trajectory has been of a dying person. I didn't make long-term plans, I thought I didn't need retirement accounts. Like everyone else, I was burying my friends and my loved ones. And then all of a sudden I was approaching 50 years old, and had to conceive of the idea that I was going to be an old man with AIDS. I had times of awful isolation, and feeling alienated from everybody." 
Once Anderson began talking to friends who had been HIV positive for years, he realized that many had experienced similar thoughts and feelings. Months of planning led to the first Let's Kick Ass Town Hall, with more than 250 community members packing the hall. 
"At that point, I knew we were on to something," he said. "Other organizations were just saying, 'If you take your medications, you can live a normal, healthy life span.' It was clear there was more to our story." 
A few years later, in 2017, the pioneering Golden Compass Program at Zuckerberg SF General Hospital's Ward 86 opened under the purview of Meredith Greene, MD, to meet the multidimensional medical needs of people aging with HIV.    
"The name came from our patients," said Greene, in a 2017 article by UCSF. "They're moving into their golden years but unsure how to navigate services. They need a guide."
At San Francisco AIDS Foundation, existing services such as the food bank (established in 1983, and transferred to Project Open Hand in 1991), housing assistance and financial benefits programs, and case management services continued to meet the needs of and serve people growing older with HIV. 
In the mid-2010s, San Francisco AIDS Foundation established a program specifically for people over age 50. The "50-Plus Network," later re-named the "Elizabeth Taylor 50-Plus Network," was established to meet the social and wellness needs of people over age 50, both HIV-positive and negative. 
"When I joined SFAF in 2014 to lead the 50-plus Network, there were maybe 15 active members," said Crisostomo. "But we quickly grew. There was, and continues to be, a real need for community programs that bring long-term survivors out of isolation, that facilitate discussion about the issues impacting our lives, and that foster community."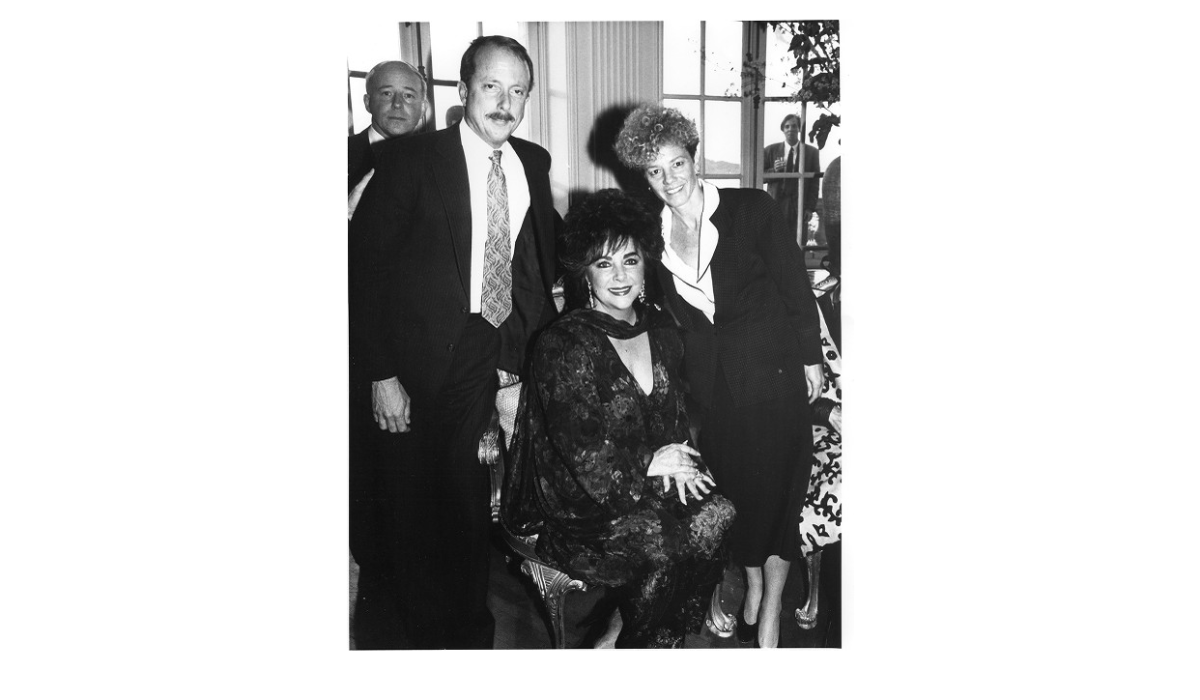 In recent years, social events, support groups, dinners, and volunteer events bring hundreds of members. 
"The Elizabeth Taylor 50-Plus Network revived my lonely, isolated life in two very impactful ways," said Kevin Bradley, a group member. "I began socializing again, and I have discovered the joy and rewards of volunteering and giving back to SFAF and our community." 
"Being a part of the Elizabeth Taylor 50-Plus Network at SFAF is why I now live a life of intent and purpose," shared Paul Aguilar. "To be able to interact with others who have experienced many of the challenges I have–this interaction is what encourages me in advocacy and activism and reminds me of the importance of making our voices heard." 
Many of the group members, including Aguilar, are actively involved in advocacy around long-term survivor issues. In 2020, a group of long-term survivors wrote, published, and promoted the San Francisco Principles, outlining unmet needs of long-term HIV survivors in San Francisco. 
"We have suffered through isolation and loneliness, the expense of medications and health care visits, declining physical health, untreated substance use and mental health problems, and the damage done to us by early HIV medications," wrote one of the Principles authors, Hank Trout. "We have been virtually forgotten, shoved to the sidelines by AIDS researchers and service providers, and by physicians who have not been trained to treat the unique problems of surviving with HIV… It is our hope and our intention that the Principles will start a conversation that affects real, concrete, positive changes in the lives of long-term HIV/AIDS survivors." 
Now, the Aging Services department at SFAF has expanded to welcome communities outside of gay men, with services for transgender and non-binary folks, and for Black women and femmes. 
"We are in uncharted territory, as the city learns how best to serve and honor our long-term survivors, who may experience housing shortages, PTSD symptoms from living through the AIDS epidemic, and social isolation," said Crisostomo. "But this is critical work–for us to care for the people who were on the front lines of the AIDS epidemic, many who did not expect to live."   
Honor the experiences of long-term survivors and people growing older with HIV every year, on June 5 (HIV Long-Term Survivors Awareness Day), and September 18 (National HIV/AIDS and Aging Awareness Day). 
---
Commemorating 40 years 
Join us every month in 2022 as San Francisco AIDS Foundation marks 40 years of service to the community.
On this occasion, we take a look back and share our storied history of leadership in HIV prevention, education, advocacy, and care, and HIV history in San Francisco and the Bay Area since the beginning of the epidemic.
As we look back on our history, we approach the future with hope, and with a renewed sense of all that our passion and ingenuity can bring to enact positive change in our community. We will act in bold and brave ways to reach an end to the AIDS epidemic, and ensure that health justice is achieved for all of us living with or at risk for HIV.
After 40 years, we will not lose sight of our commitment to our community, and our vision for a brighter future.