From Bleachman to Douchie
SFAF's history of colorful mascots delivering info about everything from safer injection to anal health tips.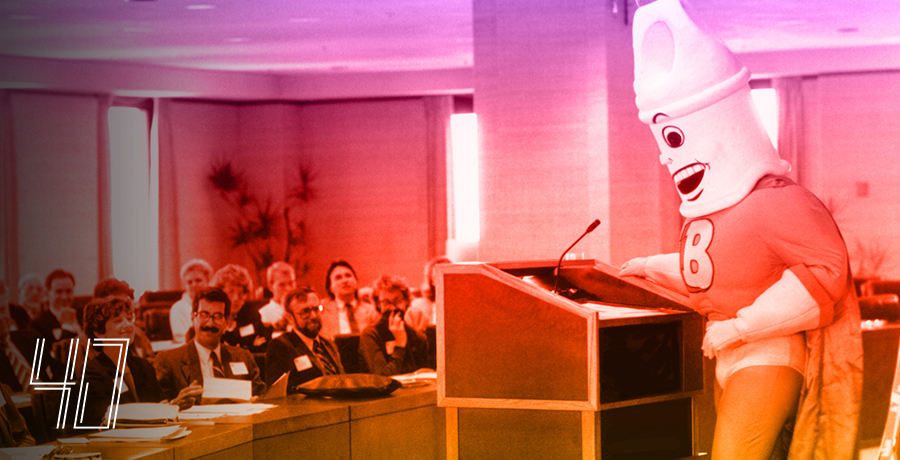 This article was produced in honor of San Francisco AIDS Foundation's 40th anniversary, which we are commemorating in 2022. 
---
Talking about HIV can be uncomfortable, confusing, or just plain uninteresting–if you approach the conversation in the wrong way. That's why, over the years, San Francisco AIDS Foundation has employed a series of colorful mascots to deliver information in fun, playful, and sex-positive ways. 
Les Pappas, who led HIV education campaigns for SFAF in the early 1980s and into the 1990s, remembers this period in time as a mix of sadness and extreme urgency. 
"We all felt so passionate about everything. We were at this place and time where we just had to do everything we could to make a difference in the epidemic. We did focus groups and explored what messages would work in the community, but we didn't have time to sit back and do a bunch of research before we developed our campaigns."
That sense of urgency and the fast pace of the teams at SFAF led the organization to be at the forefront of many early and effective HIV prevention messages. 
"We were trailblazers, in a lot of ways," said Pappas. "We really were at the cutting edge of what was happening. We were doing things that nobody else was doing." 
Bleachman encourages people who inject drugs to clean their syringes with bleach
One exciting campaign that Pappas and his team developed, "Bleachman," was introduced in 1987 to spread the word that people injecting drugs could clean their needles and syringes with ordinary household bleach to reduce the transmission of HIV (note: this strategy is no longer recommended now that adequate supplies of new syringes are readily available).
"I did a lot of work with the Haight Ashbury clinic and people involved early on in needle exchange," said Pappas. "One of our first messages, which we put on a billboard, was, 'don't share.' But for a while, there wasn't much else we could recommend or say to people injecting drugs about how to prevent the spread of HIV. When research started coming out that bleach could be used to clean syringes, we knew we needed to get that message out there."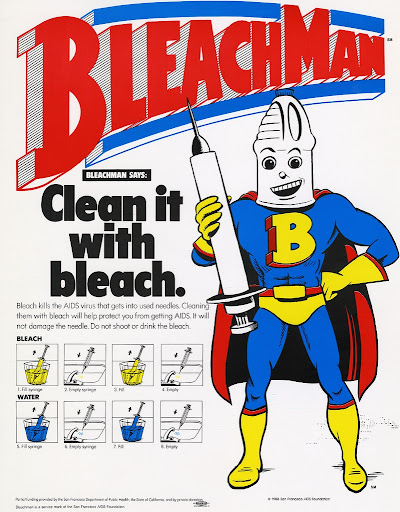 The team first developed a poster, with a bottle of bleach to share this new harm reduction message. 
"This was one of the early controversial campaigns," said Pappas. "Clorox sent us a cease and desist letter, because we used a design that was similar–not exactly the same–to their bottle. They didn't like the association–they didn't want to be associated with HIV or drug use." 
Pappas next had the idea to develop a larger-scale, higher-profile campaign that validated the humanity of people who used drugs. 
"So much of what was going on in public health at the time was really further marginalizing people who used drugs–putting them down and telling them how 'bad' they were," he said. "We didn't want to do that. We wanted to let people know we cared about them. That we were committed to their wellbeing and had information that could protect their health and save their lives. That's when we started to explore the idea of using a superhero."
In 1987, Bleachman was born. 
Pappas had a full body suit costume made, complete with a jug of bleach mask that could be worn on the person's head. They developed posters, billboards, TV commercials, zines, and did in-person outreach and trainings showing people how to clean syringes with bleach.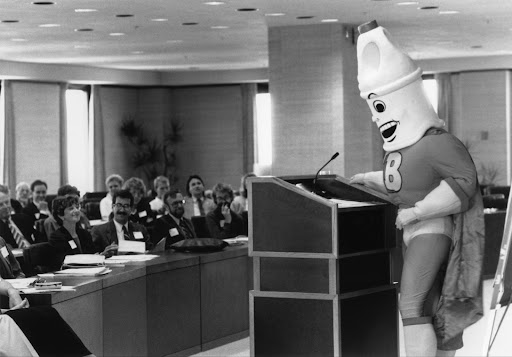 "We got a Polaroid camera, and would go out with someone wearing the costume and people would take pictures with us. We went to press conferences, we went to treatment programs–we took Bleachman everywhere."
The campaign sparked some controversy, but by all accounts was a clear success as a community-informed campaign that effectively reached and engaged the people in our community injecting drugs. 
In coming years, with the increased availability and open access to new syringes, SFAF phased out "Bleachman" messaging–instead focusing on increasing syringe distribution and disposal and other harm reduction strategies.  
Rubberman promotes condom use for gay men
A few years after Bleachman's launch, in 1990, SFAF rolled out a "Rubberman" campaign to promote condom use using a series of scantily-clad men as models. In addition to promoting HIV prevention through condom use, the advertising campaign also meant to normalize and promote positive messages around gay and Queer sexuality. 
"Be a Rubberman–use a condom every time," read promotional posters and cards developed for the annual San Francisco Lesbian/Gay Freedom Day Parade and Celebration.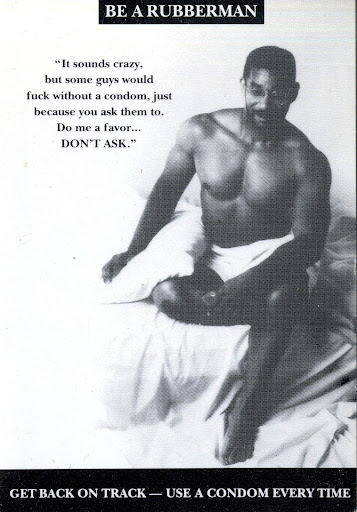 "I know tops get AIDS, but not this one… I use rubbers every time. DO YOU?," shared the model featured on one poster. 
"It sounds crazy, but some guys would fuck without a condom just becuase you ask them to. Do me a favor… DON'T ASK," shared another. 
In addition to posters and ads, the campaign also included real-life "Rubbermen" who dressed in masks and capes and passed out condoms at bars and clubs in popular "bar zaps." 
An honorary Rubberman "pledge" asked members to, "commit to being a condom ambassador–using them every time I have sex, and encouraging everyone I know to do the same." 
In a Bay Area Reporter article from the mid-1990s, HIV Prevention Planning Council co-chair Ellen Goldstein credited the sustained educational efforts by SFAF and other organizations including Stop AIDS Project with reducing new HIV infections city-wide. 
"Early in the epidemic, in the early to mid-1980s, there were "Bleachman" and "Rubberman" campaigns. Bleach bottles were provided to injection drug users (IDUs), and gay men were targeted concerning the need to use condoms. Billboards featuring sexy guys went up, encouraging men to 'be rubbermen,'" Goldstein said. "That had a huge impact. A lot was educational, and a lot had group discussion components. Now, there's a need for behavior maintenance and encouraging safe behaviors. San Francisco has people who keep moving here, and young people need information." 
Douchie: Our mascot for anal health 
In recent years, SFAF introduced a new character, "Douchie," a douche-bulb character who shares information about anal health topics, elevating issues like pleasure and satisfaction alongside health. "Douchie's guide to butt health," published in 2018, shares everything from tips on more pleasurable bottoming, to steps for first-time fisters, to experiences with anal warts. 
In 2022, Douchie returned to share monkeypox risk reduction messages prior to Dore Alley, a popular street festival in San Francisco. 
"Douchie has allowed us to share difficult, potentially embarrassing content with people in an open and fun way," said Eric Jost, associate director of marketing and one of the originators of the Douchie campaign. "I think because we approached this topic in a relatable way, we were able to share a lot of information with a broad community." 
Check out Douchie's guide to butt health, and, from 2022, Douchie's guide to monkeypox (mpx).
---
Commemorating 40 years 
Join us every month in 2022 as San Francisco AIDS Foundation marks 40 years of service to the community.
On this occasion, we take a look back and share our storied history of leadership in HIV prevention, education, advocacy, and care, and HIV history in San Francisco and the Bay Area since the beginning of the epidemic.
As we look back on our history, we approach the future with hope, and with a renewed sense of all that our passion and ingenuity can bring to enact positive change in our community. We will act in bold and brave ways to reach an end to the AIDS epidemic, and ensure that health justice is achieved for all of us living with or at risk for HIV.
After 40 years, we will not lose sight of our commitment to our community, and our vision for a brighter future.