Voices from our front lines
Our front-line staff are showing up hard to provide free, critical health services during COVID-19. Here, they share their experiences during this time of crisis.
During the COVID-19 pandemic and the shelter-in-place order in San Francisco, many of our health programs and services have continued under instruction of the San Francisco Department of Public Health. For front-line staff at our clinics, providing essential health services  has meant continuing to see clients in person for emergency HIV care, PrEP, hepatitis C treatment, PEP, and more.
Their dedication to serving our community during this time of crisis is readily apparent.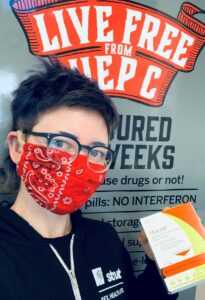 "The most difficult day that I had thus far was when I left the Harm Reduction Center early in the pandemic and I thought: My clients are going to die from this pandemic," said Bunny Taylor, DNP, PHN, FNP-C. "It was sobering to think that my already medically-vulnerable clients were more at risk. This has motivated some of the work I have been doing." 
Taylor, a nurse practitioner who provides services at our sexual health center Magnet and at our Harm Reduction Center in SoMa, said that they are seeing clients who are hard-hit by the effects of the pandemic. 
"Some clients are losing insurance and not able to be seen for gender-affirming hormones elsewhere," they said. "Clients have told me [these services] are not considered "essential" at this time, which highlights the systemic transphobia and ignorance in healthcare. My hepatitis C clients are especially medically vulnerable right now. They absolutely require continued hepatitis C engagement and case management at this time." 
"This pandemic has highlighted the failures and inadequacies of the United States health care system," said Anthony Gonzalez, a PrEP & HIV benefits coordinator and linkage navigator.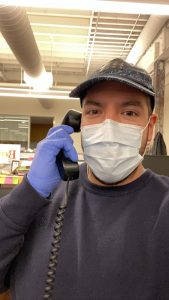 "By showing up to work, I'm able to assist new and existing clients that have been recently laid off and need access to vital medications and health care. Our job is as, if not more, important at times like this."  
Gonzalez said that the most difficult experience so far has been listening to clients who describe losing their jobs and access to their healthcare at a time when their health is in jeopardy. 
"We are definitely making a huge difference in the community right now, and it is most apparent with people who are living with HIV. It is especially rewarding when we see clients who come in with no access to medication, and we are able to get them set up with various healthcare programs and eventually a long-term health care provider. They have been super appreciative, and this is definitely rewarding and reminds me that this is why we are here."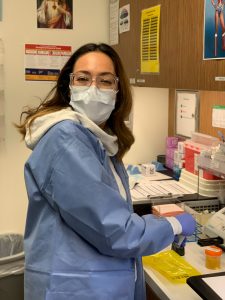 "I am here during the pandemic because I need to be here," said Jasmin Alvarez, associate clinical director of sexual health services. "Growing up in a low-income family, I know the repercussions of not having medical care available to you. Our community needs us now." 
Alvarez said that although her staff are all experiencing "the roller coaster of this pandemic," they keep their spirits up by sharing success stories from the front lines–of asylum seekers getting HIV care, of people experiencing homelessness being linked to services and HIV treatment. 
"We are here to support not only our community, but also to support other front-line essential workers at our local hospitals. We stand with them in this, and if we can minimize just a small amount of their work then that is what we will do," said Alvarez. "This work and fight could not be done without any of them. Si Se Puede! (Yes We Can!)"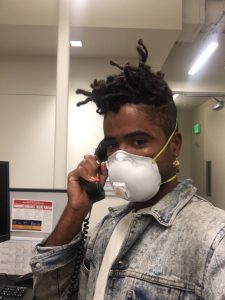 "It matters so much that we continue to fight for people to be treated the way they deserve by our health system, and work for the wellbeing of people left out of it," said Louis Smith, a PrEP & HIV benefits coordinator and linkage navigator. "The fall-out of this pandemic is going to hit people affected by those disparities most—we're already seeing it with the news of how Black people in Detroit and Chicago are disproportionately impacted, and we already know that these impacts are going to be distributed along the same systems of power and privilege that have existed and predicted health outcomes before."
At the state level, Smith said that the assistance provided by the government has left behind many of the people served by our foundation, including unhoused people, sex workers, and people who are undocumented. 
"We've got to continue to serve as a resource, especially for those folks," said Smith.  "The high cost of care is what prevents access in so many cases, and helping folks with that in a substantial way is meaningful."
Additional information about services that are available during shelter-in-place is available on our COVID-19 Updates page.  For details about groups and programs that are available online, visit our calendar and filter for online events. 
—
Support people living with or at risk for HIV
At a time when our community needs us more than ever, we need your most generous support.