From panic to pleasure
Throughout our history, we've kept the focus on pleasure when it comes to sexual health. Here's how that's played out in bathhouse controversy, the roll-out of PrEP, and our sexual education campaigns.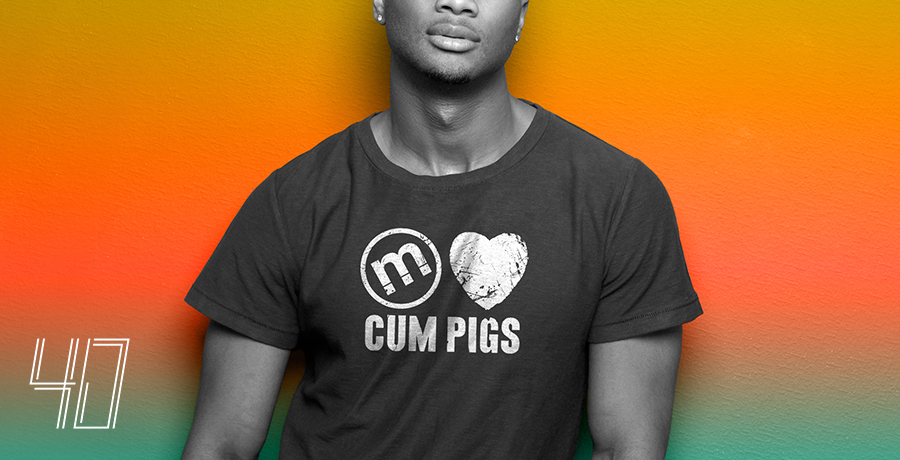 This article was produced in honor of San Francisco AIDS Foundation's 40th anniversary, which we are commemorating in 2022.
---
Since the early years of the epidemic, San Francisco AIDS Foundation hasn't shied away from raw and real conversations about queer sex and sexuality–that emphasize pleasure and sexual satisfaction alongside health. Over the years, we've iterated our messaging to align with the current understanding of HIV and HIV "risk," but much of the perspective–that people should be able to have the type of sex they want to have with the resources they need to maintain their health–has remained the same. 
This common-sense perspective hasn't always been well-received or without controversy. 
In the early years of AIDS 
Early on in the AIDS epidemic, San Francisco AIDS Foundation had to navigate the intertwined issues of sexual expression, safety, fear, and morality in HIV and AIDS prevention.  
In 1984, when bathhouses in San Francisco endured scrutiny for their role in "spreading AIDS," SFAF advocated for the baths to remain open, as important community venues where safe sex information could be shared, condoms could be distributed, and where safe sex practices could be monitored. (SFAF even recommended that bathhouses play loudspeaker announcements at baths sharing safer sex info.) 
We joined community members and organizations including the Golden Gate Business Association, the People With AIDS Alliance, and the Stonewall Gay Democratic Club to foster community conversation around bathhouse closures. 
When San Francisco's public health director Dr. Mervyn Silverman announced the closure of 14 bathhouses and sex clubs, fueling the controversy between clubs, the public, and health officials, SFAF played a role by advising on ways that bathhouses could reduce higher risk behaviors (e.g., removing doors from booths and rooms to allow for monitoring of "unsafe" behaviors). 
In terms of safer sex messaging, San Francisco AIDS Foundation embraced queer-focused, sex-positive language and imagery even early on in the epidemic when fear-based and "scared-straight" advertising commonly ruled in AIDS prevention campaigns. Standing in stark contrast to ads like, "People are dying to know [about AIDS]" (next to an image of caskets), SFAF's first safer sex educational poster from 1984 shared the message that, "You can have fun (and be safe too)." 
Other examples include the "Sex Is Good" campaign, produced in 1991 year by Warwick May, featuring real-life photography of naked gay couples embracing. Text overlaid on top of imagery shared that: 
Sex is a healthy and productive form of expression. It is a way for us to communicate. It gives pleasure. It gives life. Sex is a necessary and joyful part of the human experience.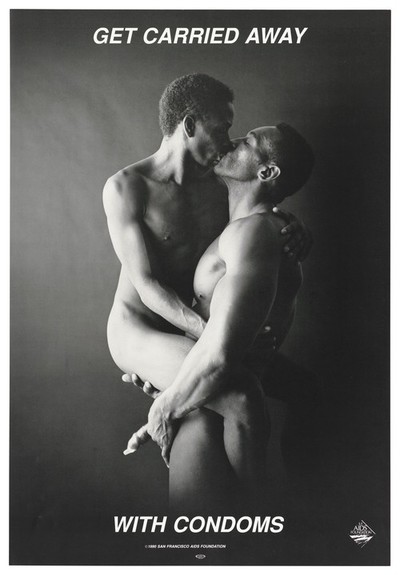 Other SFAF ads promoting condom use feature naked models wearing condoms "Dress for the occasion," and two men embracing with one visibly wearing a condom "Get carried away… with condoms." 
Perhaps one of our most well-known campaigns, produced in 1993 with photography from Annie Leibovitz, is the controversial "Life, Liberty, and the Pursuit of Happiness." The ad features two shirtless young gay men draped in a U.S. flag, with one man holding up a condom. For its frank and proud portrayal of homosexuality, and campaign materials that discussed oral and anal sex, the poster was banned in Charlotte, North Carolina.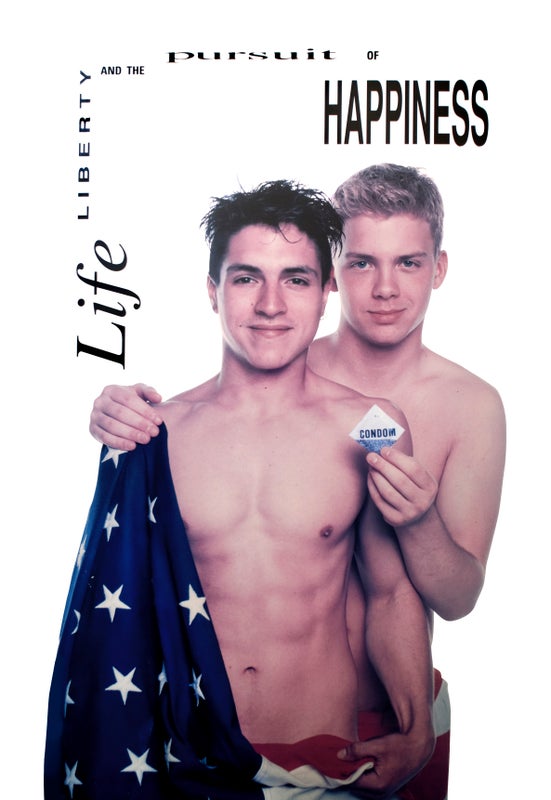 Magnet sexual health services 
In 2007, San Francisco AIDS Foundation re-affirmed its commitment to queer men's sexual health by merging with Magnet, a beloved community health center in the heart of the Castro. 
Opened by Steve Gibson and Michael Siever in 2003, Magnet was established with a new vision for how to address the HIV epidemic among gay men. 
"We wanted to establish a health center that really understood gay mens' sexual experiences, especially in the post-AIDS-crisis time when we opened," said Gibson, who is now the Director of HIV Prevention at Alameda County Public Health Department. "Many in the community had internalized the danger of expressing our sexuality, and the danger of AIDS. But we were living in a very different time–when health was no longer defined by the presence or absence of HIV. We needed to really reset what the community deserved, needed, and wanted at the time." 
Initially providing testing for HIV, syphilis, gonorrhea, and chlamydia, plus STI treatment and hepatitis vaccinations, Magnet opened in a retail storefront on 18th Street in the Castro. Businesses in the area and some community members were concerned by the choice, said Gibson, so his first hire at the agency was a community organizer who was tasked to gain community support. 
"People thought Magnet would devalue the other businesses in the area. There was also a thought that it might bring in a certain element of 'undesirable' people to the neighborhood. There was just this belief that persisted that sexual health services needed to be hidden and out of the way," said Gibson. 
Magnet quickly proved to be an enormously popular in the community, with social events such as art shows, educational events, and non-judgmental, sex-positive testing and treatment services, and eventually PrEP.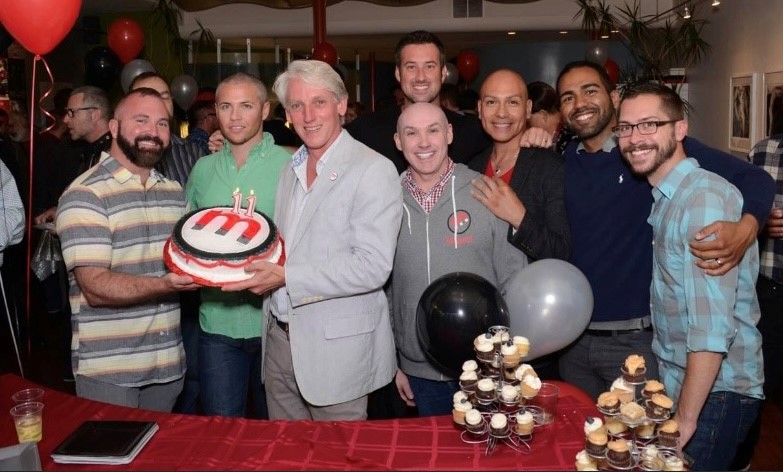 "The foundation affirmed gay men's right to sexually satisfying lives and really backed that up by acquiring Magnet," said Gibson. "Magnet was kind of 'out there,' and some of the stuff we did was pretty radical at the time." 
Gibson remembers bringing in to Magnet a 28-foot long mural from the now-closed Bulldog Bathhouse, loaned to Magnet by the San Francisco GLBT Historical Society. 
"We had seven panels of a mural that had been taken down before the bathhouse was destroyed. It was painted with these incredible orgy scenes–I think probably six or seven men that looked like Russian nesting dolls engaged in some fairly explicit sexual acts."
Later educational campaigns from Magnet incorporated sex-positivity in messaging to promote everything from HIV to PrEP. 
Magnet developed its memorable "Magnet ❤ Cum Pigs" campaign in response to rising rates of syphilis among gay in San Francisco–particularly among men who had multiple partners and who were using substances.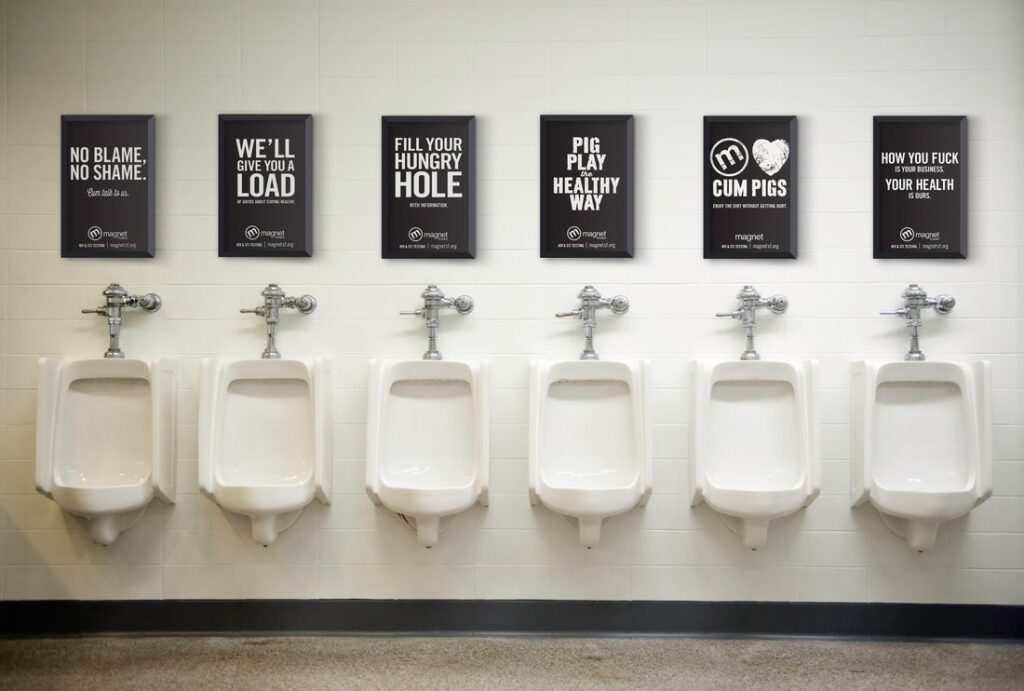 The campaign promoted sexual health services at Magnet, with bold black and white text meant to be readable in low-light, late-night sex clubs and bars. "Cum Pigs," and "Pig Play the Healthy Way," were slogans emblazoned on posters and T-shirts. 
Sex and PrEP 
In 2014, our sexual health services went through a revolution of sorts with the roll-out of PrEP. A fledgling PrEP pilot program at Magnet–with only 20 available spots–filled up almost immediately, and less than a year later, hundreds of community members had started PrEP through Magnet's free PrEP program. The program celebrated 1,000 clients on PrEP in the spring of 2016, and now serves around 3,000 people per year. 
The clinic's stand-out services brought clients from across the Bay Area, and beyond, with  sex-positive services tailored to the realities of queer people's lives. In addition to top-notch medical care, the program includes a highly efficient benefits navigation service, which helps all clients figure out what insurance and patient assistance programs to take advantage of to pay for PrEP. 
PrEP is celebrated as freeing people from fears around HIV, and bridging the "serodivide" between people living with HIV and those who are HIV-negative. 
"Jake Sobo," the popular contributor to SFAF's BETA blog, wrote about his first experience having a partner cum inside him after starting PrEP, in an article that topped the charts in popularity for many years. 
"Jacob was the first guy I knew was HIV positive to cum inside me. This gave the experience a particular meaning to me. I wrote about struggling with this decision last year, before this experience, when I was still asking undetectable poz guys to pull out. (I won't rehash the science here: The risk of transmission from an undetectable poz top and a neg bottom on PrEP is exceedingly low). As I was getting out of the shower before I left to meet Jacob, my heart was racing. I was nervous in part because Jacob was blazing hot, but also because in my gut I knew I wasn't going to ask him to pull out. In the moment, I felt somehow that I was more connected to him. That I was giving him my trust."
Anticipating a demand for information about PrEP with the FDA's approval of this new form of HIV prevention in 2012, SFAF collaborated with Bridge HIV, City Clinic, NIAID, Project Inform, and other community partners to launch the first community resource about PrEP–the PrEP Facts website. For many years, the website served as a starting point for people interested in taking PrEP, who needed more information about the medication's efficacy, cost, patient assistance programs, and more. (PrEP Facts has since been updated with more current information, and is available here.)
PrEP Facts served as a counterpoint–delivering accurate information to the community–when the AIDS Healthcare Foundation launched a controversial anti-PrEP campaign in 2014, claiming that a scale-up in PrEP use would be a "public health disaster in the making." 
Fears about risk compensation and PrEP ineffectiveness have clearly not borne out, and today–with additional forms of PrEP available and on the horizon–PrEP remains a critically important tool for HIV prevention efforts.  
Commemorating 40 years 
In 2022, San Francisco AIDS Foundation marks 40 years of service to the community. 
On this momentous occasion, we take a look back and share our storied history of leadership in HIV prevention, education, advocacy, and care. We celebrate the remarkable individuals at SFAF and in the community who have pushed forward innovation with compassion. We honor those we have lost to HIV along the way. We also reflect on the many ways our organization has grown and evolved to respond to the changing landscape of HIV and the changing needs of our community. 
As we look back on our history, we approach the future with hope, and with a renewed sense of all that our passion and ingenuity can bring to enact positive change in our community. We will act in bold and brave ways to reach an end to the AIDS epidemic, and ensure that health justice is achieved for all of us living with or at risk for HIV. 
After 40 years, we will not lose sight of our commitment to our community, and our vision for a brighter future.