Our role shaping SF bathhouse regulations–then and now
Joshua O'Neal shares why we're supporting symbolic and common-sense legislation that will lift the fear-based regulations on bathhouses enacted in 1984.
In the fall of 1984—amidst a fever pitch of AIDS hysteria and fear—San Francisco AIDS Foundation (SFAF) played a role in shaping regulations limiting the freedom of bathhouses operating in the city, putting forth recommendations meant to reduce transmission and increase condom use. At the time, SFAF saw bathhouses as important community venues to share safe sex information and monitor safe sex practices, even going so far as to recommend loudspeaker announcements about safe sex and the transmission of AIDS in bathhouses and sex venues. 
SFAF joined community members and organizations including the Golden Gate Business Association, the People With AIDS Alliance, and the Stonewall Gay Democratic Club to advocate for the bathhouses to remain open, knowing that closing sex venues would only drive sex parties underground to spaces less accessible to public health and community education efforts.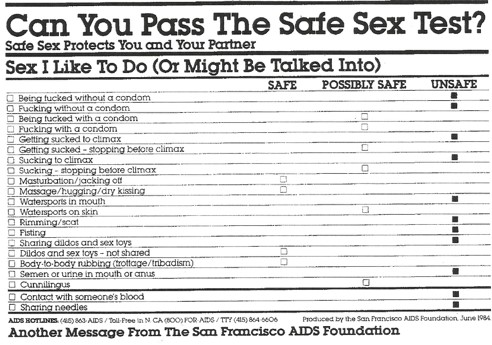 Despite our intentions, the resulting regulations placed on bathhouses meant to curb "high-risk behavior" combined with the escalating fear and death in our community caused many beloved community spaces to close.
Now, more than 35 years later, SFAF is advocating for legislation meant to reverse the fear-based regulations imposed on bathhouses in 1984. Legislation introduced in February by District 8 Supervisor Rafael Mandelman would prevent the Department of Public Health from requiring sexual activity monitoring and open spaces without private rooms, and would require that safer sex supplies and educational materials be made available to clients of sex venues.
"In the mid-80s everyone was scrambling to do the right thing regarding gay men's public health," said writer, organizer and activist Race Bannon. "Most actions were done with good intentions even if it turned out to be misguided in retrospect. Much of their decision making was undertaken amid an atmosphere of ignorance about how HIV is transmitted, lingering homophobia, and without the rich body of research and medical interventions that have developed between then and now. 
"With that said, much of the reaction at the time to the city's attempts to close the bathhouses was angry and loud. Whether it was Mayor Feinstein's order to have police spy on gay men's private sexual activities and the ensuing outrage, Director of Public Health Mervyn Silverman's closure attempts and the push back from a large swath of gay men, or the city going to court for a restraining order and the resulting injunction issued by Judge Roy Wonder that spawned protests, my recollection is that the bulk of gay men were vehemently opposed to the bathhouse closures while some outlier gay men agreed with the decision," said Bannon.
I've been fortunate to work with Laura Thomas, our director of harm reduction policy, and other community members who are connected to sex venues on this issue. To ensure that the community was heard in decisions leading up to the proposed legislation, we convened a group of people invested in how sex clubs operate in San Francisco, including owners, operators and party promoters. From these discussions, we heard how changes to the legislation may affect bathhouses that currently exist, underground sex parties and the opening of new venues, and were able to share community feedback with Mandelman's office as the legislation was drafted.
Although the new legislation may not change how existing sex clubs operate, it might allow more sex-positive spaces to open in the future, if there are fewer restrictions placed on business owners. Importantly, our involvement in helping to retract these policies is symbolic: we're invested in overturning the homophobic, fear-based policies related to sex and HIV that our organization helped to enact.   
"The reality is that it's now 36 years later and it's time to synchronize city policy with the data and facts that were unavailable to us when initial closure decisions were made," said Bannon.
With PrEP, the knowledge that undetectable equals untransmittable, and medications that allow HIV to be a chronic condition rather than a death sentence, we're part of a sexual revolution. Many of us don't have trauma associated with HIV, and we're ready to celebrate our sexuality with the tools that are available to us.
We also want to acknowledge the history and the time when these policies became law.
As someone who currently works in sexual health, I can only imagine what it was like for people to see lovers, peers and friends die in mass and not understand how HIV was being transmitted from one person to another. I understand why it made sense to leaders to shut down and put restrictions on bathhouses at the time, and why there was so much political pressure to close sex venues when we learned that HIV was sexually transmitted.
But I also see the costs associated with these decisions. Those spaces were the best places to disseminate information about HIV and safer sex, and to connect people to services. They served as important spaces for the gay community to come together, and these venues were gay-owned businesses that supported the financial livelihood of many people in San Francisco.
There is space for these two views to exist simultaneously as we reinvent and explore the ways that bathhouses can operate in our city.
—
San Francisco AIDS Foundation offers a variety of free, confidential sexual health services including HIV and STI testing, linkage to HIV care, PrEP and more.