How to bottom better (for the more experienced)
Douchie's back to give us some words of wisdom about lube, positions, douching, and more for better pleasure in bed.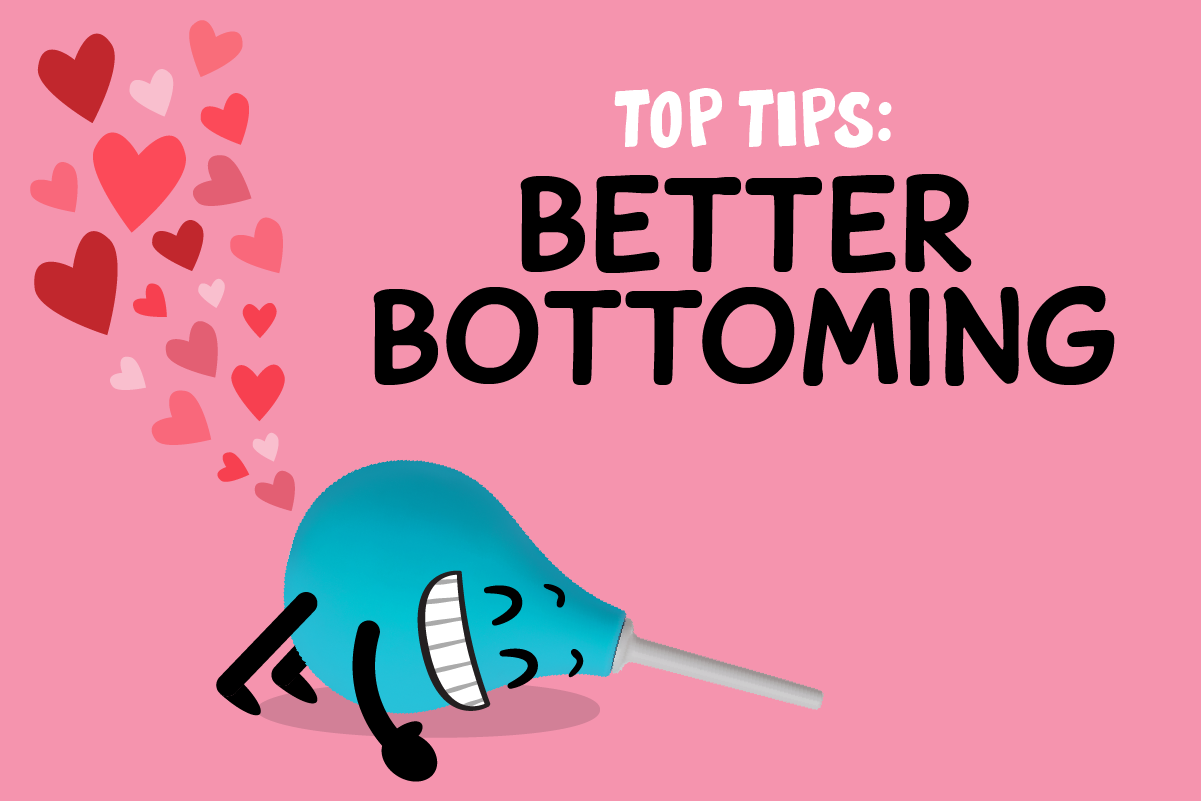 Bottoming can be an intimate and enjoyable experience for many, but if you're not prepared – both physically and mentally – it might end in what I like to call a "poo-tastrophe." For those just dipping their toes in the water, plenty of resources exist online about how to douche, the importance of communication, and why you should carefully listen to your body around bottoming. But as a card-carrying bottom, I have a few additional items I'd like to add to the syllabus. 
Here are some words of wisdom to help you experience better pleasure:
Don't starve yourself — you can eat!
Whether it be for Folsom Street Fair, San Francisco Pride, Chicago Market Days, or Palm Springs' Blatino Oasis, many bottoms spend entire weekends drinking only water and only eating salads for breakfast, lunch, and dinner so they can "stay ready." Life doesn't have to be so restrictive. I found it incredibly liberating when I realized that I have about 2 hours after eating to have anxiety-free receptive sex. 
Knowing a timeframe for my body allowed me to make better decisions about when to eat without fear of whether or not I was playing gastrointestinal Russian Roulette. Everybody is different, but for me, meals with wholesome and fibrous foods, as opposed to highly processed foods, allowed me to extend my safe-zone window. 
You may need to experience accidents to discover what works and doesn't work for your body, and if a top doesn't have patience for you to do this work, I hope you'll trust me when I tell you that they're not worth your time.
Save time and use a shower attachment
I bought my first hand-held douche in Amsterdam back in 2017. No one told me that there's a difference between a vaginal douche and an anal douche. It took me a few years of living in complete oblivion, but I am glad I know now and I eventually found a douching bulb with a finer, more comfortable insert. 
…until I realized there was even something better!
Shower attachments are an efficient and usually affordable alternative to bulb douches. Whether you rent or own, you can install them in your shower and they are ready to go at a moment's notice. 
And here's a life hack: just about any hand-held shower device can be unscrewed and turned into a douching mechanism when held in the right position with the right amount of water pressure. When traveling, try finding the hotel rooms with these types of showers, and you can thank me later!
Find the right position 
Many of us have heard of missionary, doggy style, and cowboy. Porn sites love to mention these as prominent categories, but what about superman, leg glider, or seesaw? And scissoring is not just for lesbians! GAY SEX POSITIONS GUIDE fascinates me with a universe of options that make me eager to try with a partner. Use this guide to stimulate (in multiple senses of the word!) conversations about what might be the best position for you. Discover the best way for your partner to reach your prostate.
The trick for partners with smaller penises
Just because someone has a large penis doesn't make them the best in bed and the opposite can be equally said for someone with a small penis. Sex is so much more than just the physicality of our organs–so don't discount your potential partners who may be a little less than average. There's something you can do to achieve pleasure. 
Try using a little less lube for a bit more friction, creating a more intense sensation. However, be careful to not use too little lube because friction can also lead to more internal small cuts that increase STI risk. If you're not using condoms and lube, consider adding Doxy PEP and PrEP to your repertoire.
Find the right lube
The market presents us bottoms with many options for lube. Water-based lubes dry up quickly, but are compatible with sex toys and condoms. 
Oil-based lubes such as coconut oil last a bit longer, but shouldn't be used with condoms (they can cause condoms to break).
Then, there's silicone lube, like Pjur Back Door, which lasts longer, but is expensive and can stain sheets and clothing. 
Premium lubes, like Astroglide X, blend water and silicone so they don't stain sheets. 
I prefer silicone lubes, even though they're more expensive. But people have their own preferences, and it's worth taking the time to experiment with different products to find ones that you like for different things (you might like a different lube with toys than one for a partner).
Here's how to get rid of the post-sex trapped gas
I know that I'm not the only one that's experienced a longer bottoming session, leaving me with excess air in my gut and feeling a bit bloated. When this happens, I start by walking around and massaging my stomach. If ginger is within reach, I crunch it up and make a tea. For the quickest results, however, I drink caffeine, which excites my digestive system and allows me to expel something, hopefully some of the gas along with it. And voila! Relief! 
Bottoming requires so many considerations, and this article isn't meant to be an exhaustive list, but hopefully makes you think and offers a perspective from the receiving end of things that may be helpful.