When doctors don't know your body–or your life
It makes a difference when LGBTQ+ people can find healthcare providers who have specialized training and experience in the lives and experiences of LGBTQ+ health issues.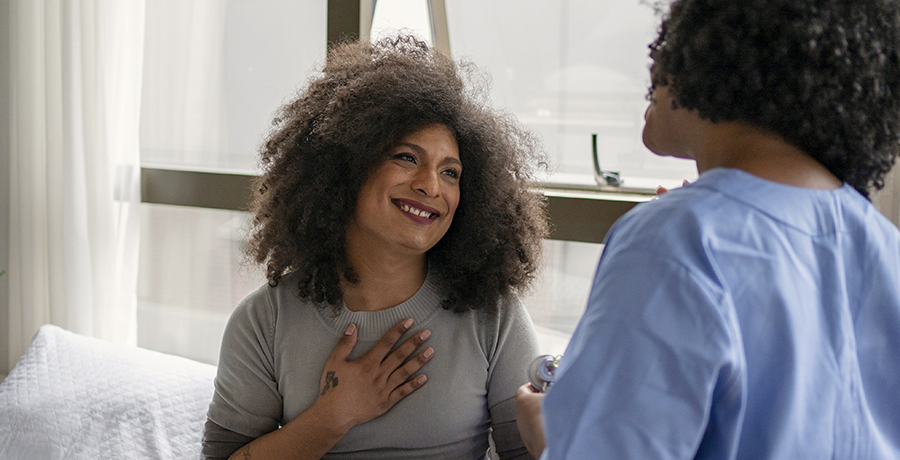 From sexual health care, to gender-affirming care, to substance use issues and mental health concerns–there are many health issues that LGBTQ+ people may need specialized care and information about. Add on top of that the stigma and discrimination that Queer folks (and Queer BIPOC folks in particular) may face–it's no wonder that Queer people seek out LGBTQ+ providers. Just how important is it to seek out LGBTQ+ providers, or at least providers who are well-versed in LGBTQ+ issues?
My own experiences lead me to believe it can make quite a big difference. 
My first-ever STI testing? That was at the Georgia Department of Health in 2014. A provider took out what seemed like an 8" cotton swap–and proceeded to insert it into my penis, twisting it around to collect a sample to test for chlamydia and gonorrhea. Only afterward did I realize how outdated this procedure was (even in 2014), and wonder how this invasive and humiliating experience might keep people away from STI testing.  
Years before that, I was informed that I didn't need the HPV vaccine. Only later did I find out that anyone can acquire HPV–and that the infections can be serious, causing things like cervical cancer (for people born with a cervix) and anal cancer. Gay and bisexual men, in particular, have even been found to have a higher incidence of HPV-related anal cancer than heterosexual men. 
Even in progressive San Francisco, I had a healthcare provider say that I didn't need to provide a urine sample for routine STI testing. "Only if you're experiencing symptoms," he explained. I searched his face, wondering how often he turned people away from routine STI testing. (In contrast, Queer-focused sexual health providers including Magnet recommend routine STI screening every three months.)
Perhaps this healthcare provider wasn't aware that STI diagnoses in San Francisco–and across California–have been on the rise for years, reaching epidemic levels. Or that men who have sex with men are particularly affected. Some research indicates that 45% and 77% of all cases of gonorrhea and chlamydial infection, respectively, were never symptomatic and that 86 and 95% of untreated cases of gonorrhea and chlamydial infection, respectively, were untreated because they were never symptomatic. 
In each of these cases, I either didn't seek or or didn't have a Queer-focused healthcare provider available–leaving me feeling unempowered after my visit or unwilling to trust that they were able to truly deliver the best care for me. 
Jessica Crowley (she/her), PharmD, RPh, a pharmacist with a specialty in health equity and cultural competence, said that unfortunately, many healthcare providers may not receive cultural competency training in LGBTQ issues.
"When conversations do arise [around LGBTQ health], HIV/AIDS dominates the discussion," she said. That's a start, but LGBTQ+ health issues are so much more expansive than that. What about pronouns, trans healthcare, and sexual health?"
The fact is that  LGBTQ+ folks have unique healthcare needs. LGBTQ+ people have a higher incidence of specific health issues, such as depression, anxiety, and substance abuse. In fact, according to the American Psychiatric Association, LGBTQ folks are more than twice as likely to experience a mental health issue at some point in their life compared to straight people. There are also health resources that may be more applicable to our lives–like Doxy PEP, which healthcare providers should know about and be able to provide information about.
"The fact that we have so many healthcare providers getting into the field without LGBTQ+ cultural competence is frightening to me," Dr. Crowley said. Fortunately, new legislation is beginning to address some of these deficits–at least in California, said Dr. Crowley. California's AB2194, signed into law by Governor Newsom in 2022, will require pharmacists to have a basic understanding of LGBTQ+ issues and intersectionality to renew their license.   
In addition, there are many providers who specialize in LGBTQ+ health care, or seek out additional training to supplement what they learn in medical school. Some health centers specialize in providing healthcare for LGBTQ+ clients. Even in general practices you can often learn if a provider specializes in LGBTQ+ affirming care by reading their professional bio. 
The sad truth is that LGBTQ+ affirming providers may not be readily available for many people across the U.S., and even when affirming providers are available, discriminatory policies (such as anti-trans legislation, or limitations in insurance coverage), can impede good care. Know your rights, and get involved in fighting discrimination. You can find more resources from the Human Rights Campaign here.