Clinicians urge public to resume regular HIV/STI testing
A new campaign urges community members to resume regular HIV and STI testing and treatment as pre-COVID-19 levels of sexual activity resume.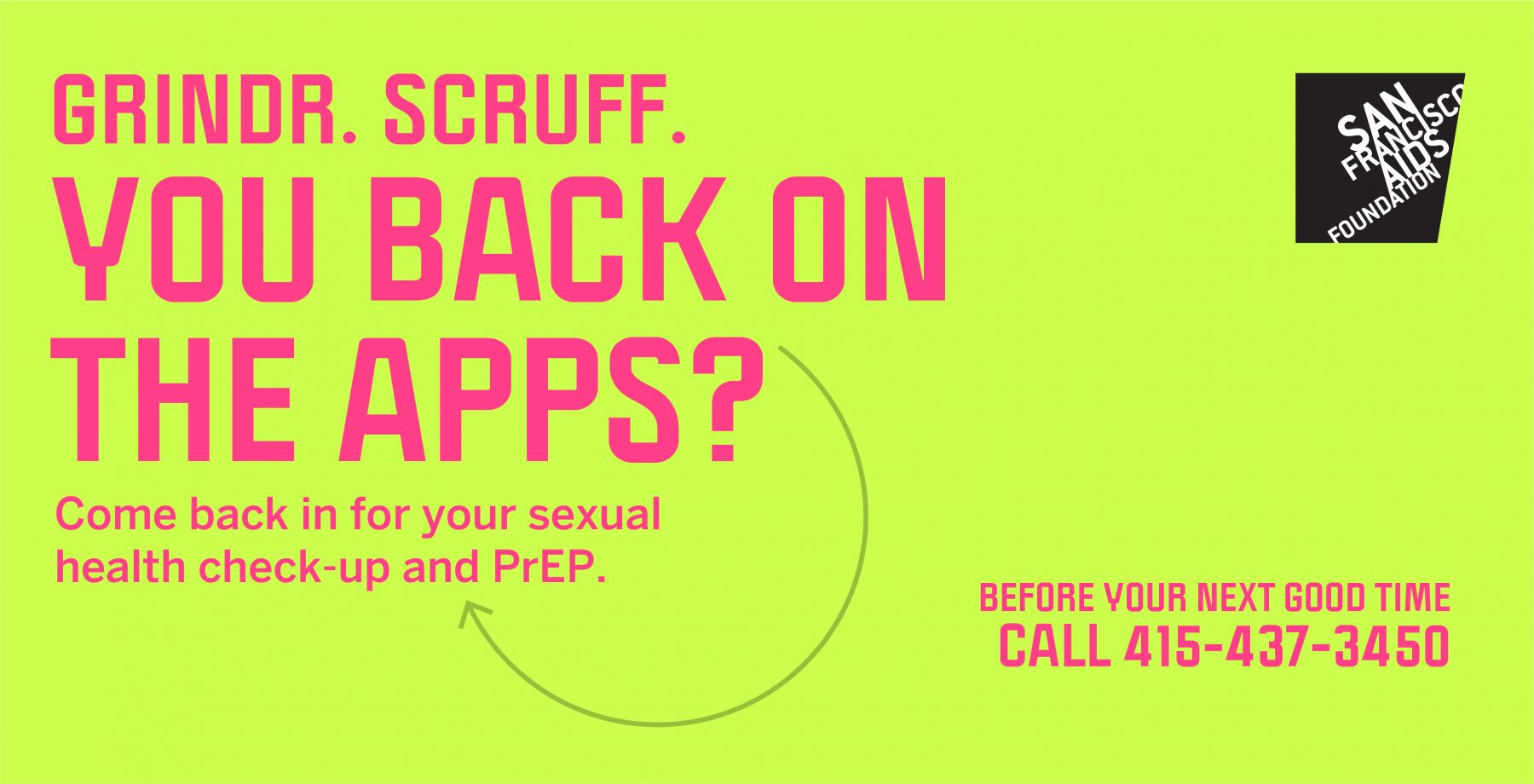 SAN FRANCISCO, April 12, 2021—Clinicians and sexual health care providers at San Francisco AIDS Foundation (SFAF) are urging sexually active members of the public to resume regular testing for HIV and sexually transmitted infections (STIs). As more community members get the COVID-19 vaccine and resume sexual activity, SFAF experts warn of a possible surge in preventable STI cases.
For sexually active community members, clinicians at SFAF recommend regular STI and HIV testing every three months. Appointments are available at Magnet, the sexual health clinic at SFAF, for STI testing and treatment, PrEP services, trans health care, and more. Community members can call 415-437-3450 to make an appointment. Appointments are free and insurance is not required.
"Many community members put their lives—and their sexual health care—on hold because of COVID-19," said Janessa Broussard, RN, MSN, AGNP-C. "Over the past year, our clinic has witnessed a decline in appointments that we correlate to effective efforts to reduce the spread of COVID-19. San Francisco is now in the state's Orange Tier, and as restrictions are lifting and more people are getting vaccinated, people need to start getting tested for HIV and STIs regularly, too. Although we've kept STI and HIV testing open and available as an essential service during the pandemic, we've seen a big drop in service utilization in the last year."
Since the beginning of the COVID-19 shelter-in-place mandate, the total number of HIV and STI testing visits at Magnet dropped by half. New PrEP enrollments have also declined by 50%, and the number of active PrEP clients have dropped by approximately 25%. Other Bay Area clinics have seen similar declines.
"We know that with COVID-19 rates going down, increased access to COVID-19 vaccines and the reopening of businesses in many areas, more people in the community feel a lot safer in meeting up having sex with new partners," said Reina Hernandez, manager of PrEP and HIV benefits and navigation. "We see 'vaccinated' and 'vax4vax' front and center on people's Grindr and other online dating profiles, referring to the COVID-19 vaccine. Without invoking fear tactics or shame, we want to remind people that it's a good time to come in and talk to us about your sexual health, about HIV and STIs and PrEP. Our clinic is open, give us a call!"
A new awareness campaign, launching April 12 to coincide with STD Awareness Week, encourages people to return to routine testing and to start or restart PrEP for HIV prevention. Graphic assets will appear on social media, as ads on hookup apps, and on posters in the community.
San Francisco continues to experience epidemic rates of preventable STIs, with rates of chlamydia, gonorrhea and early syphilis on the rise in the years before the COVID-19 pandemic. Although many STIs can be asymptomatic, common STIs including chlamydia, gonorrhea, and syphilis are treatable if detected with regular testing. 
The most recent San Francisco Department of Public Health STI report showed decreasing rates of chlamydia, gonorrhea, and syphilis, but experts believe that this is likely a result of reduced testing caused by clinic closures, reduced services, and shelter-in-place, not a true decrease in the prevalence of STIs in the community. 
###
ABOUT SAN FRANCISCO AIDS FOUNDATION
San Francisco AIDS Foundation promotes health, wellness, and social justice for communities most impacted by HIV, through sexual health and substance use services, advocacy, and community partnerships. Founded in 1982, SFAF envisions a future where health justice is achieved for all people living with or at risk for HIV, ultimately striving for a day when race is not a barrier to health and wellness, substance use is not stigmatized, HIV status does not determine quality of life, and HIV transmission is eliminated. Each year more than 25,000 people rely on SFAF programs and services and millions more find advocacy tools and information they need online at sfaf.org.