Injectable PrEP Is Here. What Does This Mean for You?
Apretude is the first long-acting injected medication to be approved for HIV prevention.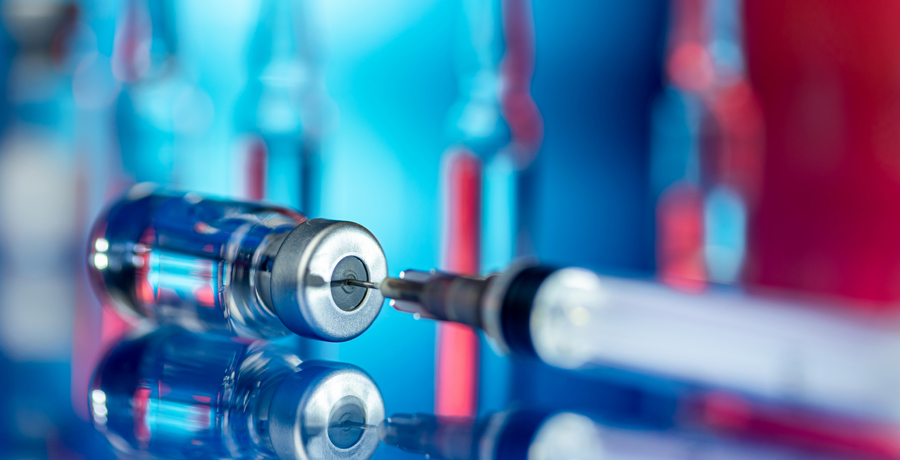 In December, the Food and Drug Administration approved Apretude, the first long-acting injectable option for HIV pre-exposure prophylaxis (PrEP). For some people, the shots could offer a long-awaited alternative to daily pills, but they also come with some potential drawbacks.
"I think this is a PrEP option that people will be interested in, especially people who are tired of taking a pill every day, and maybe have been taking a pill every day for years now," said Jorge Roman, MSN, FNP-BC, AAHIVS, director of clinical services at San Francisco AIDS Foundation.
Apretude, a long-acting version of ViiV Healthcare's integrase inhibitor cabotegravir, has no limitations on which groups can use it. The first PrEP pill, tenofovir disoproxil fumarate/emtricitabine (TDF/FTC, sold as Truvada and generic equivalents), is also approved across the board. But the newer tenofovir disoproxil alafenamide/emtricitabine (TAF/FTC, sold as Descovy) was not approved for people exposed to HIV through vaginal or front hole sex because cisgender women and trans men were not included in pivotal clinical trials.
"This is a PrEP option that is available to anyone who is medically cleared to take it, which will definitely benefit our HIV prevention efforts," said Roman.
In clinical trials, Apretude was found to be more effective than daily TDF/FTC, a remarkable achievement given that the pills reduce the risk of HIV by around 99% if used consistently and correctly.
One large trial enrolled more than 4,000 gay and bisexual men and transgender women who have sex with men in the United States, Latin America, Asia and Africa (HPTN 083). The other enrolled more than 3,000 cisgender women in Africa (HPTN 084). Participants in both studies were randomly assigned to receive cabotegravir injections every two months or once-daily TDF/FTC.
The study of men who have sex with men and trans women was halted ahead of schedule in May 2020 after an early analysis showed that Apretude worked at least as well as daily pills. Follow-up results showed that the injections were 69% more effective at preventing HIV acquisition. The study in Africa was also stopped early. Final results showed that women who used Apretude had about a 90% lower risk of acquiring HIV than those who used TDF/FTC.
In both studies, Apretude was safe and well tolerated. The most common side effect is injection site reactions such as pain, redness, or swelling. These are usually mild or moderate and last only a few days. While most trial participants reported such reactions, few stopped the injections for this reason. Unlike TDF/FTC, Apretude has not been linked to kidney problems or bone loss.
Apretude must not be used by people who already have HIV, as this can lead to drug resistance. The prescribing information says people should be tested for HIV prior to starting the drug and before each subsequent injection. People who do acquire HIV despite using Apretude should transition to a combination antiretroviral treatment regimen. 
SFAF plans to offer injectable PrEP in different clinical settings, including through Magnet's sexual health services at Strut and at syringe access sites. People with unstable housing and people who use drugs often have extra challenges and could potentially benefit from injectable PrEP.
"Injectable PrEP is on the horizon for our clients in 2022," Ramon told BETA. "We hope to share news with our community in late spring or early summer."
Apretude Pros and Cons
The greater effectiveness of Apretude appears to be attributable to better adherence. The injections are administered by a health care provider every two months, which means people don't have to think about HIV prevention and remember to take a pill every day or "on demand" before and after sex (a regimen known as PrEP 2-1-1). What's more, they won't have pill bottles that could be lost or stolen, reveal that they're at risk for HIV, or be discovered by an abusive partner.
"Some people aren't able to or don't want to take PrEP pills," said Susan Buchbinder, MD, director of Bridge HIV at the San Francisco Department of Public Health. "This will give people a new, discreet option for getting PrEP without needing to worry about daily adherence."
On the other hand, people who use the new method will need to visit a clinic six times a year, instead of four times a year for HIV and sexually transmitted infection testing, as recommended by the Centers for Disease Control and Prevention's latest PrEP guidelines. This could prove difficult for some people with an unpredictable schedule. The injections can be given within a seven-day window before or after the dose is due. If a person occasionally needs to miss an injection appointment, for example because they are traveling, they can substitute daily cabotegravir pills for up to two months.
The need for more clinic visits could be a logistical challenge for some providers. However, ViiV's CUSTOMIZE study, which assessed implementation strategies for the new monthly or every-other-month injectable HIV treatment regimen Cabenuva (cabotegravir plus rilpivirine), found that health care providers found it feasible to administer and patients reported few barriers.
Cost and insurance coverage could also be a concern. Priced at $3,700 per dose, Apretude costs about the same as two months of brand-name Truvada or Descovy— but substantially more than generic TDF/FTC. A recent analysis called into question the cost-effectiveness of Apretude. It is not yet clear whether the federal rule that requires most insurers to cover PrEP pills will also apply to the injections.
Global access is another unsettled issue. "With as few as six shots per year, this highly effective form of injectable PrEP can help bend the curve of the HIV epidemic—but only if its approval is accompanied by strategic, effective, and equitable rollout that transforms the growing list of HIV prevention options into real and accessible choices for the people who need prevention most," said Mitchell Warren, executive director of AVAC.
Concerns aside, providers and advocates generally lauded Apretude's approval. Different people have different needs and preferences, and experts hope having more prevention options will increase PrEP uptake and reduce HIV incidence. 
"Long-term, we need to have other options for HIV prevention, so any technology that adds another option for folks is a good thing," said Ramon. "I think if we can get to the day when we have pills, we have injectables, we have an implant that lasts for a year or more, that will do so much for our ability to end the HIV epidemic."