Talking (and laughing) about the weird stuff going on in our heads
An ongoing comedy show at Strut raises awareness--and encourages discussion--about mental health in the queer community.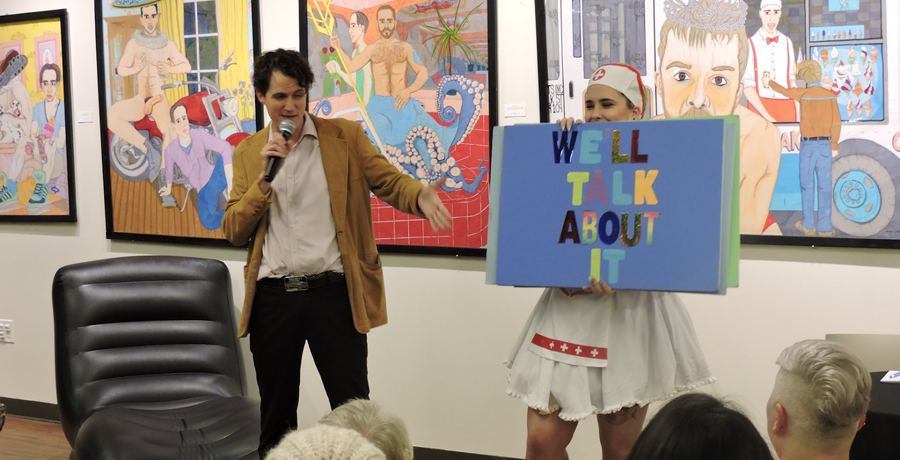 A comedy show dedicated to exploring the difficult issues around depression, anxiety, ADHD and other mental health issues may seem like a strange fit. But for comedians Kristee Ono and Wonder Dave, who host Mental Health Comedy Hour at Strut, it makes perfect sense to use laughter to approach the pain caused by trauma, difficult life experiences, and the mental health issues faced by the queer community.
"I was diagnosed with depression probably 15 years ago though looking back it's obvious I'd been dealing with it longer than that," says Wonder Dave, the self-described Conan to Kristee Ono's Andy Richter vibe. "I wanted a show where talking about it wasn't weird and I wouldn't have to dig myself out of a hole if I went someplace a little dark with a joke. I think it's important to talk about all the weird stuff that's going on in your head."
Mental Health Comedy Hour is an entire show dedicated to the subject of mental health, where all the jokes about illness come straight from the months of the people living with it. Kristee Ono and Wonder Dave co-host this surprisingly light-hearted, late-night-talk-show-esque experience that invites audiences to get weird and vulnerable with the Bay Area's funniest mentally ill people.
"Even today in 2020 it is still hard for people to talk about mental health," says Baruch Porras-Hernandez, the community events manager who brought the show to Strut. "It is even harder for them to seek therapy. So many of my queer friends, even my family members won't go get therapy, because they're too scared or feel that they don't need it, or are in denial. A lot of queer people and people of color have been raised to think that therapy is 'not for them' or 'for white people only' and don't really trust it."
Wonder Dave and Kristee Ono said that although they have always talked about mental health in their sets, it wasn't an accessible topic for all audiences. So they decided to confront the challenge of making mental illness funny. 
"Dave had the great idea to try to dedicate a whole show to talking about mental health so there is at least that expectation and understanding of what we will be talking about, and it turns out people are into it," says Ono.
"Calling the show Mental Health Comedy Hour was basically a big warning to audiences that we would indeed talk about Mental Health in the show," says Wonder Dave. "It's been a great way to attract the type of people who want to hear jokes about this topic."
There's something about laughter that's a little disarming. Laughter is a form of vulnerability because it's your body's physiological reaction to something funny. You just can't help it. So when you're invited into a space that advertises its specific goal of making you laugh about mental health, it very rightfully makes you feel safe. It says, "It's okay to laugh at this. It's serious, but it's not that serious."
Mental Health Comedy Hour helps people think about their mental health with honest and hilarious conversation. It aims to make us feel less alone. It aims to remind you that you have the power to take charge of your mental health in many different ways. It leads by example. As Porras-Hernandez puts it, "If [people] see the comedians who make them laugh seek help, get therapy, stay in therapy, and talk about the antidepressants they take or don't take, it makes a difference."
Porras-Hernandez notes that addressing mental health in the queer community is complex because of how very different our traumas and struggles can be from those of straight folks. 
Sexual and gender minority populations experience higher rates of mental health concerns such as anxiety and depression, and face differences in the quality and accessibility of health care due to social stigma. Discrimination and outright violence lead to higher rates of substance use, mental health conditions, and even suicide. Especially now, as we're dealing with the stress of the coronavirus outbreak, many of us are feeling more alone and afraid than ever before. (This March, the 24/7 Disaster Distress Helpline at the Substance Abuse and Mental Health Services Administration (SAMHSA) saw an increase of 338% more calls from the month before.)
Mental Health Comedy Hour isn't meant to take the place of professional mental health support, counseling, and care. But it's an important way that the queer community is coming together to raise awareness and lessen the stigma around mental health. 
"This show doesn't completely change people, or save anybody— it's a comedy show," says Porras-Hernandez, "but it inspires people to take the first steps they need towards their own goal of mental health, or mental health journey. Also, it can be REALLY funny!"