HIV testing is the first step
Getting tested for HIV and STIs every three months is the best way to know your status, get linked to treatment and manage your sexual health.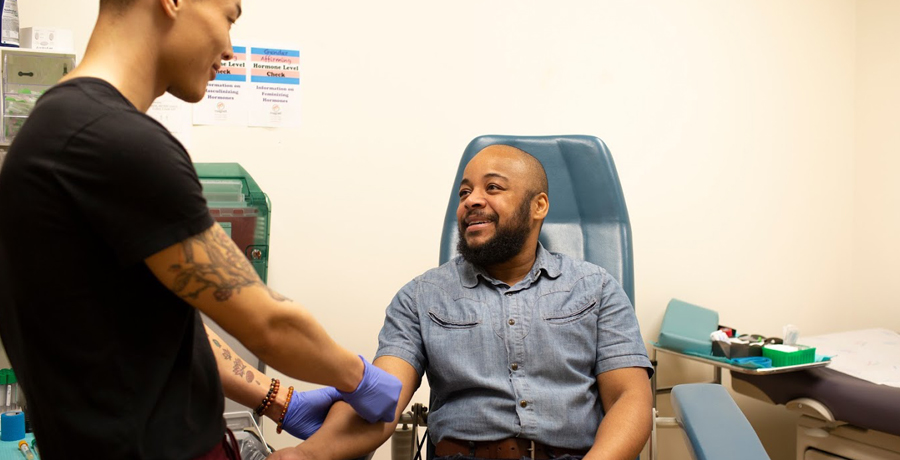 HIV testing and services for other sexually-transmitted infections (STIs) are a critical first line of outreach to gay, bi and queer men, trans and gender non-conforming people, people who inject drugs and others who may be exposed to HIV. Not only do test counselors provide test results and critical information about treatment options, they are able to share information about sexual health and preventing HIV with PrEP.
"Knowledge is power," said Richard Layne, an HIV test counselor at SFAF. "A big part of what we do is education. People come to us with very specific questions about sexual practices, risk or STIs, and we help address those questions so that people can leave with the information they need."
HIV testing, leading to rapid HIV treatment for people who have seroconverted, plays a key role in halting the HIV epidemic. For people living with HIV, treatment not only improves individual health, but also stops the transmission of the virus. People living with HIV who durably suppress their viral load to undetectable levels with HIV medications do not transmit HIV to others.
Yet many people do not receive HIV testing services as often as recommended—or at all. The Centers for Disease Control and Prevention estimates that out of the 1.1 million people living with HIV in the U.S., more than 160,000 people are unaware of their status.  
In an HIV testing study presented at CROI 2019, David Dunn and colleagues shared that out of 10,112 HIV-negative men and trans men who have sex with men, 54% had tested for HIV in the previous year, 33% had tested in the previous six months and 17% had tested in the previous three months.
Among men considered "higher risk" for HIV, who reported two or more condomless anal sex partners in the previous three months, 12% had never received an HIV test. 9.8% had been tested more than 2 years previously, 16.6% had been tested 1 – 2 years previously, and 21% had tested in the previous 6 – 12 months.   
Study participants "were not tested in line with current recommendations," the authors said, which may be due to structural barriers such as difficulties with clinic accessibility, or other factors such as perceived stigma or time constraints.
"There can be many barriers to HIV testing," said Hector Serrano, venue testing coordinator at SFAF. "Sometimes it's because of logistics–you're juggling school or work commitments and it's difficult to keep regular appointments. It can also be difficult if people don't have insurance, and can't get tested from a primary care provider. Some times, people just don't feel welcome or accepted in traditional doctors offices."
Fear and anxiety can also keep people away from getting tested, said Serrano. "Even in situations when a person is likely "low risk", there can be fear about testing positive. There's still stigma around HIV, so we focus on breaking down some of that down during the counseling sessions we provide to people as they wait for their results."
"We recommend that gay, bi and trans men and trans women who have condomless sex or inject drugs get tested every three to six months," said Pierre-Cédric Crouch, PhD, ANP-BC, director of nursing at SFAF. "A testing appointment provides an opportunity to discuss your sexual health, get tested for other STIs, and see if PrEP might be right for you. The good news is that it's easier than ever to access free, welcoming testing and care, and PrEP for people interested in reducing their risk to HIV."
Get an HIV test every three months
SFAF provides free, confidential testing for HIV and STIs at multiple locations across San Francisco.
Get a test in San Francisco. Outside of San Francisco? Find a location near you.