10 Moments that Changed History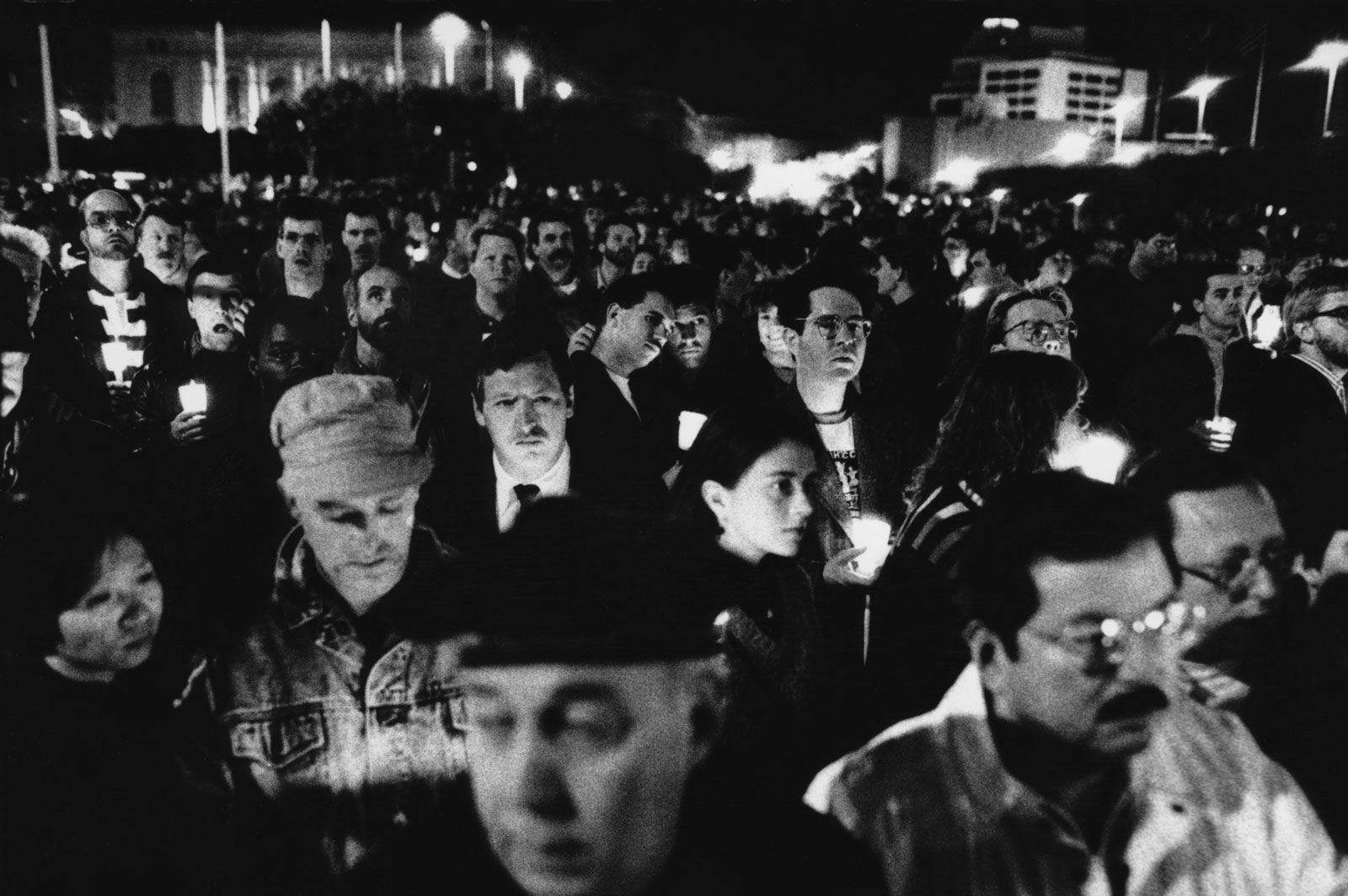 For the past 30 years, San Francisco AIDS Foundation has been at the forefront of the fight against HIV/AIDS. We have been a leader in raising awareness and advocating for progress in San Francisco, nationwide, and around the world. Our efforts have changed history over the course of the epidemic—helping stop the spread of HIV, improving access to care, and reducing health disparities. Here are ten moments that created a lasting impact:
1982 – San Francisco AIDS Foundation is founded as a response to a community in crisis. Cleve Jones and Dr. Marcus Conant, along with Frank Jacobson and Richard Keller, recognize the urgent need to provide information and resources about a strange emerging disease impacting gay men in San Francisco. They open an office at 520 Castro Street, calling it the Kaposi's Sarcoma Foundation. The phone begins ringing before the number is even published.
1983 – On October 8, the AIDS/KS Foundation sponsors the AIDS Candlelight Vigil/Rally in San Francisco. It is the first time that people with AIDS come together in a public demonstration. Photos of the event are circulated around the world, shedding some of the first light on the growing health crisis and humanizing the disease.
1987 – In July, more than 6,000 walkers meet on a foggy morning to participate in the first AIDS Walk San Francisco in Golden Gate Park. They raise more than $667,000 to support San Francisco AIDS Foundation. The walk sparks a movement of community activism that generates much-needed funds and awareness at a time when the federal government was still dragging its feet in response to HIV/AIDS.
1990 – In August, Congress passes the Ryan White Comprehensive AIDS Resources Emergency (CARE) Act, establishing the first and largest federal program for community-based care and treatment services. Leading up to this historic moment, San Francisco AIDS Foundation plays a key role outlining the legislative framework, building community support and advocacy, and launching a grassroots campaign to encourage the passage of the act and the creation of the program.
1992 – San Francisco AIDS Foundation co-sponsors city legislation to authorize a needle exchange pilot project, one of the first bills of its kind in the nation. As a result, a program known as "Prevention Point" transforms from an illegal, underground needle exchange operation to a publicly supported agency. To maintain funding for needle exchange, Former Mayor Frank Jordan must declare a state of public-health emergency every two weeks to release city funds.
1996 – The foundation's public policy department is instrumental in defeating a bill criminalizing the spread of HIV, and a bill banning AIDS education in schools.
2000 – Advocacy by experts at San Francisco AIDS Foundation is critical to the passage of legislation that decriminalizes needle exchange programs across the state of California. This is a landmark achievement that is the first of its kind in the nation.
2002 – In the inaugural AIDS/LifeCycle—the seven day, 545-mile bike ride from San Francisco to Los Angeles—more than 600 participants raise $3.3 million dollars to support the HIV/AIDS services of San Francisco AIDS Foundation and the L.A. Gay & Lesbian Center. AIDS/LifeCycle grows into the largest annual HIV/AIDS fundraiser on the planet.
2003 – Located in a remodeled pharmacy storefront in the Castro neighborhood, Magnet opens its doors. The gay men's health center is a pilot program of UCSF, offering a unique, open, and inviting space for gay and bisexual men to access free sexual health services. Magnet combines a free clinic and a community center with an initial expected capacity of 1,500 clinical visits a year. In 2011, Magnet had more than 12,000 clinical visits.
2010 – President Obama introduces the first-ever National HIV/AIDS Strategy. It is a comprehensive action plan to reduce new HIV infections, increase access to care for all people living with HIV/AIDS, and reduce HIV-related health disparities nationwide. The strategy is the result of advocacy efforts that began in 2007 as the "Campaign for a National AIDS Strategy," co-founded by San Francisco AIDS Foundation.
____
What other moments in the foundation's history do you think made a lasting impact? How has the foundation changed your life?