"It gets better" for gay and Queer folks. But how?
On finding meaningful friendships, and building beautiful communities where we find connection to something larger than ourselves.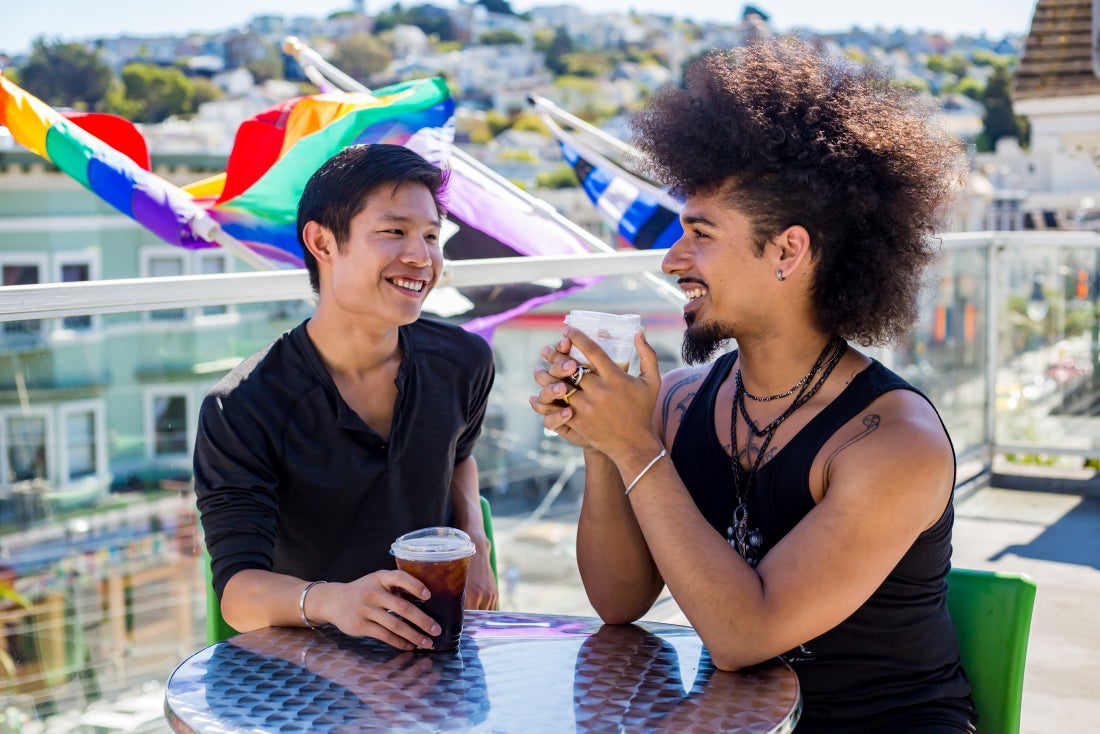 So many of us in the gay and queer community have heard the mantra, "it gets better." Without proper context, however, these words lose all meaning. They're perfect for a catchy, feel-good advertisement, but lackluster when isolated people are looking to connect, to belong, and to thrive. Naturally, one might ask, "how exactly does it get better?"
Truthfully, it does get better, but only when one works to create the affirming community that is needed to support personal growth and development. 
Homophobia seeks to minimize and diminish our lived existence. Others who don't belong to our community may assert that we're some new phenomena. That we've risen out of nowhere to take advantage of a pop culture moment. Instead, nothing could be farther from the truth. We've been silenced, but we've always been here. Now it's time for us to come together. Our resilience lives in our ability to be visible and create community. 
Ask a survivor of the HIV/AIDS epidemic, and their experience of how community was cultivated amidst a traumatic period in global history, and their account will likely be much different than younger generations of queers considering the new sexual revolution PrEP has brought on. But even if a gay man refutes that a true gay community exists, what's usually salient throughout the stories is a desire for their to be community.
When I moved to the Bay Area, one of my mentors introduced me to the book, The Different Drum: Community Making and Peace by M. Scott Peck. In his writing, Peck defines community as "a group of individuals who have learned how to communicate honestly with each other, whose relationships go deeper than their masks of composure, and who have developed some significant commitment to 'rejoice together, mourn together,' and to 'delight in each other, make others' conditions our own.'"
This is such an aspirational definition of community! What I see in this definition is also the opportunity to experience healing with community. No matter whether you witnessed the HIV/AIDS epidemic (or weren't born yet), no matter whether you grew up with positive models of other gay men (or didn't), and no matter how accepting your parents were (or weren't), all gay men share the common experience of being different. That impacts how we see ourselves and our psychological development.
Being in community is where we process our differences, and then also explore our similarities with others who are intentionally challenging normalized gender, sexual, and relationship expectations. It's where we can go to be held and nurtured, and it's also where we find humility. In community, we remind ourselves of our connection to something larger than ourselves.
It's also through repeated contact with individuals that most effectively facilitate the meaningful connections needed to create community. Organizations exist such as a local chapter of Gays For Good, which mobilizes LGBTQ+ volunteers in the broader community to promote diversity, foster inclusion, and strengthen communities, and also sports leagues such as Varsity Gay League, the nation's largest LGBT recreational sports league, which offers events and tournaments year-round. In many cities, simply Google your interest – guitar, hiking, climbing, yoga – and "gay," and maybe you'll find activity-based queer communities. And if there's a void, maybe you can fill it! 
In the Bay Area, there are also so many organizations, such as local LGBTQ centers and other LGBTQ-serving non-profits such as San Francisco LGBTQ Center and the Oakland LGBTQ Community Center. This past Pride,  I also learned about Concord's Rainbow Community Center and San Jose's Billy DeFrank LGBTQ+ Community Center for the first-time. 
Darius Gordon, on staff at the Oakland LGBTQ Center, acknowledges that even within the LGBTQ community there are subcommunities. The Black experience is uniquely different because of intersectional marginalization, for example. They facilitate a monthly support group for Black, queer men, called Black Connect. The group meets the second Thursday of each month and creates space for Black queer men and masculine-identified individuals to meet, connect with, and build authentic relationships with others with shared experience.
"Doing this in a safe and sober environment is rare for Black queer folks in the Bay Area, who would otherwise only have bars, clubs, and hookup apps as a means of connecting," Darius Gordon, the group's facilitator said. "I see this group not in opposition to those platforms, but as a supplement; it's a different way of connecting with folks in the community and is a space to unpack our experiences in the nightlife and dating worlds."
The Oakland LGBT Center also organizes affinity groups for many other communities. San Francisco AIDS Foundation offers similar social services such as the Elizabeth Taylor 50-Plus Network, which support gay, bisexual and trans men ages 50 and older who survived the HIV/AIDS epidemic; Black Brothers Esteem (BBE), for Black and African American community members; and Latino Programs, for members of the Latinx community. 
Vince Crisostomo is the Director of Aging Services at San Francisco AIDS Foundation added to the conversation by saying, "There's been a lot of trauma for people who lived through the AIDS epidemic.  And even now, we're living through the second pandemic of our lives. When you're traumatized, it can be even more difficult to connect with people. So spaces that help you explore things like, 'What has your experience been?' and 'How are you coping with that trauma now?' are really helpful."
What makes building community so exciting is that we don't have to wait to start building community. And when we've found it, we'll find ourselves truly feeling our lives get better.