34% of transmasculine people given PrEP info by providers
Transmasculine individuals need access to sexual health care and PrEP information, without assumptions or judgment about sexual preferences.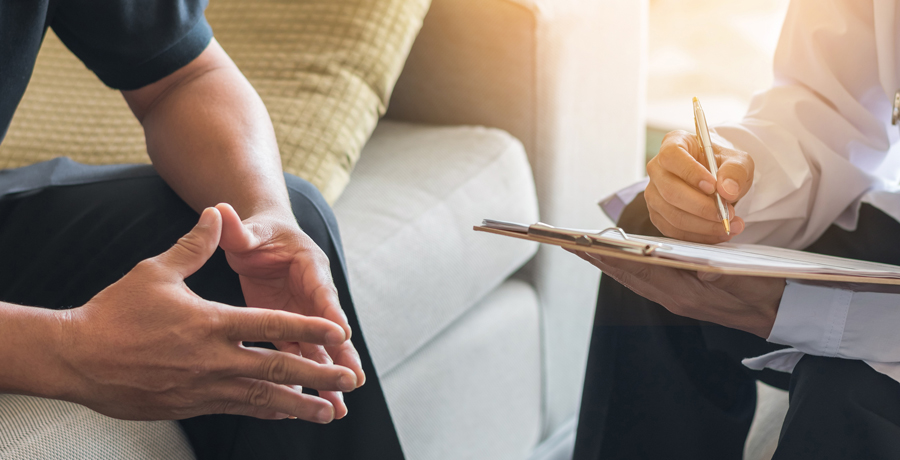 Although oftentimes overlooked in HIV and PrEP public health efforts, transmasculine individuals may be at higher risk for HIV if they have sex with other men, have multiple sex partners, engage in sex work, inject drugs or use drugs with sex. PrEP—an effective way to lower HIV risk—is available and effective for people of all gender identities and sexual orientations, yet transmasculine people may be less likely to know it is an option, be offered information about it by providers or ultimately decide to take PrEP to prevent HIV.
A recent study about sexual health and PrEP drives home the point that health care providers must re-examine assumptions about sexual behavior to ensure that HIV prevention needs are being met—for transmasculine people, and for everyone. The study found that only 34% of PrEP-eligible transmasculine individuals were offered information about PrEP by providers, and only about 11% were currently taking PrEP.
"These results weren't completely surprising," said Augustus Klein, PhD, one of the study's authors. "Often, we equate 'trans health care' with simply gender-affirming care—taking hormones and having surgeries—but ignore the sexual health care needs of transmasculine individuals."   
"I think that one of the things we're increasingly realizing right now is that we have done human beings a disservice by putting them in boxes labeled by gender and sexual orientation," said Sarit Golub, PhD, MPH, the study's lead author. "People love and have sex with other individuals of varying and varied genders, often regardless of their own gender or sexual identity."
The survey was developed by a transgender-led, majority transgender-identified research team. Participants were people over age 18 who were assigned female at birth and currently identified as something other than female/woman. The online survey asked participants about hormone use, HIV testing, sexual behavior, STI history, PrEP use and substance use. For questions about sexual behavior, participants were asked if they preferred the term "front hole" or "vaginal hole." Since the majority of participants preferred the term "vaginal sex," this is the terminology the researchers used and what is used in this article.
A total of 1,808 people from across the U.S. were included in the final study sample.
Who was eligible for PrEP?
Nearly one-quarter (24%) of the sample met CDC-defined criteria for PrEP eligibility. A total of 330 people (18%) reported condomless receptive anal or vaginal sex with a cis or trans male or female partner in the previous six months. 6% of people reported receiving an STI diagnosis in the previous year, 6% reported having sex with five or more cis male or trans female sex partners in the previous six months and 3% reported engaging in sex work in the previous six months.
Who was accessing PrEP?
Out of the 439 individuals who met PrEP eligibility criteria, 82% reported that they had seen a healthcare provider in the past year. Of people who had seen a health care provider, 79% had been given an HIV test. Of those who had received an HIV test, 45% had been given PrEP information from their health care provider, and of those who had received PrEP information from a provider, 32% reported currently taking PrEP.
Of all individuals eligible for PrEP, 34% had received PrEP information from a provider, and only 11% were currently on PrEP.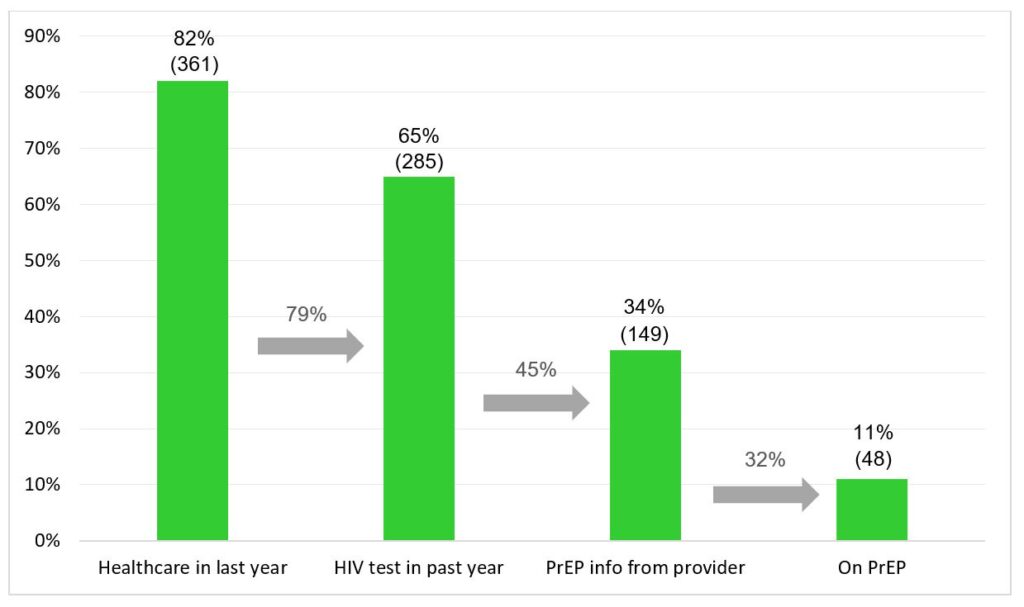 Comparatively, a different study that measured PrEP uptake among men who have sex with men in the San Francisco Bay Area found that 39% were currently taking PrEP.
"One thing that I would want to draw out from this research is that transmasculine individuals—similar to transfeminine individuals—are actually very likely to access healthcare because they are motivated to receive gender-affirming healthcare," said Golub. "As opposed to other 'hard-to-reach' populations, these folks are actually engaged in healthcare. It's striking that among people who were PrEP-eligible, 65% had actually had an HIV test which shows that they are seeking HIV prevention services. But less than half of those folks had a provider give them PrEP information."
"We know that PrEP can prevent HIV. Why are providers not telling transmasculine people about it?," said Klein.
Substance use among transmasculine individuals
The authors noted that substance use emerged as an important predictor of PrEP eligibility.
Out of the entire sample of transmasculine people, use of stimulants (5%) and poppers (4%) was relatively low. The percentages of people who reported taking these substances who were also eligible for PrEP were much higher: 52% reported taking stimulants and 66% reported using poppers.
"Our data demonstrate that transmasculine individuals need access to sexual health care and PrEP information, just like other sexually active people," said Golub. "Providers need to make sure they are actively speaking with patients about their sexual behavior and sexual health needs, rather than making assumptions about what interventions are or aren't right for them".
Source
Golub, S. and colleagues. High Rates of PrEP Eligibility but Low Rates of PrEP Access Among a National Sample of Transmasculine Individuals. JAIDS, 2019. 
Free PrEP services in San Francisco   
PrEP is nearly 100% effective in preventing HIV infection when taken as directed. San Francisco AIDS Foundation provides free PrEP services. Make an appointment at our main office on Market Street or at Strut in the Castro.
Drop-in PrEP services are available for queer and trans people of color at a weekly QTOPC at Strut event. Stop by from 5 pm – 6:30 pm at Strut, 470 Castro Street in San Francisco.