PrEP 2-1-1 offered at Magnet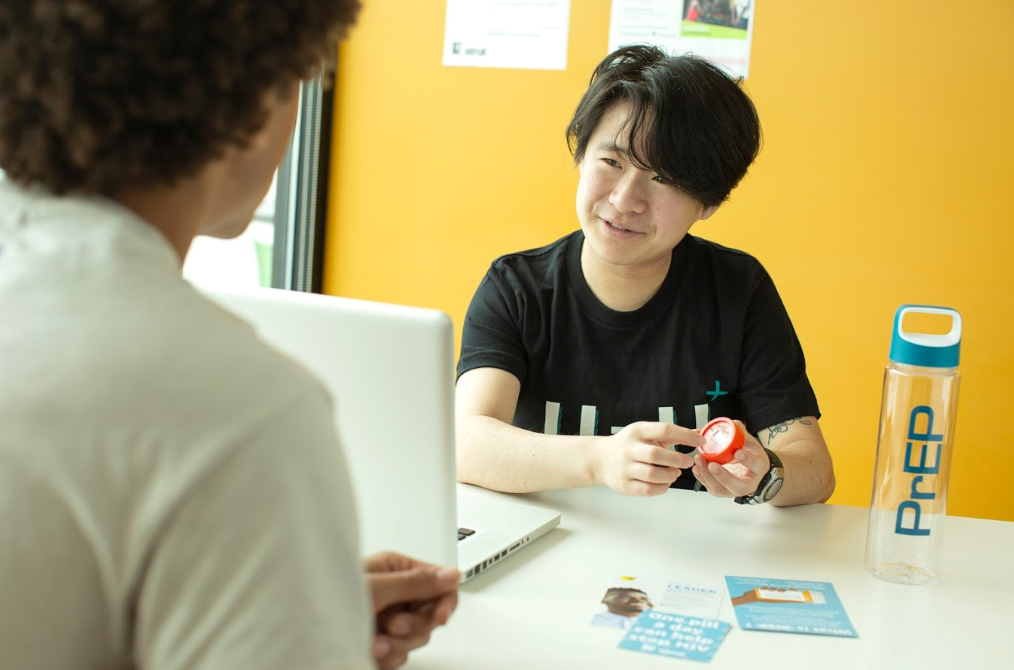 For the first time in the U.S., PrEP "on-demand" dosing is being offered routinely at the San Francisco AIDS Foundation sexual health clinic Magnet. PrEP on-demand (also known as PrEP 2-1-1) is an alternative dosing strategy in which scheduled Truvada doses are taken around the times of sex instead of once daily (2 tablets taken 2-24 hours before sex, 1 tablet 24 hours later, and 1 final tablet after another 24 hours).
Recognizing that PrEP 2-1-1 is in widespread use in Europe, SFAF leaders decided to develop a PrEP 2-1-1 research study after observing that many PrEP clients had begun using the 2-1-1 strategy after reading about it online or hearing about it from others.
Although data supporting this way of taking Truvada for PrEP was not submitted by the manufacturer to the FDA (and therefore could not be reviewed by the FDA), the dosing strategy has been rigorously evaluated and is approved by the International AIDS Society in the U.S. and recommended by many European countries, Australia and Canada. Large randomized controlled studies have validated the method and shown it to be effective for people having anal sex. PrEP 2-1-1 has only been studied in cisgender men who have sex with men and is not recommended for vaginal exposures or for anyone taking hormone supplementation.
"We saw an opportunity to bring PrEP 2-1-1 to people in an intentional way," said Pierre Cedric-Crouch, PhD, ANP-BC, ACRN, nursing director at San Francisco AIDS Foundation. "Healthcare oftentimes lags behind what communities are doing. People learn about better ways to protect themselves, and start implementing these strategies before we do—but I think we fail the community by not evaluating and supporting the services that people are already using," he said.
The San Francisco AIDS Foundation sexual health clinic is the first to offer PrEP 2-1-1 to clients, through a study or otherwise. The San Francisco Department of Public Health, a collaborating partner, has endorsed PrEP 2-1-1 as an alternative to once daily dosing, and are informing health care providers about this strategy.
Christopher Hall, MD, MS, AAHIVS, vice president of medical affairs at San Francisco AIDS Foundation, explained that SFAF collaborated with the University of California, San Francisco (UCSF) to launch the PrEP 2-1-1 study. People involved in the study are eager to bring PrEP 2-1-1 dosing information, education and resources to the community, to other providers, and to national public health partners who are considering recommending the strategy but wish to see further data.
"Through this study, we are able to talk with clients to determine if PrEP 2-1-1 dosing may work for them, and then make sure that they have the information they need to use the strategy correctly. It's exciting that we're able to share this strategy with all of our PrEP clients, and also people who are not already taking PrEP who may be wary of taking a daily pill, or who simply don't need 30 days of PrEP coverage per month. The intent is to bring PrEP to more folks who otherwise might not have adopted it at all," said Hall.
Although the number of PrEP users has increased steadily in San Francisco and across the U.S.since 2012, rates of PrEP uptake are uneven across different populations.
In San Francisco, African American men who have sex with men (MSM) have lower rates of PrEP uptake than white, Latino and Asian MSM: 34% of PrEP-eligible African American MSM were using PrEP in 2017 compared to about 50% of white, Latino and Asian MSM. (These data were collected at San Francisco City Clinic.) SFAF is innovating additional interventions aimed at bringing PrEP to these populations and in 2019 hopes to increase rates of PrEP use in these populations at risk in the wider Bay Area.
---
Interested in finding out more about PrEP 2-1-1? Read the research or make an appointment for PrEP services at San Francisco AIDS Foundation.
Queer and trans people of color are welcome to stop in to access PrEP services and other sexual health services on Thursday evenings, 5 – 6 pm at Strut (470 Castro Street, San Francisco) at QTPOC at Strut events.