Health Justice for Latinx Communities
We are seeing with our own eyes the COVID-19 and HIV disparities that affect Latinx communities, so we must be creative with our services, said Jorge Zepeda from Latino Programs.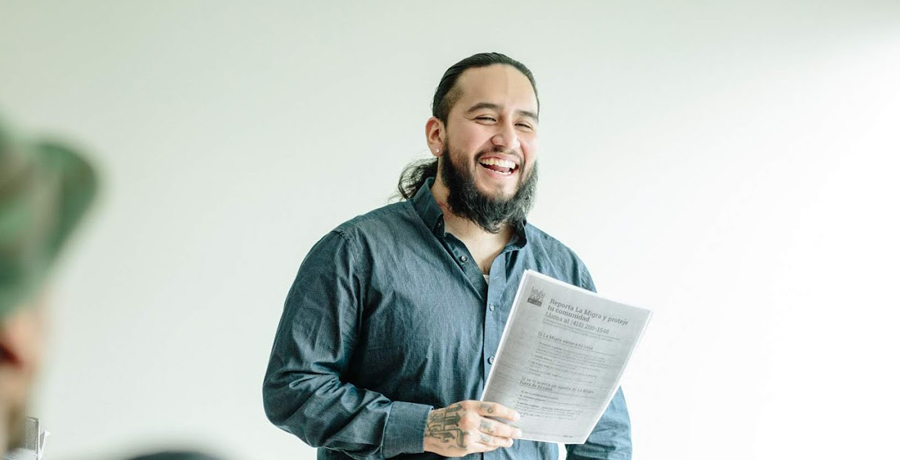 Across the U.S., COVID-19 cases continue to disproportionately affect Black, Indigenous and People of Color (BIPOC) communities, leading to higher rates of diagnoses and even mortality. In San Francisco, the Latinx community has been especially affected–with about 50% of COVID-19 cases happening among Latinx residents, despite making up only 15% of our city's population.
Disparities in COVID-19 mirror those seen in other health conditions, including HIV. In recent years, Latinx and other communities of color have represented a growing share of new HIV infections, while new infections among those who identify as white have decreased.  
"These are very challenging, stressful and sad times with COVID-19," said Jorge Zepeda, LCSW, associate director of Latino Programs. "We are losing lives, and people in our communities are seeing with their own eyes the disparities that affect Latinx communities. So, we must be creative and innovative with our programs and services."  
Zepeda, who started out working in the field of HIV in 1991 as an HIV/AIDS hotline volunteer, said that he's seen an increased focus on ensuring health equity for the Latinx community in the last 10 years. He said that the Latinx community needs not only culturally appropriate services and resources, but easy-to-access points to entry that people know about and can navigate easily. Health materials, resources and services must be available in Spanish, and social factors that affect Latinx communities must be addressed. 
"There are so many needs in our community," said Zepeda. "Criminal backgrounds and immigration status can prevent people from working or seeking services. Access to nutritious meal options is a luxury for some–and it shouldn't be. Housing isn't available for all. We have to ensure that infrastructures, systems, and services truly are for everyone." 
San Francisco AIDS Foundation has programs and services designed specifically for the Latinx community. 
Claudia Figallo, MPH, LAADC, a clinical supervisor for the Stonewall Project, collaborated with Latino Programs to design a drop-in group named "El Salon Latino," after noticing a need in the community for more information and resources on substance use and harm reduction. The in-person group–which is on hold during the pandemic–gives people a space to safely talk about substance use concerns and how they can be addressed.
"It's important for us to create opportunities for education, destigmatize substance use, normalize having conversations about substance use, and promote overdose prevention and safer drug use," said Figallo. "But it's difficult, because from an immigration perspective, people fear that if they talk about substance use, they'll lose opportunities to obtain refugee or asylum status. If any of that is reported, it's likely that people will have more barriers to getting a work permit or resident status. A lot of people aren't willing to come forward to access services related to drug use. We try to accommodate for fear of immigration by having low-threshold services that allow people to provide alternative names or attend anonymously."  
In late spring of 2020, the Positive Force and sexual health teams collaborated on a three-day seminar in Spanish for people living with HIV. The seminar, based on the popular English-language "Positive Living for Us Seminar" (PLUS), wasn't simply a translated version of the English-language event. 
"It was important for this event to be designed to feel like it was for the Spanish-speaking Latinx people who attended, in addition to having all of the presentations in Spanish," said Vic Kuri, a prevention and care services counselor. "We had an HIV medical provider from Colombia who used her cultural expertise to share information about HIV in a way that resonated with participants. In addition to being Spanish-speakers, many of the staff who put on the event are immigrants–able to relate to the experiences and lives of people who attended." 
The seminar also addressed some special issues related to HIV treatment that may affect the Latinx community, including how to manage relationships with medical providers (for people born outside the U.S.), racism in health care, internalized stigma, and more. Kuri said that the seminar used a strength-based framework, to destigmatize living with HIV, enable people to challenge any of their own stigmatizing attitudes about HIV, and help people connect with one another in more meaningful ways.  
El Grupo de Apoyo Latino, the long-standing social and support group of Latino Programs at SFAF, has continued to hold regular group meetings virtually during the COVID-19 pandemic, providing information and referrals, education, and skills-building around safer practices during COVID-19. 
"There are many strengths of the Latinx community," said Zepeda. "Many of us have moved to this country from another place. One thing we try to do is bring in this strength and help people see that this strength can be used in responding to HIV. We face adversity, but we are powerful as individuals, and a community." 
Latino Programs
Spanish-speaking community members can receive limited individual services by text, e-mail, phone calls, or video chat during COVID-19. Latino Programs groups are facilitated in Spanish and are happening on Zoom by invitation only. 
The Latino Support Group/El Grupo de Apoyo Latino focuses on the intersection of HIV, Latino migration and the impact of COVID-19, Thursdays at 3 pm. For more information or to join a group please contact: Eduardo at esiquerios@sfaf.org or 415-734-8011.
Los Programas Latinos
Miembros de la comunidad que hablan español podrán recibir servicios individuales limitados vía texto, correo electrónico, llamadas telefónicas o por video-conferencias. Participación en los Grupos de apoyo vía video-conferencia en Zoom, solo se otorgara por invitación previa. Para mas informacion por favor envie un correo a jzepeda@sfaf.org o llame al numero de telefono 415-734-8011.