Fire closes services at Harm Reduction Center
Harm reduction services are temporarily available at a mobile site in the Mission.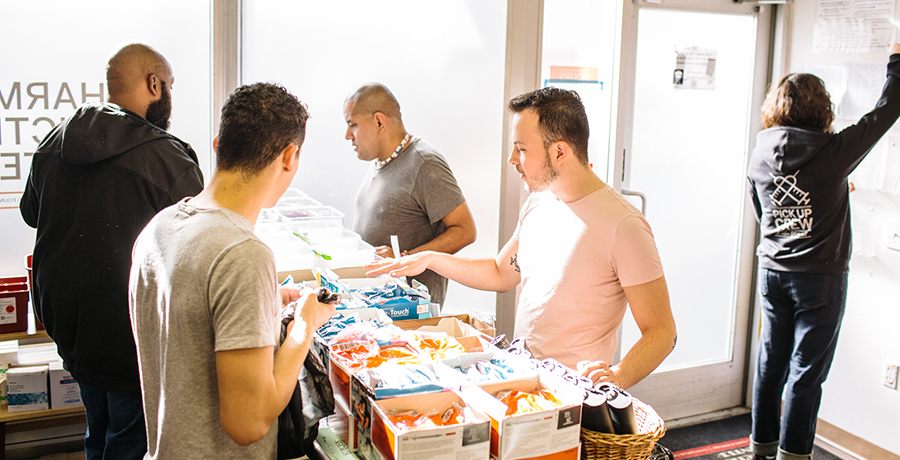 In early May, a fire at the Rose Hotel on the corner of 6th and Minna (near Mission) shut down services at our Harm Reduction Center which is housed in the same building. No staff or residents of the hotel were harmed in the fire, which occurred in the evening on a Sunday. The space will be closed until fire, smoke, and water damage can be repaired, and until mold remediation is completed.  
"This has proven to be a difficult challenge for our team, with repercussions for the participants we serve," said Ro Giuliano, director of people who use drugs (PWUD) health and Syringe Access Services. "We are the largest syringe access program in the city–with staff who are members of the community offering very low-threshold and easy-to-access harm reduction and health services. There are no barriers here to supplies, resources, information, and care–no security, no sign-ins. We hope to be back up and running in the space as soon as possible." 
SFAF's Harm Reduction Center provides practical and compassionate resources for people who use drugs, and staff offer safer injection and smoking supplies, overdose prevention materials, wound care and HIV/STI testing, hepatitis C treatment, and more. 
In a typical year, the team makes around 60,000 contacts with participants at the Harm Reduction Center and across mobile and outreach sites. Last fiscal year, they distributed more than 40,000 doses of the overdose reversal medication Narcan, had more than 7,000 overdoses reported as reversed, and administered more than 1,800 hepatitis C tests. 
While the Harm Reduction Center is closed, the team will offer services at a mobile site at 1235 Mission St., Tuesday – Friday, 11 am – 3 pm. 
"We are reaching people at the new site already," said Giuliano. "We were thankfully able to find a parking space near where people congregate, so our teams are busy. Our staff bring resiliency to this work, and are able to roll with the sometimes difficult changes that come our way."