As MPX slows, here's where we are now
Our CEO, Dr. Tyler TerMeer, gives a summary of SFAF's response to MPX over this past summer.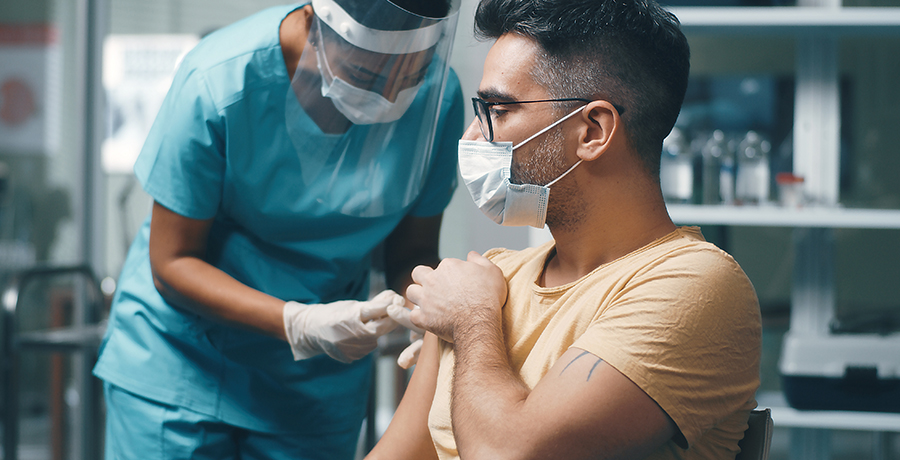 It's been a busy summer at SFAF, to say the least. 
Early in July, I shared our concern about the lackluster public health and governmental response to the growing threat of MPX (monkeypox) in our communities. At the time, SFAF had received only 60 doses of the JYNNEOS vaccine, a tiny fraction of what we needed for our clients, staff, and community to slow and prevent the spread of MPX. 
Since then, we moved quickly and in sync with other community-based organizations in San Francisco and the San Francisco Department of Public Health. We voiced our concerns, many times over, and amplified the need for a more robust public health response in local and national news, with elected officials, at protests, and at community forums and events. We ramped up services for MPX treatment, prevention, and care–problem solving with our clinical teams for issues around access and equity. We maintained the city's one and only vaccine waitlist, set up a dedicated MPX hotline staffed in partnership with the San Francisco Department of Public Health, and have held vaccination events at our own health center and in collaboration with city partners including Kaiser Permanente. We found ways to cut through bureaucracy around MPX treatment, in order to get folks experiencing MPX symptoms timely treatment and care. We also participated in a national seroprevalence study with the CDC. 
In the past three-ish months, our clinical teams have vaccinated more than 2,100 community members, conducted about 200 MPX tests, and treated more than 100 community members with MPX symptoms. We have answered literally thousands of calls from people with questions about MPX services and symptoms, and have reached tens of thousands of people across the U.S. with our MPX info available online. We pressed for local, state, and federal governments to declare public health state of emergencies around MPX, and raised the visibility of MPX as an issue of urgency.
So far, about 800 people have been diagnosed with MPX in San Francisco. The most number of cases per day happened in July and into August, slowing by the end of August and into September. Although we can't be sure what the future holds–and if cases may increase again–we are optimistic that the high uptake of MPX vaccination may prevent future large-scale outbreaks.
I am particularly proud of SFAF's efforts around vaccine equity and access. Early on, we recognized the need to reach communities who are often left behind or overlooked in healthcare. Many of these communities–for instance people who use drugs, people who are unhoused, trans communities, Black communities, and monolingual Spanish speakers–are folks who are connected to SFAF through our network of harm reduction and community engagement services and programs. 
It would have been easy for us to offer all of our MPX vaccines through our sexual health center in the Castro, to people who are able to secure appointments during the workday and on weekend days when we are open. Instead, our clinical teams found creative ways to offer vaccines at our mobile syringe access and harm reduction sites, at events for Black and Latinx communities, to clients who are part of our TransCare program, and at other community events. We even served as a bridge to many trusted community partners by re-allocating some of our vaccine supply to those who have long histories of trust and respect in these communities, including Street Medicine, a program of San Francisco Department of Public Health, and San Francisco Community Health Center.  
I am incredibly proud of the many ways that our organization, alongside volunteers and community partners, stepped up to address the crisis and respond to the challenging situation we found ourselves in. We were resilient in the face of a public health failure, and we stepped into the void to respond to the needs of our communities. We raised awareness, shared resources, and stepped out to advocate. 
As the number of MPX cases come down, public health organizations and governments may pull back on their response. There may be fewer accessible drop-in vaccination sites, less prevention information freely available, fewer press conferences capturing headlines and outlining the need. This is when organizations including SFAF step up, double down, and press on. If we continue to see MPX circulate in our communities, it will be among those who are most in need–of connection, of care, and of resources. We will be there to see it through.