World AIDS Day is a Day to Heal our Grief
Each World AIDS Day, when I am able to join with my community and others and can take a break, acknowledge my loss, memorialize those losses and take action by marching or by dancing, I am healed a little bit more.
World AIDS Day. For most, it is a global event where we honor, memorialize, and celebrate the lives of those we have lost to HIV and AIDS since the pandemic began in 1981. For me it is so much more.
During those early years of the AIDS pandemic, many of us long-term survivors experienced nothing short of a catastrophic loss of life–losing friend, after lover, after friend, after lover, after friend within a very short period of time. At the height of the AIDS pandemic, there were many  of us who were attending an average of four memorials a week, in some cases, six or more.
Psychologists call what we experienced "compounded grief," something that can occur during and after a mass casualty event such as war or natural disaster. Entire communities were affected, and like other events that result in mass casualties, collective grief manifested. We felt powerless to control the crisis consuming us.
Years later, we feel anticipatory grief. We are scarred by our pasts, seeing the loss around us and the problems not yet fixed as we confront new pandemics (Covid-19, MPX) and crises.
What can we do to heal?
I've found comfort in these four steps, and I make sure to incorporate them into every day of commemoration, including World AIDS Day. They are: Acknowledge, Memorialize, Take a Break, and Take Action.
Last year, on December 1, 2022, I took a break from my daily life to focus on the grief that I normally tend to push down. This is normally an act of self-preservation: I push my grief away so that I can function. Most days, if I dwell on my grief, it would overwhelm and consume my very soul. On World AIDS Day, I let my emotions surface.
The day began with Inscribe. Created by George Kelly, in 2016, Inscribe began as a way to teach the students at the Harvey Milk Civil Rights Academy about those early days of the AIDS pandemic. As a community–students, parents, teachers, neighbors, merchants, tourists, and community leaders–we inscribe the names of those we have lost along two full blocks of Castro Street sidewalks using chalk. By the end of the day, the sidewalks along Castro Street are a patchwork of chalk art, reminiscent of The AIDS Memorial Quilt. It is a powerful act of acknowledgement and a way to memorialize those we have lost.
The display–and the collective act of remembrance–brought tears to my eyes.
Later that day, closer to sunset, we held a Vigil1 on the steps of San Francisco City Hall, where we acknowledged the contributions of civic leaders and others, past and present who were essential in the creation the service and safety network that San Francisco sets as the standard of care for those living with and at risk for HIV.
Then we marched. Just like we did those early days we held candles in one hand and protest signs in the other. Reminding people that HIV and AIDS is not over.
By marching from the steps of City Hall to the steps of St. John the Evangelist Church, we reminded people that there are still 16,000 people in San Francisco living with HIV and that over seventy percent of them are over the age of fifty. We were led by Ms. Billie Cooper, who reminded us that even forty years later, there are still disparities among communities including among trans and Black and brown communities. Dr. Monica Gandhi, from Ward 86, called upon us to refocus our efforts on ending the HIV epidemic, marched with us. And afterward…
…we DANCED!
Under a sky of Quilt panels hanging from the ceiling of the church–made up of panels of parishioners lost to AIDS–we celebrated and memorialized all who were lost.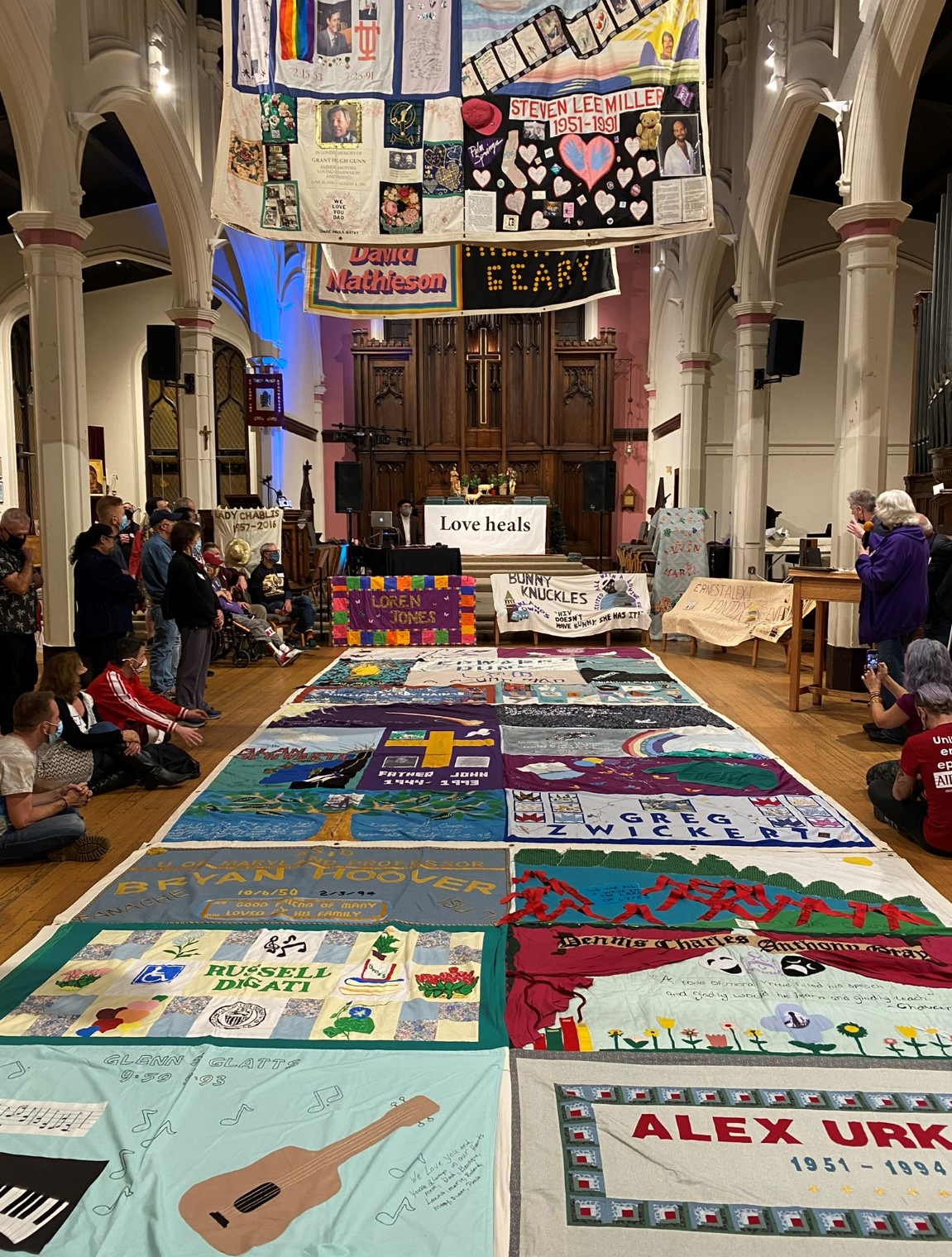 We danced to the music made popular by the Sunday Tea Dances popular in the early years of AIDS. I danced to honor Jerry, my first friend who died. I danced to honor Vincent, the love of my life who I had buried, not even three months earlier on October 14, 2021, a day before his forty-sixth birthday. I danced to honor those who stuck by us and cared for us over the years. I danced to honor those who lost not one, not two, but three partners and yet still continued to fight alongside us. I danced to honor those young people who continue to fight on my behalf so that I may continue to have access to the services that I need.
I laughed. I cried. And I was healed just a little bit more than I had been a day before.
And that's the thing. Each World AIDS Day, when I am able to join my friends, my colleagues, my peers and so many others of my community and take a break, acknowledge my loss, memorialize those losses and take action by marching or by dancing, I am healed a little bit more.
–
1This event was thanks to the combined efforts of Ande Stone and the other members from the HIV Advocacy Network, Gregg Cassin from the Honoring Our Experience group at Shanti, John Cunningham, Joanie Juster and Michael Bongiorni from the AIDS Memorial & Quilt, the folx at Black Brothers Esteem and TransLife with the help from some good friends at City Hall and the Reverend Kevin Deal and the parishioners at the Episcopal Church of St. John the Evangelist, and Dr. Monica Gandhi, from Ward 86.