Bringing visibility to the transmasculine experience
Niko and Loren started a visibility campaign for trans men that has morphed over the years into events, sex parties and educational materials designed for the trans community.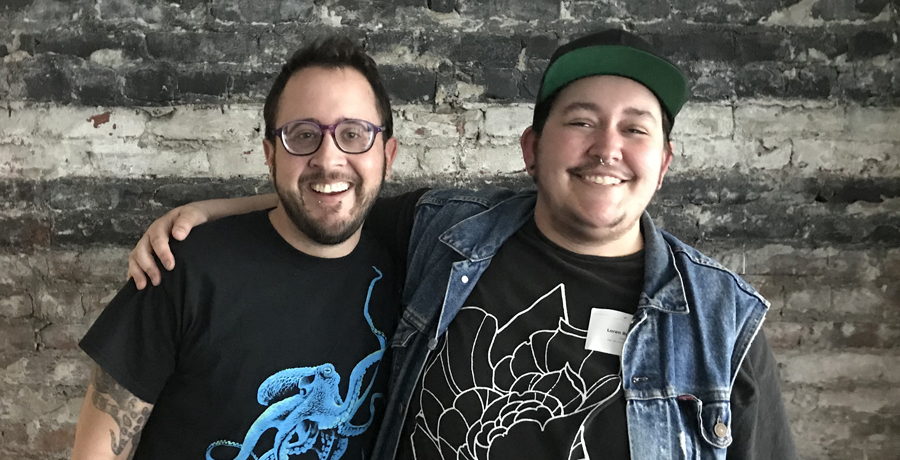 Trans men are sexy, we want to party with you, and you should consider us as sex partners.
That was the message of our visibility campaign—that we started about 10 years ago—to bring visibility to the transmasculine experience. It was a wild ride, and it isn't over. Since launching the "Top 5 Reasons to Fuck a Trans Guy" and other campaign materials, we've gotten calls and emails from people all over the world, have iterated our campaign, shared our experience at an international HIV conference and launched a wildly successful play parties for trans people at the sex club Eros.
Suffice it to say—we've come a long way in 10 years, but there's still lots we need to do to bring trans men front and center. Here's what we've learned as we've morphed our visibility campaign (message: "we're here!") over the years into one that's more focused on education and serving our trans community.
Top 5 Reasons to Fuck a Trans Guy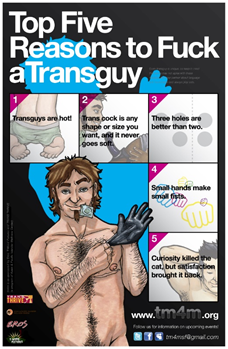 The Top 5 Reasons guide was a lot of fun to make. Niko created the content, Loren created the imagery, and we had a transmasculine graphic designer also helping on the project. Some of the guys at Eros also helped with the direction of this guide and other materials. 
I (Niko) remember going to Folsom Street Fair and passing out materials in a crowd of people with a bunch of volunteers. People would take the cards, take four or five steps away and then turn around. Like, "where are the trans men here?" That started the conversation, and it was where we needed to start.
Some people really loved the content, and some people felt it could be potentially problematic. We used a lot of sexy images, a lot of sexy language. We caught people's attention, but some people thought we might be fetishizing trans folks. I think at the time and for what it was for, it was important. Since then, things have been more educational, and not as risqué in terms of images and language.
Introduction to Trans Male Bodies
We've also produced materials and held events to educate people about trans male bodies. We did a workshop at Eros that was, "Ask A Trans Guy Anything" and produced materials titled, "Introduction to Trans Male Bodies" and "Introduction to Cis Male Bodies." Trans people are pretty well-educated about their bodies, but people who partner with trans people sometimes are not.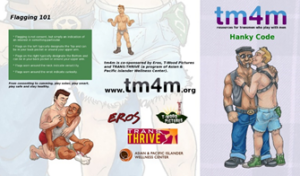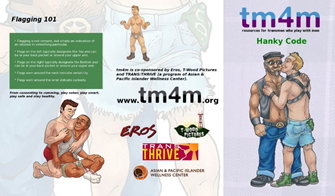 We might have sex with people who don't know anything about how we take care of our bodies, especially if we're having sex with gay cis men who mostly have sex with other gay cis men. They may not be thinking about if pregnancy is a possibility—it's just not part of their sexual health practice.
STIs can have a more damaging effect on people assigned female at birth. Sometimes I (Niko) feel like I have to be really diligent about my sexual health because I don't know if the other person knows things like this. PrEP is amazing, but it's made the conversation about condoms more complicated—especially if you're worrying not only about STIs but also about pregnancy. There's a lot to unpack when it comes to sexual health and trans male bodies—and how we communicate about it with our sexual partners.
We also created a guide to flagging (hanky code) for trans men who have sex with men, and  tm4m hankies that are purple and black plaid. A few years later, we updated the hankie code to be less male-centered, and added "galaxy" to the list as a t4t flag. Last year, we created and handed out galaxy bandanas at Folsom Street Fair.  
Trans Play Parties & Safer Sex
Eros is a trans-friendly sex club largely staffed by trans people. I (Loren) am an owner and Niko (who works for SFCHC) has also worked at Eros. I (Niko) spent a lot of time thinking about how we could create a safe, open and sex-positive play space for trans folks, and the idea to host events at Eros was an obvious choice.
SFCHC now hosts tm4m sex parties (every month) and Free Play parties (quarterly) at Eros with support from San Francisco Department of Public Health. The tm4m events are specifically for trans guys into other guys, while the Free Play parties are open to all trans and gender non-conforming people. Once a year, Free Play parties are for queer and trans people of color only. Once a year they are for trans and gender non-conforming people only. Twice a year, Free Play is open to cis people if they attend with a trans people.
Free Play and tm4m parties offer the trans community safe spaces to hook up, where our bodies are celebrated.
As you can imagine, too often trans people end up in unsafe situations when it comes to sex. We end up behind closed doors, with a stranger that may cause us harm. At these parties, members of our community have a safe, clean and sexy space where people can explore what feels good to them, with staff and community around to be accountable in case something happens or goes wrong. We have safe sex materials available for people, and we take consent and safety seriously.
There are so few spaces where trans people feel welcome and celebrated, but these play parties are exactly that. The Free Play parties are made up of usually 95% trans people. When you have a room full of cis people—and maybe only a few trans people—the vibe can feel creepy. You feel fetishized. To see the tables turned at Free Play has been so powerful. 
Our Success
It's clear by the number of people who show up to our events that we're filling a void. We have people show up not only from around the Bay Area, but also from around the U.S. At our first Free Play event in March of 2018, we had 85 people attend. At our second party, the week after Trans March, we had 120 people attend, and our third party drew 170 people. Our fourth party, for queer and trans people of color, had 85 people in attendance.
It's pretty clear—and not just from the number of people who come to the events—that this is something the queer and trans community wants and needs. There's a need and desire for these types of safe, open spaces for trans people to have sex. 
---
Join us! Find out about events at Eros by following the tm4m Facebook page. Join our Cruising Night, for all types of guys into all types of guys, every second Thursday, 7 pm – close, 2051 Market St. in San Francisco.  
Join the Free Play party (Kink Edition), October 4, 2019, 7 pm – 2 am, and Free Play (QTPOC Edition), January 24, 2020, 7 pm – 2 am at Eros. 
Download the Trans:Thrive Hanky Code Guide.