Researchers say, "Black Lives Matter": Racial justice, equity addressed at AIDS 2020 conference
Researchers, practitioners, and activists are talking about systemic bias in public health and our medical systems, and are providing ideas on how to incorporate anti-racist frameworks into the HIV response.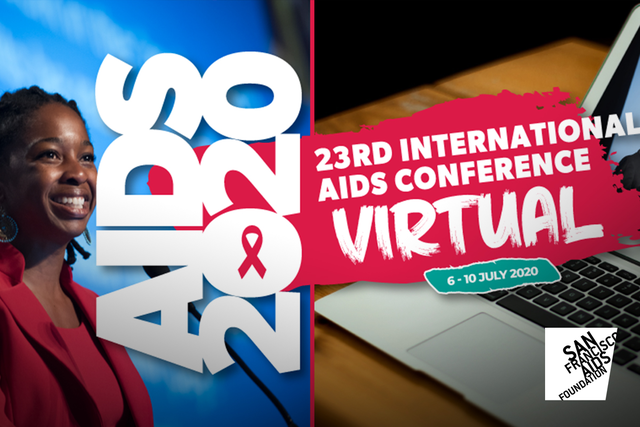 Although AIDS conferences have previously tackled the issue of racial disparities in HIV, conversations often stop with data and urgent calls to reach "key populations" or "those most at risk for HIV," coded language oftentimes referring to Black, brown, Latinx and Indigenous people of color in the U.S.  
Now, conversations about racism and racial justice in the wake of the murders of George Floyd, Breonna Taylor, Tony McDade, and others are permeating the largest international conference on HIV and AIDS–AIDS 2020–held virtually the week of July 6, 2020. Researchers, practitioners, and activists are discussing systemic bias in public health and our medical systems, and are providing ideas on how to incorporate anti-racist frameworks into the HIV response. Here's some of what's been shared.
In a presentation titled "Breathing is a human right" (Bridging Session 1), Darius Rucker, from Williams and Associates, shared his experience as a Black queer man living with HIV in order to name the racist policies and procedures that continue to place Black queer people at a disadvantage in HIV care and prevention. 
"It took eight months between my [HIV] diagnosis and linkage to medication," said Rucker. "In April 2011, my diagnosis was given to me. Months later, I was still not on medications, and was sick. December 2011, still no meds, sick, dying, AIDS. I didn't have a doctor, a case manager, or support. I needed someone to walk with me. What could have been different? Access to equitable healthcare, and better conversations about healthcare. Racism, homophobia, stigma and HIV still continue." 
Wearing a Black Lives Matter shirt, Gregorio Millet, from amfAR, gave a comprehensive overview of some of the nuanced ways that historical legacies, policies, and other societal structures aggravate disparities experienced by Black Americans (Prime Session 1) in HIV and now COVID-19. He pointed to systemic biases which dictate who gets access to new technology, such as COVID-19 testing.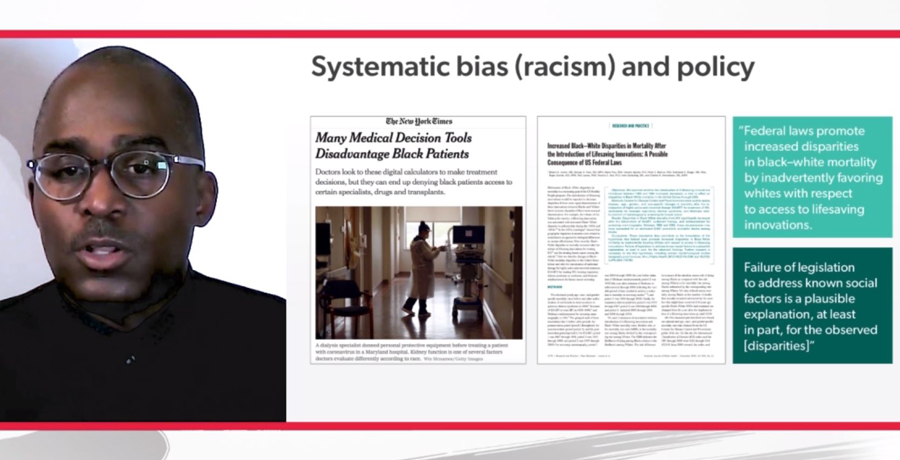 "COVID-19 testing centers are less likely to take place or to be located in African American or Latino communities. And we saw the exact same thing, unfortunately, with HIV, when antiretroviral therapy became available. We saw the disparity in mortality rates actually increased between African Americans and whites during the time when ART became available. And that's because African Americans had less access to antiretroviral therapy and thus were more likely to die," said Millet. 
Access to pre-exposure prophylaxis (PrEP) is also an issue for many Black Americans. 
People in the South, particularly people who are Black, experience the highest rates of HIV infection in the U.S., yet have the lowest rates of pre-exposure prophylaxis (PrEP) uptake, shared Jodie Guest, from Emory University (Oral Abstract Session C08). The "PrEP to need" ratio–the number of PrEP users divided by the number of people diagnosed with HIV–is highest in the West (over 25) and lowest in the South (less than 10), pointing to the stark need for increased PrEP access in the South among people of color. In addition to access issues experienced by people in the South, Guest pointed to startling low rates of PrEP awareness (11% in one study), and concluded by emphasizing that PrEP scale up must be equitable.

In San Francisco, Jonathan Volk shared continuum of care data from the Kaiser Permanente PrEP program, which found that African American clients were less likely to receive a PrEP prescription, less likely to begin PrEP, and more likely to discontinue PrEP (Oral Abstract Session C08).
"Given the pervasive effects of systemic racism and anti-blackness in our country, it is imperative that we implement an anti-racist approach to PrEP," said Albert Liu, MD, MPH from San Francisco Department of Public Health, in a session about creating "person-centered" PrEP programs and reducing barriers to PrEP access and retention (Bridging Session 06). 
Liu explained that, according to Ibram Kendi's "How to be an Antiracist," ideas and policies are either racist or anti-racist, and racist policies are the cause of racial inequities. This includes health inequities, such as those in HIV incidence and PrEP uptake, which means it's critical for providers and those in power to upend and revise existing systems. Pointing to a "PrEP equity index" developed by Myers and colleagues, Liu said that PrEP use must increase by up to 300% in Black men who have sex with men (MSM) and 230% in Latino MSM to achieve equity with white MSM in New York City."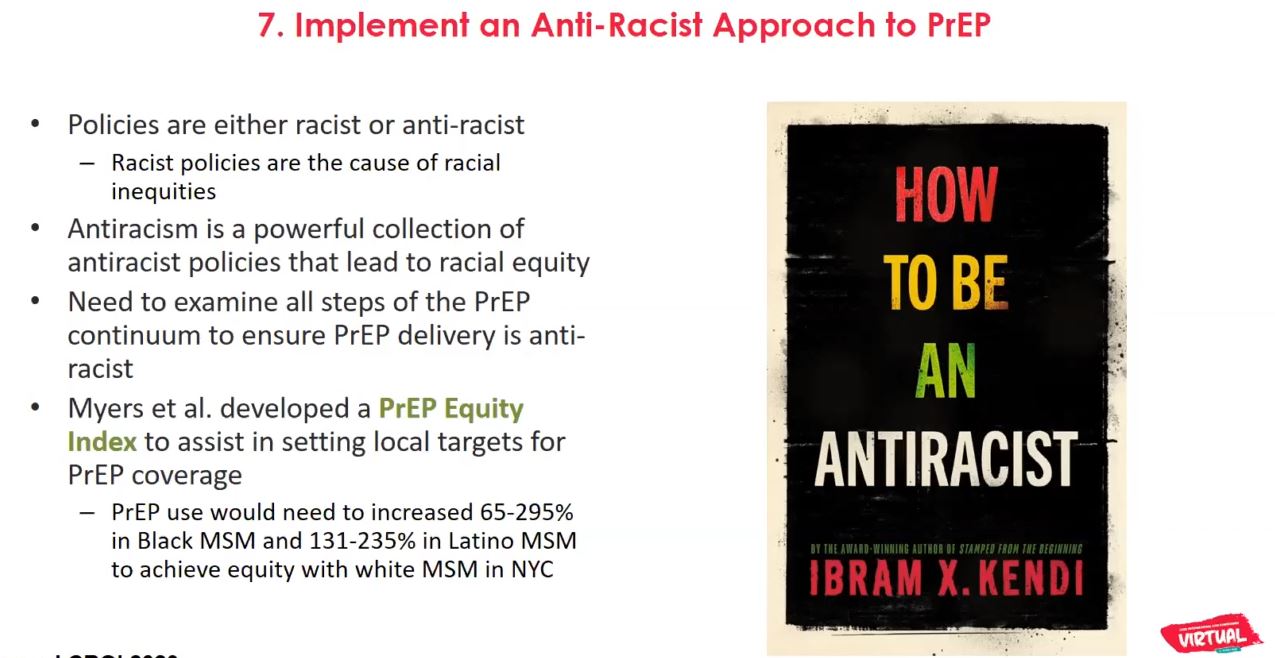 "It's critical that we examine all steps of the PrEP continuum to ensure PrEP delivery is anti-racist," said Liu.  
"Your HIV organization or health department probably has a racist history–all of ours do," said Felipe Flores, from San Francisco AIDS Foundation (Satellite Session On-Demand). "Building bridges with BIPOC [Black, Indigenous, and people of color] organizations, offering resources and services to these community partners, begins to heal some of the failings that we have inherited or created." 
Flores said it is critical to dedicate time, appointments, and resources to communities that "we have collectively failed," and to be "loud and unrelenting about it." 
"What holidays does your organization get time off for? What events does your outreach team go to? What languages are your materials in? Who is pictured on flyers? Integrate a racial justice framework into everything you do," said Flores. 
Carmarion Anderson, from Human Rights Campaign, shared her perspective as a Black trans woman working in HIV advocacy to drive home the importance of understanding of intersectionality in order to connect with (not "target") people of color living with or at risk for HIV (Symposium SS21). 
"You have to understand what barriers we face. Before you offer me an HIV test, before you offer me a biomedical intervention like PrEP, you have to understand the trauma I have gone through," she said. "Some of these things [rejection, poverty, depression] influence how we show up as you are trying to aid us and implement the work of your organization." 
As Anderson spoke about advocacy, she gave an important recommendation for organizations who work with Black and trans communities. 
"As a Black trans woman, I can speak up for who I am. And if I can speak up for myself, I can also sit at your table of decision. You understand what I'm saying. That means you can employ me, in order to have my voice, my narrative and my community working with you," she said.  
Carmen Logie, from University of Toronto, also used an intersectionality framework to present the experiences of Black, Caribbean, African and Indigenous women living with HIV in Canada (Bridging Session 12). Women of color are overrepresented in the number of HIV infections that happen among women in Canada, said Logie, and oftentimes experience the intersectional stigmas related to race, gender, HIV status and sex work. 
"Ths intersecting stigma matters," said Logie. "Racism, HIV stigma and gender discrimination are associated with ART [antiretroviral therapy] adherence issues, depression, and injection drug use. It shapes mental health. We need intersectional stigma interventions, and we need them now. We need them to be trauma-informed, and have a harm reduction approach." 
Monica McLemore, from University of California, San Francisco, shared her personal experience being born prematurely to a Black mother as she spoke about health inequities faced by Black Americans and the importance of movements like Black Lives Matter to HIV prevention and care (Symposium SS21). 
"In New Jersey, where I was born, infant mortality was double the rate for mothers of color compared to white mothers. I am lucky and grateful to be alive." said McLemore. "Now, we have to deal with two two pandemics at once: the novel coronavirus, and racism. We can do better, and we have to." 
McLemore urged the HIV community to consider, and incorporate, the principles of Black Lives Matter and the movement for Black lives into the HIV response. "If we place our asks in terms of a human rights frame, the health of everyone can, and will, and should improve."
In a presentation about including community in the plan to end HIV (Symposium SS21), Venton Jones-Hill, from Southern Black Policy Advocacy Network advocated for meaningful participation of Black communities in HIV policy. "We need to strengthen the capacity of Balck communities and leaders in the U.S. South to engage in health policy deliberations to improve policy, programs and research," said Jones-Hill. "Community has to be in the middle of the conversation." 
"Now, after the death of George Floyd and many others, you see this complete shift in sensibility where a majority of white Americans, Black Americans, Latino Americans, and Asians support the Black Lives Matter movement," said Millet. "And one of the things that was really one of the happiest things that I see lately was in my own neighborhood, two blocks from where I grew up in Brooklyn, there was a rally for thousands of people in support of trans Black women's lives–saying their lives mattered as well. We need to make sure that communities are at the center of the response and at the center of providing solutions for some of these health crises." 
—
Visit AIDS2020.org for information about the conference. Presentations and materials from the conference will be made available to the general public at the end of July, 2020 through the conference website.