PrEP scales up, HIV incidence declines
We're starting to see the effects of PrEP on population-level measures of HIV incidence, but progress is uneven.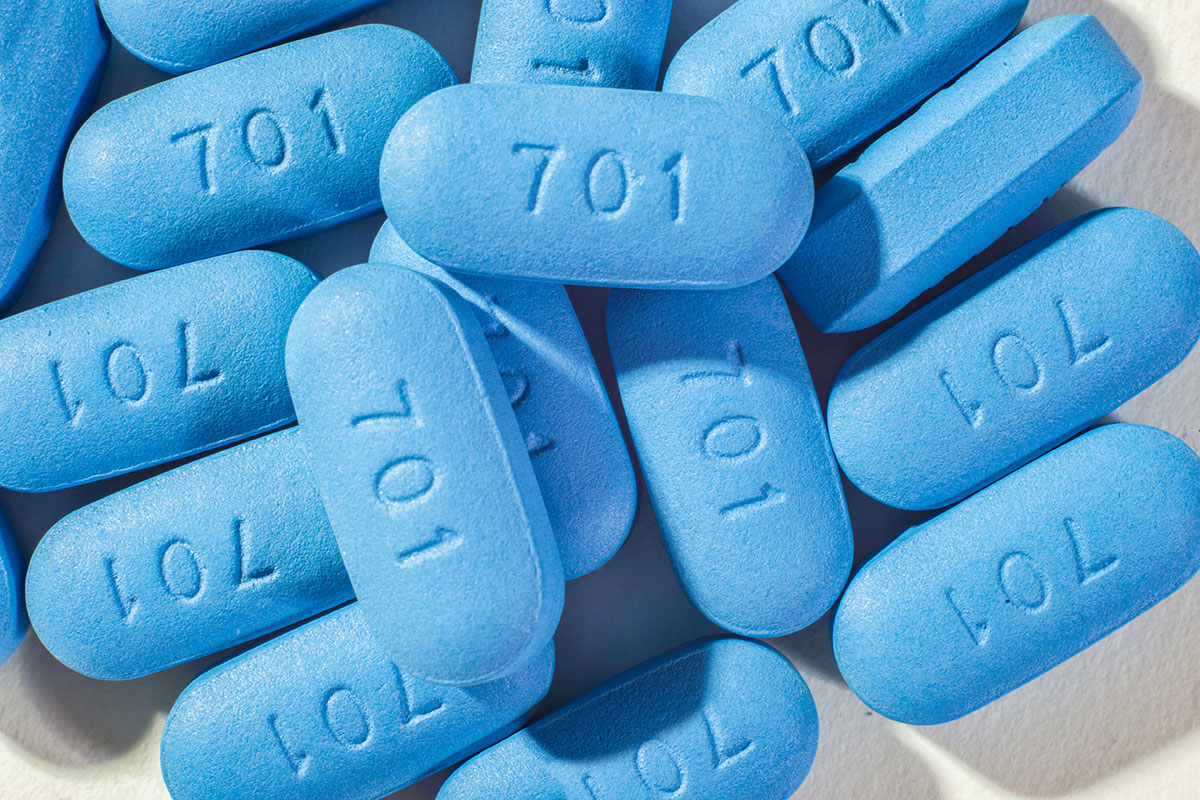 As use of PrEP continues to grow, epidemiological evidence is starting to show a link between increased use and declines in new HIV infections. A study presented at the International AIDS Conference in Amsterdam shows an association between higher PrEP use and lower HIV incidence in the U.S. These figures highlight ongoing disparities in PrEP use, with some of the groups who need effective HIV prevention being the least likely to use it.
The Food and Drug Administration approved Truvada (tenofovir/emtricitabine) for HIV prevention in July 2012. For the past several years Gilead Sciences has been reporting PrEP use estimates from an ongoing survey of Truvada prescriptions at retail pharmacies.
Data from January 2012 through December 2017 show that the total number of people who have ever started PrEP exceeded 177,000. But PrEP still is only reaching a small proportion of those who might benefit. The Centers for Disease Control and Prevention (CDC) estimates that less than 10% of the nearly 1.5 million people at substantial risk for HIV infection are using it.
PrEP and new HIV diagnoses
Is increasing use of PrEP leading to a decline in new HIV infections? Trends in cities with high PrEP use suggest this may be the case.
In San Francisco, HIV incidence has declined steeply since the widespread adoption of PrEP in 2013, reaching its lowest-ever level in 2016. Dramatic declines in new infections among gay men have also been reported in London and Sydney. But stepped up HIV testing and the "treatment as prevention" effect of starting antiretroviral therapy immediately after diagnosis makes it hard to tease out the contribution of PrEP.
Patrick Sullivan from Emory University's Rollins School of Public Health in Atlanta and colleagues from Gilead and the Centers of Disease Control and Prevention (CDC) looked at the correlation between PrEP use and new HIV diagnoses, using data from people age 13 and older in all 50 states and Washington, D.C., between 2012 and 2016.
A pharmacy survey examined a representative sample of anonymous prescription data from more than 80% of retail pharmacies in the United States, including independent pharmacies, chain stores, mail-order pharmacies and clinics. It did not include military or university health services or independent closed health systems like Kaiser Permanente.
Nationwide, the overall HIV diagnosis rate decreased significantly, from 15.7 per 100,000 persons in 2012 to 14.5 per 100,000 in 2016, an estimated annual decline of -1.6% per year. During the same period, PrEP use increased from 7.0 per 1,000 eligible individuals to 68.5 per 1,000, an estimated annual increase of +78.0%.
But there were some notable differences between states. The quintile or fifth of states with the highest PrEP use (11.0% of eligible individuals) saw a -4.7% decline in new HIV diagnoses. In contrast, new diagnoses actually increased by +0.9% in the quintile with the lowest PrEP use (3.5% of eligible individuals).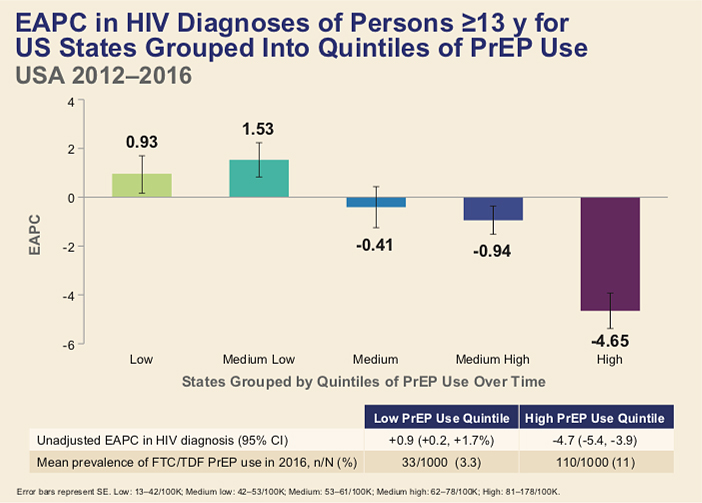 In an attempt to tease out the effect of PrEP versus treatment as prevention, the researchers also looked at viral load data from a subset of states, finding that PrEP use remained significantly associated with declines in new HIV diagnoses after controlling for levels of viral suppression.
"By documenting significant declines in average new cases of HIV in states where Truvada for PrEP has been most widely adopted, our analysis emphasizes the importance of improving access to HIV screening and a full range of prevention tools, including PrEP, in U.S. states," Sullivan said in a Gilead press release about the study.
PrEP use among teens
Gilead researchers also did an analysis of PrEP use among young people, a group with a high unmet need for HIV prevention. In 2016, youth ages 13 to 24 accounted for 21% of new HIV diagnoses, according to the CDC. More than 80% of these were among young gay and bisexual men, with more than half among young black gay men.
The FDA extended its approval of Truvada for PrEP to adolescents in May. Studies have shown that teens (age 15 to 17) and young adults (age 18 to 22) can do well on PrEP, but they may need more ongoing support than older adults to maintain good adherence.
The latest pharmacy survey numbers indicate that 15.4% of PrEP users are under age 25, with only 1.5% of them being 17 or younger.
People ages 12 to 24 accounted for 17.0% of all PrEP users in 2012. The proportion declined a bit during 2014-2016, as PrEP use skyrocketed among older gay and bi men, but then rose back to about the same level in 2017.
Breaking down the age distribution further, adolescents age 12 to 17 accounted for around 20% of PrEP prescriptions among people under 25 in 2012 and 2013. But, for unexplained reasons, both the proportion and the absolute number then started to fall, plummeting to 3.9% in 2016 and 2017.
In the early years of the survey, before gay men started promoting PrEP within their communities, a large proportion of PrEP users were women. In part, this reflected the use of PrEP to prevent HIV transmission within serodiscordant couples who were trying to conceive.
Today, the youngest PrEP users are still predominately girls and young women. Although women account for about 18% of PrEP users overall, they make up more than 80% of those age 17 and under. This disparity suggests that awareness of the need for HIV prevention, or willingness of providers to prescribe it, is greater for young women than for young men.
Adolescents ages 12 to 17 received Truvada for PrEP mostly from pediatricians, while family practice and internal medicine doctors provided most prescriptions for those 18 and older. A majority (59%) of PrEP users in the 17 and under age group received coverage through Medicaid, compared with 22% of those ages 18 to 24 and 13% of older adults. Nearly a third of those ages 18 to 24 and 38% of older adults obtained PrEP through commercial insurance.
Based on these findings, the researchers concluded, "there remains an important unmet need to improve awareness and engagement in HIV prevention for adolescents and young adults at risk for HIV."
Sources
Magnuson, D. and colleagues. Adolescent use of Truvada (FTC/TDF) for HIV pre-exposure prophylaxis (PrEP) in the United States (2012-2017). AIDS 2018, Abstract 2621.
Sullivan, P. and colleagues. The impact of pre-exposure prophylaxis with TDF/FTC on HIV diagnoses, 2012-2016, United States. AIDS 2018, Abstract 13004.
Liz Highleyman is a freelance medical writer and editor of HIVandHepatitis.com.
—
San Francisco AIDS Foundation receives funding from corporate partners including those in the pharmaceutical industry. Editorial decisions on our blog and website are made independently. For more information about SFAF funding, please refer to our financial and tax documents.