Injectable HIV treatment can be "life-changing"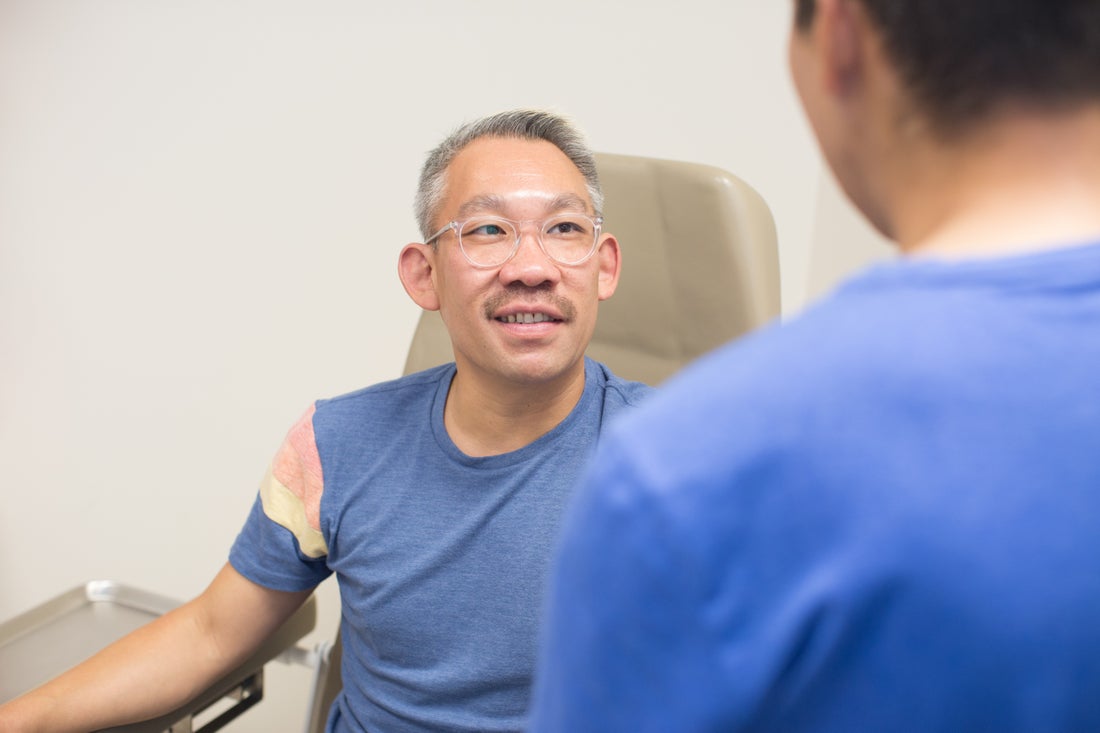 Barb Cardell (they/them), who has been living with HIV since 1991, remembers when their HIV treatment involved taking 64 pills every single day. 
"I had to set an alarm for every six hours, because I was taking HIV medications five times a day," said Cardell during a recent webinar. "We didn't have a lot of good medication options." 
Over the years, HIV treatment has been simplified–for many, to a once-daily combination pill. Now, there is another option that may be easier for many people in the form of Cabenuva (cabotegravir/rilpivirine), a long-acting injectable therapy administered once per month. The therapy was approved by the U.S. FDA in January of 2021, and providers are beginning to make this new treatment option available to the public. 
HIV healthcare providers and people living with HIV shared information about the therapy and their experience with it during a webinar organized by AIDS Foundation Chicago. 
"When we talk about long-acting injectables, and being able to treat HIV on a monthly basis, it is an incredible, incredible change," said Cardell. "This will be life-changing and life-altering for people."
Alex Vance (they/them), from the International Association of Providers of AIDS Care, shared their positive experience switching to Cabenuva. 
"I was diagnosed with HIV 13 years ago… and was on treatment for about nine years, always on a single-tablet regimen," said Vance. "But over the past few years, I have been experiencing a lot of treatment adherence fatigue, or pill fatigue. There were some times of deep depression over the past couple of years with the pandemic, and some other stressors in my life. That really impacted my ability to remember to take a pill every day and to want to take that pill every day. It served as a reminder that HIV would be with me forever." 
Vance said they approached their HIV healthcare provider about switching to Cabenuva in the spring of 2021, and their provider was "incredibly on board." Vance had their "loading" or first dose, in April, and has received maintenance injections since May. 
They said soreness at the site of the injection is the only side effect they have noticed. The cabotegravir injection "doesn't feel like anything," while the rilpivirine injection "is a little thicker, so you can feel it." Vance compared the shot to being similar to receiving a tetanus shot. 
Cathy Creticos, MD, from Howard Brown Health, said that injection site reactions are common, but mostly are not severe and that the rate of reactions decreases over time. The two injections are delivered in the muscle of the butt, and for this reason must be administered by a healthcare provider. 
Vance said that they experienced more soreness after the first dose (which lasted about a day) than after subsequent doses (which lasted 4-6 hours). Although NSAIDS can be taken for injection site-related pain, Vance said they have never had to treat site reactions with medication. 
About Cabenuva 
Cabenuva is a complete HIV treatment regimen. The once-monthly injections (of two different medications) are all you need to treat HIV. Before beginning the injections, people take cabotegravir and rilpivirine as pills for one month to make sure the medicines are well-tolerated. Once you switch to the injections of Cabenuva, you don't need to take any HIV medications in pill form. 
Cabenuva isn't the right medication for everyone living with HIV, said Dr. Creticos. It's a "switch" medication, meaning that it's for someone who has already been suppressed (achieved an undetectable viral load) on an oral medication. It also isn't right for anyone with a history of treatment failure, or resistance to either cabotegravir or rilpivirine. 
Dr. Creticos said that the long-acting injectable option might be a good choice for someone who is tired of taking pills every day, or who has other issues or concerns about taking a daily pill. 
The injections are meant to be given on the same day every month, although there is about a week of wiggle room on either side of this schedule. If a person is out of town, and has to miss a dose, they can switch temporarily to oral medication during the interim, then re-start injections as soon as possible. 
Drug resistance may be a concern, said Jonathan Colastani, from Emory and Grady Health System. "These are not magic medicines," he said. "Resistance can be an issue if people are in and out of adherence. So we do encourage some level of adherence with this injectable medicine."