Health alert: Meningitis outbreaks among gay & bi men
We're providing meningitis vaccines to folks who are uninsured or aren't able to access vaccines through their primary care providers.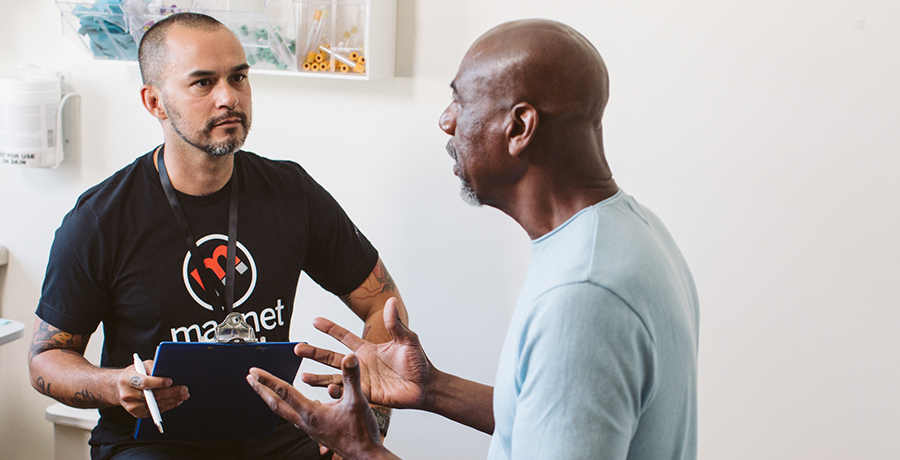 San Francisco AIDS Foundation clinicians, along with health officials nationwide, are urging community members to seek out a meningitis vaccine in response to outbreaks of meningococcal disease occurring in Florida. 
The current outbreaks are affecting gay, bisexual, and other men who have sex with men and people living with HIV, in addition to college students. These communities, along with people who are immunocompromised, are specifically mentioned by the CDC as people who should consider vaccination during this outbreak. 
Get a free meningitis vaccine at Magnet. Priority given to people who are uninsured or don't have access to vaccination through their primary care provider.
"We need to take meningococcal disease seriously," said Jorge, Roman, MSN, FNP-BC, AAHIVS, director of clinical services at Magnet and San Francisco AIDS Foundation. "Meningitis is a central nervous system infection, which means that it can cause inflammation in your spinal cord and brain. It's life-threatening, and it's really easy to transmit. You can get infected by just kissing or sharing a drink with someone who has it. That's why people who are in close contact with each other–say who go to crowded bars, gyms, or live in a college dorm–are at higher risk." 
Russell Roybal, chief advancement officer of San Francisco AIDS Foundation, experienced a severe case of meningitis when he was in college, resulting in a week-long hospital stay and lingering symptoms even after he was discharged.
"It was terrifying," he said. "I could have died. It started with severe headaches, which I got medication to treat but did not work. Then one night–after a chapter meeting at my fraternity house–I was sitting down and my entire right side of my body stopped working. I felt my face droop, and I knew something was wrong." 
Roybal's fraternity brothers rushed him to the emergency room, and in the car on the way to the hospital, Roybal lost the ability to write or to speak. 
"I was conscious, and knew what I wanted to say, but nothing was coming out. I got to the ER, and the intake nurse was asking me questions I couldn't answer. That's the last thing I remember." 
Luckily, Roybal recovered and counts himself lucky to have been around friends who were able to make sure he got to the hospital. But he knows that many community members may not be vaccinated, and may not be aware of the symptoms of meningitis if they were to experience them. 
"Get the vaccine… it will save your life and others around you," he said. "We have a responsibility to take care of ourselves and each other in the communities that we live, work, and play in." 
Check with your healthcare provider to see if you've already received a meningitis vaccine. Many people who are over age 25 may not have received a meningitis vaccine as a prerequisite to attend high school or college or it's been more than 5 years since their last shot. Get vaccinated if you have never received a dose of the MenACWY vaccine, or it has been more than 5 years since your last dose.
If you need to get vaccinated, the process is simple. People who are living with HIV receive two doses of the vaccine, two months apart. Other folks receive one dose. The vaccine is a shot delivered in the arm.
"Although the outbreaks are happening in Florida, we know that people travel," said Roman. "With Pride and festival season approaching, I think it's a great time for people to consider getting vaccinated for meningitis if they haven't been vaccinated already."
---
If you're not vaccinated, or it's been more than 5 years since you've gotten your last shot, get vaccinated at SFAF's Magnet clinic–it's quick, easy, and free. Make an appointment here, or call 415-581-1600. If you already have an appointment at Magnet, talk to your clinician during your appointment. 
Get more info about meningitis from the San Francisco Department of Public Health.