FDA approves Descovy (F/TAF) for PrEP
We now have a new medication for PrEP. Here's how Descovy (F/TAF) is different than Truvada (F/TDF).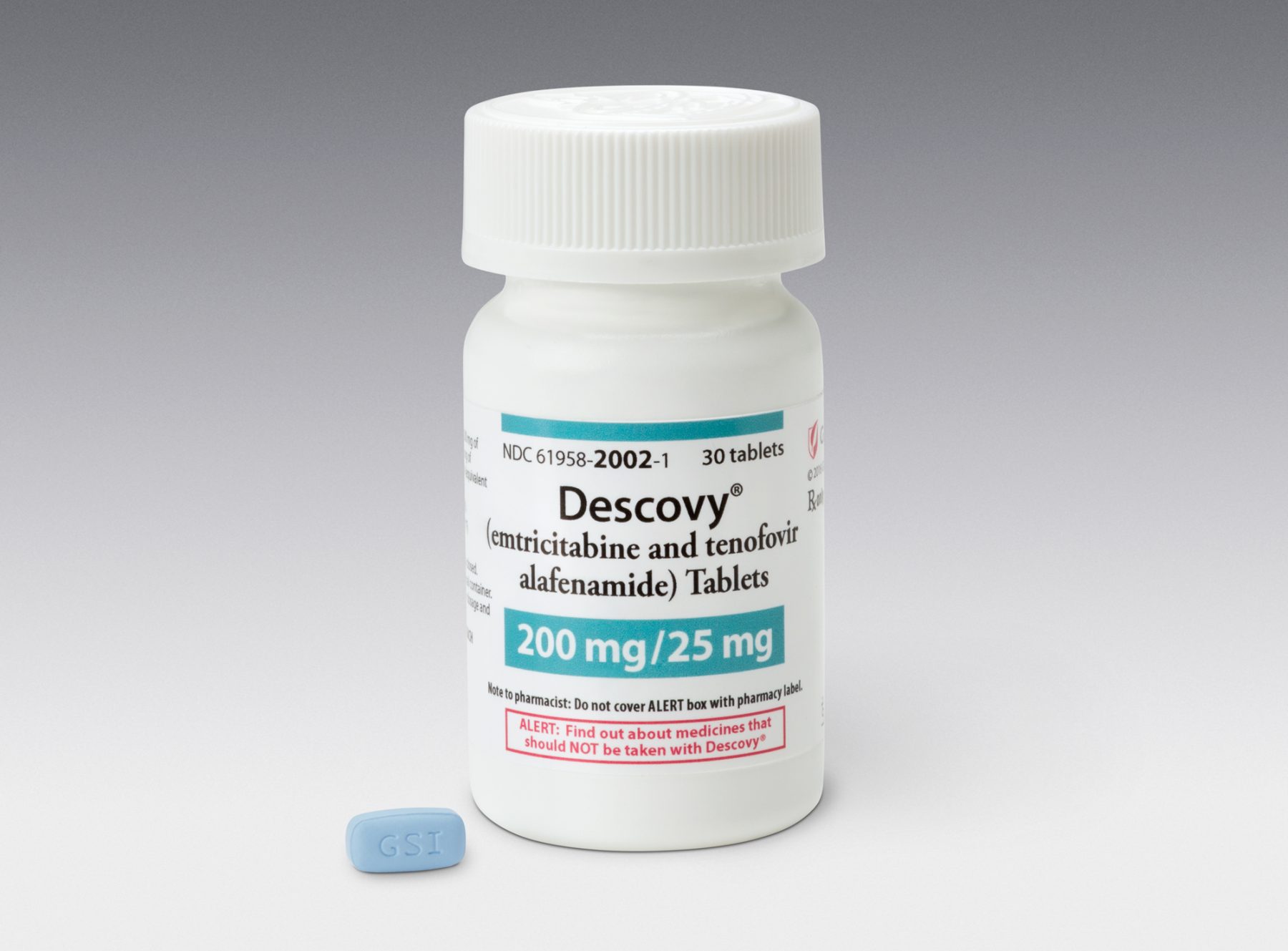 Seven years after Truvada (F/TDF) was approved for HIV prevention as PrEP, we now have another PrEP medication option. On October 3, 2019, the U.S. Food and Drug Administration (FDA) approved the medication Descovy (F/TAF) as PrEP for people who are HIV-negative and at-risk for sexually acquired HIV through anal sex. A lack of clinical efficacy data prevented the FDA from recommending F/TAF as PrEP to people who may be exposed to HIV vaginally. 
The phase 3 DISCOVER study provided evidence of F/TAF's HIV prevention efficacy. This study compared the safety and efficacy of F/TAF to F/TDF in HIV-negative men who have sex with men and transgender women (5,387 total participants) at sites across the U.S., Canada and Europe. The majority of participants were men who have sex with men (98.6%) and 1.4% were transgender women.
A total of 22 (0.4%) of participants seroconverted during the course of the study: seven in the F/TAF group and 15 in the F/TDF group. Statistically, this demonstrated that F/TAF (Descovy) was "non-inferior" to F/TDF (Truvada) in terms of HIV prevention, with researchers indicating the study wasn't large enough to statistically determine that F/TAF works better than F/TDF.
How is Descovy (F/TAF) different than Truvada (F/TDF)?
A smaller pill
Descovy is a smaller pill than Truvada. This may not be important to some people, but if pill size is an issue for people who may be interested in taking PrEP, it is important to have an option in a medication with smaller pill size.
Renal/bone health and safety
Descovy (F/TAF) contains TAF, a prodrug of tenofovir that concentrates at higher intracellular levels (where most experts believe the drug is needed and has the bulk of its effect) with lower drug levels present in the bloodstream. This likely contributes to Descovy's marginally improved safety profile in terms of kidney and bone health.
Although these improved outcomes may be marginal, Descovy may offer a PrEP alternative for people who have compromised kidney function or who otherwise may be worried about side effects. 
For people whose age is associated with an increased risk of pre-existing kidney or bone health issues, Descovy for PrEP may be meaningfully safer. While still others of any age may wish to elect Descovy for PrEP because of its marginal safety improvements, there is significant experience administering Truvada for PrEP in young, healthy individuals with negligible risk of irreversible renal and bone side effects. That said, all such risks, as uncommon as they are, should be discussed with individuals using either Truvada or Descovy for PrEP. 
Weight gain 
There is some evidence that F/TAF causes progressive weight gain in people taking it for PrEP or in combination with other drugs for HIV treatment. 
In the DISCOVER study, which compared the efficacy of F/TDF and F/TAF for HIV prevention, men who have sex with men and trans women who received F/TAF gained an average of 1 kg (2.2 lbs) over the course of 48 weeks, while those taking F/TDF did not gain any weight. 
When used for HIV treatment, F/TAF also seems to cause significantly more weight gain than regimens containing F/TDF. In the ADVANCE study, which included more than 1,000 men and women living with HIV, people taking F/TAF + dolutegravir (DTG) gained significantly more weight over the course of 96 weeks than people taking F/TDF + DTG. 
People in the F/TAF + DTG group gained on average 6 kg (13.2 lbs) after 48 weeks and 8 kg (17.6 lbs) after 96 weeks. People in the TDF/FTC + DTG group gained 3 kg (6.6 lbs) after 48 weeks and 5 kg (11 lbs) after 96 weeks. 
Women gained more weight overall than men, and the weight gain seemed to be progressive (it did not plateau, even after 96 weeks). The average amount of weight gained by women in the study was 10 kg (22 lbs), and half of women in the study gained more than 10 kg.
The significance of these weight changes is uncertain, and further evaluation is necessary. In fact, the weight gain of people living with HIV taking F/TAF may be a resolution of unintended weight loss caused by prior therapy. 
Changes in LDL cholesterol 
 People taking F/TAF as HIV treatment have been shown to experience greater increases in LDL cholesterol compared to those taking F/TDF. High levels of LDL (the "bad" cholesterol) can promote plaque buildup in arteries, which can lead to coronary artery disease, stroke, and other health problems. 
In the EMERALD study, people taking F/TAF had an average 6% rise in LDL, while people taking F/TDF had only a 2% rise. In a study of F/TAF or F/TDF for hepatitis B treatment, people taking F/TAF had an average 4% rise in LDL , while those taking F/TDF experienced no rise in LDL.  
While the magnitude of these changes is not alarming, overall these relatively small changes in LDL among those taking F/TAF need to be evaluated for possible clinical significance in the context of an individual's age, lifestyle issues, and other cardiac risk factors. In general, these differences are less consequential in young, otherwise healthy folks. For older individuals, especially those who smoke, and for those with pre-existing health concerns such as high blood pressure or diabetes, those small increases in LDL may lead to a consideration of alternatives other than Descovy; such a decision should be made on an individual basis following consultation between a patient and their provider.
Will F/TAF be more "forgiving" of missed doses?
F/TAF delivers higher concentrations of tenofovir in cells, reaches protective levels more quickly, and maintains protective levels of drug in cells longer than F/TAF. For these reasons, it is possible–but not proven–that F/TAF for PrEP may be more effective than F/TDF for PrEP for people who miss doses. 
In the DISCOVER study, which demonstrated that F/TAF was "non-inferior" to F/TDF for PrEP (but did not determine that it was "superior" to F/TDF), there were fewer HIV infections among people taking F/TDF (11 infections) than among people taking F/TAF (6 infections; these numbers exclude people who had suspected acute HIV infections at baseline).  
Although there is some debate about whether F/TAF truly is "more effective" than F/TDF for PrEP, it is possible that F/TAF will provide better protection for people who miss PrEP doses and struggle with taking pills. (Read more about this issue from aidsmap.)   
Will Descovy work for event-driven ("2-1-1") PrEP?
PrEP 2-1-1, which involves taking Truvada for PrEP around the times of anal sex instead of daily, has been well evaluated and is in wide use in Europe and elsewhere. However, it has not been formally reviewed in the U.S. by the FDA, and is thus an off-label approach. 
Importantly, there have been no large studies of PrEP 2-1-1 using Descovy, so people preferring 2-1-1 dosing are encouraged to continue using Truvada, which has been well-studied. Although some experts in antiretroviral pharmacokinetics believe there is a basis to assume Descovy will work when taken using a 2-1-1 strategy, it will be important to gather greater consensus and/or evidence before promoting anything other than daily use of Descovy for PrEP.
Descovy for those who may be exposed to HIV by vaginal exposure
There are no clinical data to support the use of F/TAF for PrEP in cisgender women,  transmasculine individuals and other individuals who have receptive vaginal sex, since the DISCOVER study did not include cisgender women or transmasculine people in the trial. Thus, the FDA committee voted down a recommendation of F/TAF for cisgender women and the FDA approval excluded people who may be exposed to HIV vaginally.  
There is some drug exposure data with cis women, to measure concentrations of drug in mucosal tissues and plasma, but these data can be difficult to interpret. Without more research, we won't know for sure if F/TAF is effective for people having vaginal sex. 
The take-away     
It is clear PrEP alternatives are evolving: In the next several years, patients may expect an array of additional options that include generic equivalents, injectables, implants and other options. 
As we make strides toward a future where there are a variety of PrEP options available—and people are free to choose the medication and delivery method that works best in their lives—we must remain committed to equity in terms of access and affordability. How will we ensure that everyone who may be at risk of HIV has access to the tools and medications they need to maintain their health? Emphasizing patient education and patient-centered choice in selection of suitable and comfortable PrEP options is an important start. 
—
San Francisco AIDS Foundation receives funding from corporate partners including those in the pharmaceutical industry. Editorial decisions on our blog and website are made independently. For more information about SFAF funding, please refer to our financial and tax documents.