Hepatitis C Treatment & Navigation
Almost everyone living with hepatitis C (HCV) can now be cured with an 8 – 12 week, once-a-day medication. People who inject can access free onsite hepatitis C treatment at the Harm Reduction Center. In our program, you get support before, during, and after the treatment process, and you learn how to prevent reinfection. And, all services are provided at the Harm Reduction Center.
Our Hepatitis C Wellness Program
Free hepatitis C treatment
Medication storage
Medication adherence, counseling and support
Re-infection prevention
Support and treatment groups
Linkage to full healthcare services
Hep A and hep B vaccines, flu shots and wound care
How to Enroll
Visit the Harm Reduction Center and and ask the staff about hepatitis C treatment. You do not need proof of insurance or other documentation to get started.
You can also connect to hepatitis C (HCV) treatment or get answers about HCV meds by calling 415-350-2900.  Providers, case managers, and pharmacists can reach one of our HCV providers.
Hepatitis C Treatment Support
Enrolled hepatitis C treatment lunch group
We have suspended this group until we can safely meet. Please check back and/or call 415-350-2900 for more info.
This community-based HCV group provides a time for people to take medication, and offers space for people to check in with each other, share their experiences and give and get support. The group also provides a healthy lunch for people receiving treatment.
See Upcoming Times
Medication lockers
People enrolled in the Hepatitis C Wellness Program may store their hepatitis C medications in a locker at the Harm Reduction Center. Lockers can be accessed any time the Harm Reduction Center is open.
Our philosophy of care
Our providers are nonjudgmental about drug use and are committed to providing quality care to people who inject. There is no requirement to be sober to be cured of hepatitis C. If you'd like to make adjustments to how drugs fit in your world, find out about our harm reduction counseling. All goals are respected and supported, whether that means safer use, managed use, reduced use, planned use, abstinence, or methadone and Suboxone treatment.
Haven't tested for hepatitis C in a while? We offer free testing at a number of different locations.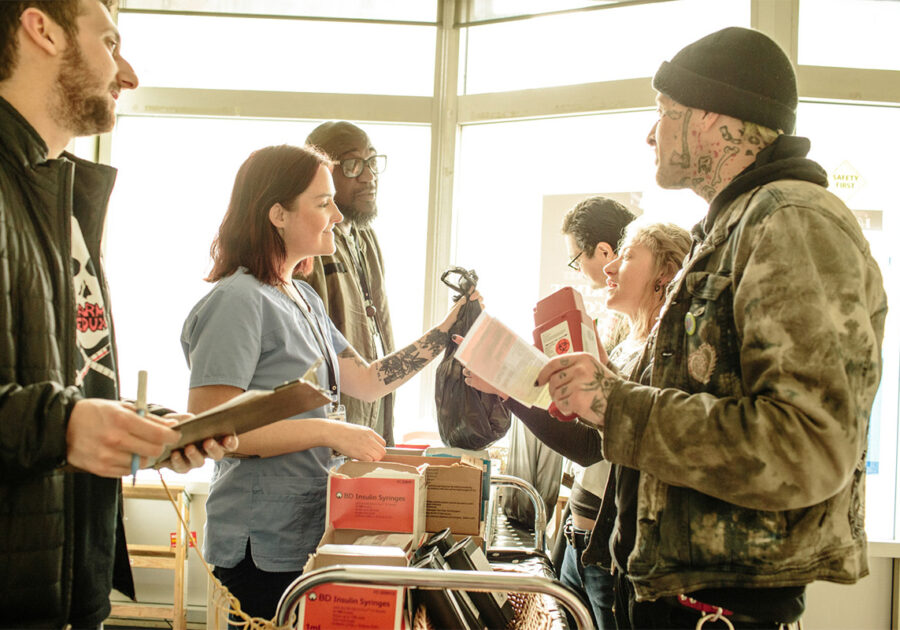 Harm Reduction Center
The Harm Reduction Center is a place of welcome and a pathway to improved health and healing. Located in the Tenderloin/SoMa neighborhood, the Harm Reduction Center provides health services and supplies that help people who inject drugs manage their health, prevent overdose, and stop HIV and hepatitis C transmission.
VISIT US
Mobile Syringe & Health Services
Find safer injection and disposal supplies and services that help you manage your health and prevent the spread of disease at sites across San Francisco.
FIND US