With soaring overdose deaths in San Francisco, what more can we do?
Ro Giuliano, director of Syringe Access Services programs & operations, and Laura Thomas, director of harm reduction policy, share how they understand these trends and what we can do in response.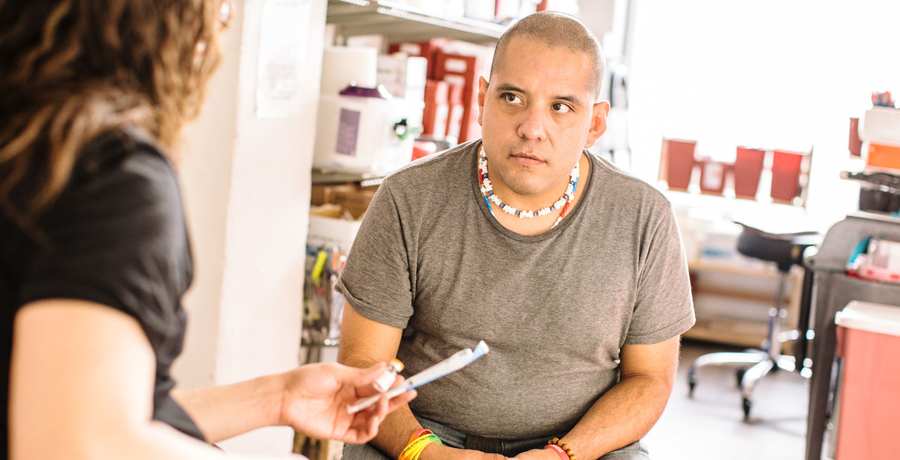 A conversation with Laura Thomas, director of harm reduction policy, and Ro Giuliano, director of Syringe Access Services, program and operations.
In February, the San Francisco Department of Public Health (SFDPH) shared news that overdose deaths in San Francisco continued to rise in early 2019, with 182 confirmed deaths through June 30. A total of 69 were attributed to fentanyl and 112 to methamphetamine (meth).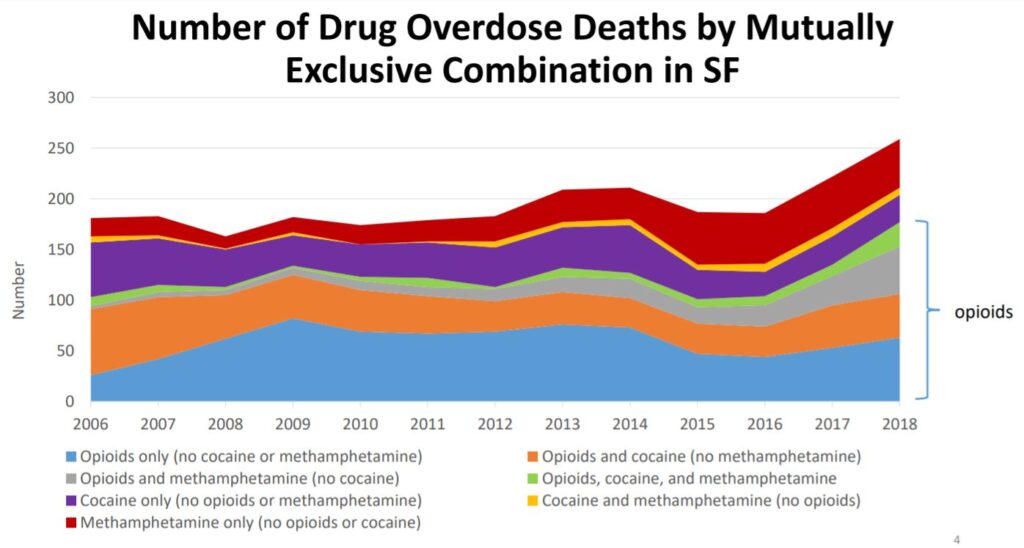 The rise in overdose deaths continues a trend since 2016, when fentanyl first began to appear as a contaminant in the drug supply and later became a drug of choice for some people. Between 2016 and 2018, the number of overdose deaths rose from less than 200 to more than 250. The partial data from 2019 suggest that we will see a "substantial increase" in the number of fentanyl and meth overdoses for the entirety of 2019, according to SFDPH. 
We turned to Ro Giuliano, director of Syringe Access Services programs & operations, and Laura Thomas, director of harm reduction policy, to hear how they understand these trends and what San Francisco is doing in response. 
Were you surprised when you heard that the number of overdose deaths in 2019 are still on the rise from the previous year?
Laura Thomas: This was expected–just based on the reports from our partners at the D.O.P.E. Project, who keep a close eye on overdose numbers. They've been saying for a while that the numbers have been going up pretty dramatically. We've also heard from folks at the 6th Street Harm Reduction Center, who have experienced a couple of clusters of participant overdoses. 
Ro Giuliano: For a long time, we were averaging one or two deaths per day. Fentanyl has changed the entire landscape of drug use. In previous years, it wasn't necessarily everyone's main drug of choice. Now, it seems like it's what everybody is doing. It's such a potent drug, and the overdose numbers are rising because more people are using fentanyl. 
SFAF has a variety of overdose prevention services. What has our response been in light of increased overdose deaths?
Ro: Talking about overdose is really infused in everything we do with participants. Any time someone comes into the 6th Street Harm Reduction Center, or to a mobile outreach site, they're offered Narcan. Any time we engage with folks, we're helping folks strategize on ways they can keep themselves safe and reduce their overdose risk. 
Laura: So many of our staff are doing overdose prevention work. Our Syringe Pick Up Crew is reversing overdoses while they're in the community picking up syringes. Latino Programs is stepping up to provide harm reduction and overdose prevention training. Our response really is across the board. 
Overdose prevention programs (safer consumption services) could also make a big difference. What can you tell us about your work in that area? 
Laura: We're doing a lot of work to advocate for overdose prevention programs in San Francisco. We know these programs will save lives. For people who use alone–in an SRO, in a hotel room, in a tent–this is exactly the type of program that can ensure that someone will be there to respond in case of an overdose. 
Recently, we supported legislation introduced by Mayor London Breed and Supervisor Matt Haney that would establish a permitted process for nonprofits interested in operating an overdose prevention program.   
Besides using fentanyl, what are some things you see or hear about that put people at higher risk for overdose?
Ro: One interesting thing we know is that living outside can be somewhat protective–you're more likely to have people around you when you're using. We're seeing that more of the fatal overdoses are happening in SROs, when people are isolated. I knew one person who died of an overdose within three months of getting into housing. It's just so sad to think that he might still be here if he was still sleeping on the street or in the park. 
There are many reasons why people want to use when they're alone once they're inside. You might not want people coming into your room, having to worry about people stealing your stuff, or having to share your supply. And some people just like the intimacy of getting high alone. It's hard to completely remove the risks, because you can't Narcan yourself. But there are some things you can do. 
What should people be aware of–for themselves or for friends or loved ones who may be using?
Ro: It's easier to modulate your dose if you smoke fentanyl instead of inject it. We've seen a lot of people switch to smoking (although you can still overdose from smoking fentanyl). Get info about safer use and all the supplies you need (including Narcan) from the 6th Street Harm Reduction Center or another syringe access site. 
We know using alone can be more dangerous. If you like to use alone, think about leaving your door unlocked and letting a friend know when you're getting high. Or give them a call and keep them on the line. Ask them to check in on you, and if you don't respond ask them to get help. 
Resources & info 
Read the entire report: Substance Use Trends in San Francisco Through 2018.
Visit the 6th Street Harm Reduction Center, 117 6th Street (at Mission) in San Francisco, for services and supplies that help you manage your health, prevent overdose, and prevent HIV and hepatitis C transmission.
Community members, service providers and others are welcome to access naloxone from the CBHS Pharmacy at 1380 Howard Street, Monday – Friday. Drop-in services available 9:30 am – 4 pm (no prescription required).