What it takes to vaccinate nearly 500 people for monkeypox–in one day
In an incredible show of support for the community, SFAF staff and volunteers served hundreds of community members exposed to monkeypox with the Jynneos vaccine.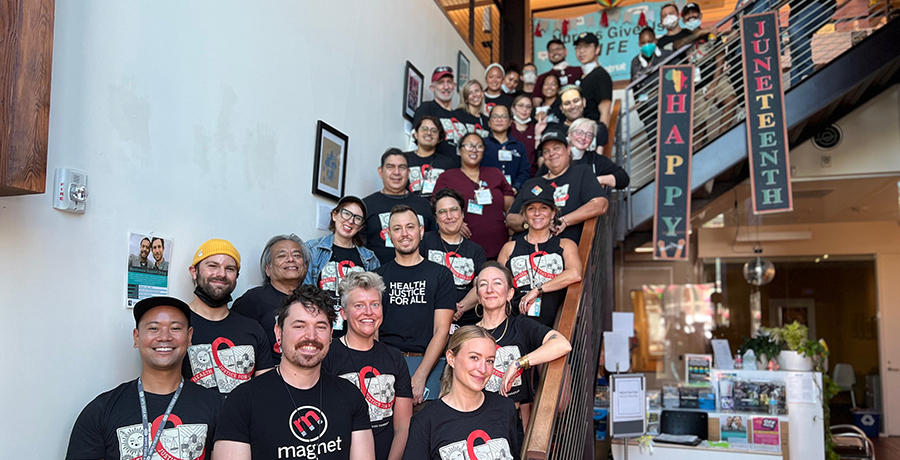 On Sunday July 17, San Francisco AIDS Foundation opened its clinic doors to approximately 450 community members receiving vaccination for monkeypox (MPX). The pop-up event, held on a day the clinic is typically closed, took a team of 70 volunteers and staff–from across the agency–to successfully pull off. 
"The vibe was cute housewarming meets all hands-on-deck meets the healthcare world I want to live in," said LB Honey-Brooks, chief program officer. "The team was nothing short of spectacular. Volunteers and staff were endlessly creative, solutions-oriented, and rolled out impeccable hospitality to the approximately 450 community members who came through."
A team of more than 20 volunteer nurses from Kaiser Permanente Northern California joined SFAF's clinical team from Magnet to vaccinate community members. Staff from across SFAF's organization–from AIDS/LifeCycle, to our People & Culture team, to our community engagement teams–pitched in to check community members in, answer questions, manage appointment times, and ensure clients could be seen and served quickly. 
"With this many people coming through the clinic in one day, we needed to make sure that our service delivery was on point," said Jorge Roman, MSN, FNP-BC, AAHIVS, director of clinical services. "This vaccination event was an example of everything that we do well at SFAF–we provided a much-needed service for our community, with an eye on equity, and with the compassionate and client-first experience we are known for." 
The event provided vaccinations to people exposed to MPX using an appointment-based system. Honey-Brooks said she was glad to see that community members experienced short wait times, and had access to snacks and entertainment while they waited.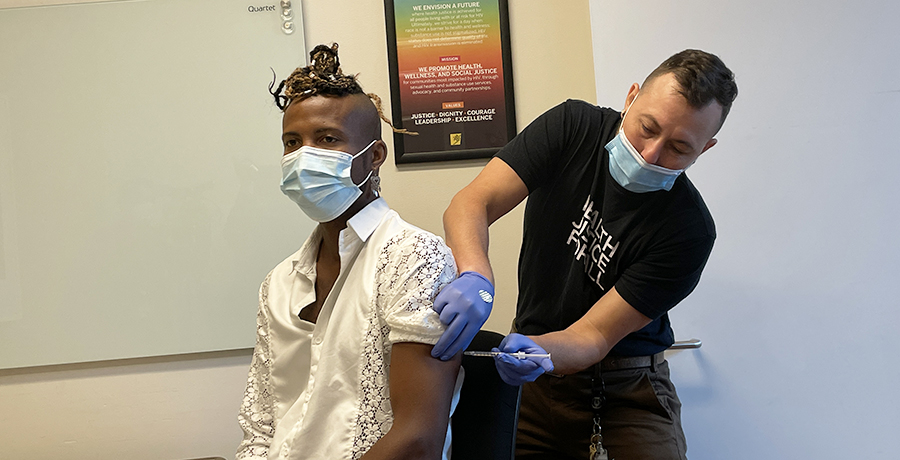 "One person expressed appreciation because the experience was 'humane,' and didn't require standing for hours outside in long lines," she said. "One of our nurse practitioners shared that these moments are fulfilling because clients are grateful, relieved, and feel so taken care of."   
"I was so happy that the day seemed to roll right along, no long lines, everyone was enjoying the great weather, and the entertainment on the sidewalk was like being at a comedy show just for us," said Laura Skaggs, senior director of People & Culture, who welcomed community members to the site and helped with crowd control. "This is what teamwork looks like!"
"The relief and joy people expressed with the ability to access the vaccine was ever-present," shared Tracy Evans, director of AIDS/LifeCycle, who volunteered at the vaccination event. "What an honor to have been able to help bring health justice to our community!" 
"The vaccination event was health justice in action," said Russell Roybal, chief advancement officer. "Our entire organization pulled together to respond to the urgent needs of our communities."
"We were very proud to have created increased access via this large-scale vaccination event for our community, although we recognize that the supply of vaccine we have at this time isn't enough to address the need in the community," said Tyler TerMeer, PhD, CEO of San Francisco AIDS Foundation. "San Francisco is facing extreme shortages of the Jynneos vaccine, and we are committed to advocating for a greater supply and making sure that people have equitable access." 
---
Looking for the latest info and updates about monkeypox?