SFAF welcomes new board of directors members
Murti Nemat Ali, Sandeep Bhadra, Emanuel Campos, Joshua Morgan, and Hoa Su share their connection to SFAF's mission, and why they're personally driven to support the work of SFAF.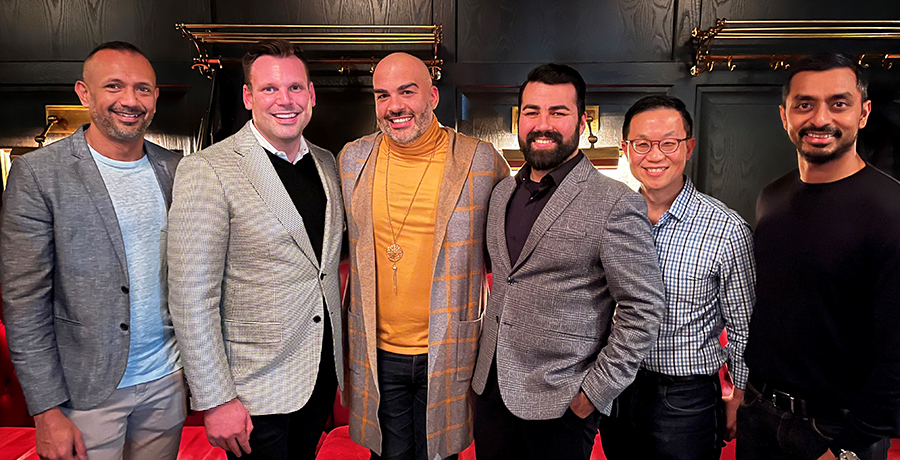 In January, the SFAF board of directors confirmed five new members: Murti Nemat Ali, Sandeep Bhadra, Emanuel Campos, Joshua Morgan, and Hoa Su. The new members bring a wealth of personal and professional experience to the board, and all are deeply connected to the mission, vision, and values of SFAF. 
Emanuel Campos, a Fair and Responsible Banking Associate from First Republic Bank, said that he is driven to support SFAF's mission of promoting health, wellness, and social justice in communities most impacted by HIV–particularly communities of color. 
"As a gay Latino living with HIV, I understand the importance of reaching out to communities where even talking about HIV is taboo and where the stigma and shame around living with HIV still remain," said Campos. "The best way to combat these issues is through advocacy and outreach to these communities and providing crucial education, resources, and a safe space where all people who live with HIV can thrive."
Hoa Su, MPH, who is the Manager of the National Clinician Consultation Center at UCSF, said he was similarly drawn to SFAF's mission. 
"I look forward to lending my public health expertise and lived experience as a BIPOC person living with HIV to address the social, economic, and structural barriers that impact one's ability to remain HIV negative and for those living with HIV to remain healthy and to feel supported," said Su. "In May 2004, I was shocked to find out that my regularly scheduled HIV test turned positive. Luckily, I had been well-informed about HIV and knew close friends living with HIV who I turned to for support. For people who are diagnosed with HIV, I want them to know that HIV is not a death sentence, and they can still live a long and healthy life with the necessary social support and medical treatment. That is why it's important for me to be on the board of SFAF and to support its important work." 
Joshua Morgan III, Executive Director and Client Advisor at J.P. Morgan, said he's looking forward to planning and legacy that ensures SFAF will continue to take an active role in improving the lives of LGBTQ+ individuals in the future. 
"I believe in the legacy of the organization, and respect the important role that the organization has played since the very beginning of the HIV and AIDS crisis in this country in driving change," said Morgan. "I think it's largely to the credit of this organization that so much has happened to improve the lives of those around the globe who are living with HIV. We will continue to fight to end HIV and AIDS, and stigma, and we will equip ourselves to do the same for other health or public crises that threaten our community." 
On a personal note, Morgan added that–as a father of twins–he's learned how important it is to be a mentor, ambassador, and contributor to LGBTQ+ culture and community. 
"I love having the opportunity to talk to them [the twins] about LGBTQ+ history, and it's so fun to see the world through their eyes," he said. "I want to be part of the story of SFAF that continues to make it a leading advocate for health equity for LGBTQ+ individuals for decades to come." 
Sandeep Bhadra, general partner at Vertex Ventures US, shared that "Growing up as a young man in India in the late 90s, the fear and panic around HIV/AIDS and its prevalence among gay men made me put off my decision to come out to myself and to my friends and family. SFAF's work in putting young LGBT people in control of their own health and in driving awareness around HIV/AIDS resonates  deeply. I'm excited to have the opportunity to support the Foundation's continuing mission towards health equity," he said.  
Murti Nemat Ali, Senior Director of Product Design for Walmart, said he was very excited to join the board. 
"Supporting SFAF's mission to strive for health justice and providing equitable access to healthcare –playing a small part in influencing how that happens is what makes serving on the board such a special opportunity for me," said Ali. 
SFAF's board now includes 20 members, half who identify as people of color. 
"We are proud to welcome this accomplished group of new board members who are committed to health justice and race equity," said Tyler TerMeer, PhD, CEO of San Francisco AIDS Foundation. "It's critical that the Board–which drives the strategic direction of our organization–be reflective of our values and representative of the communities we serve. I have every confidence in this group of leaders and very much look forward to working with them as we guide the work of SFAF forward."