Pursing "paraphernalia" charges for public drug use will undo our progress to end HIV
We are alarmed by reports of law enforcement confiscating safe supplies and penalizing people for accessing and possessing harm reduction and disease prevention resources.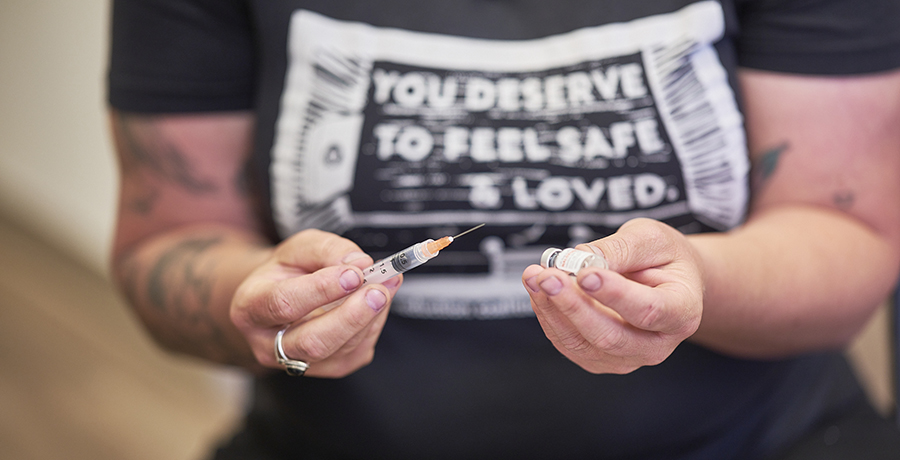 Since the early years of the AIDS epidemic, San Francisco has made significant strides in dropping the rate of HIV infections among people injecting and using drugs. This is thanks to progress made in legalizing the distribution of safer use supplies, and highly effective syringe access and harm reduction programs that successfully reach thousands of people using drugs every year. 
Now, more than 30 years later, that progress is seriously jeopardized by new city initiatives meant to "crack down" on substance use, with charges being brought against people for possessing "paraphernalia"–in other words, syringes, pipes, and other safer drug use supplies. This is despite years of evidence that this does nothing to reduce or discourage drug use and in fact increases vulnerability to overdose and infectious disease, as well as racial disparities in health outcomes.   
"This is a serious problem and will only harm HIV and hepatitis C prevention efforts," said Ro Giuliano, senior director of services for people who use drugs. New sterile syringes, hygiene supplies, safer smoking supplies–these are all tools that prevent serious negative health outcomes such as HIV, hepatitis C, and soft tissue infections, like abscesses." At a very basic level, these supplies and overdose prevention resources help keep people alive as they navigate their drug use and are connected to other health services including drug treatment." 
The San Francisco Chronicle reports that in recent months, a handful of people have been charged for violating California Health and Safety Code 11364(a), which prohibits the possession of syringes, pipes, or other supplies used to inject or smoke substances. 
These charges are in fact in direct violation of California law (California Health and Safety Code 121349.1, updated in 2018) which allows people who use drugs to obtain and possess safer injection and smoking supplies as sanctioned by local public health departments in order to prevent communicable diseases, injury, or overdose. 
The California Department of Public Health's Office of AIDS fact sheet on this issue explains that people in California may lawfully obtain and possess safer use materials, including safer smoking supplies, from any syringe service program in California. 
It must be acknowledged that the city is confronting and navigating incredibly complex issues intersecting public safety, health, harm reduction practices, and the role of law enforcement. Although this is recognized, currently employed strategies are in direct conflict with best practices in public health and will ultimately do more harm than good.  
The benefits of providing safer injection supplies and other safer use supplies through syringe service programs have been well-documented over nearly 30 years, and have been shown to reduce transmission of viral hepatitis, HIV, and other infections. 
Public health further supports the distribution of safer smoking supplies. A fact sheet prepared by the Addictions, Drug, and Alcohol Institute at the University of Washington shares three primary public health objectives for the distribution of safer smoking equipment: reducing health risks from sharing smoking supplies (viral hepatitis, tuberculosis, and Covid-19); reducing the higher-risk practice of injecting; and increasing opportunities to "bring people through the door" and link them to health and medical care, substance use treatment, and other services. 
In addition to harming people who use drugs, limited city resources are wasted by arresting and prosecuting people for possession of safer consumption supplies in contravention of the law–especially during a time when overdose deaths are on track to exceed more than 800 people this year. They may also exacerbate racial disparities in overdose deaths. 
"Nonprofits and other health organizations including San Francisco AIDS Foundation are funded by the city's department of health to provide these harm reduction supplies to our community," said Laura Thomas, MPH, MPP, senior director of harm reduction and HIV policy. "The city is paying to provide these supplies, and then turning around and funding the police to take them away. People who are arrested on these charges are brought to our already overburdened city jail and then released, which increases their overdose risk."
Thomas and Giuliano also said that fear among people who use drugs over increased policing will harm service provision. 
"Increased criminalization and policing leads people to be reluctant to access health services at our sites," said Giuliano. "People may be less likely to put themselves in situations where they may be targeted as a person who uses drugs, or be easily identifiable as someone picking up safer use supplies. It makes our work more difficult, and serves as a really unnecessary roadblock to the vital health services we offer." 
San Francisco AIDS Foundation has provided safer injection and other health services to people who use drugs since 1993, after successfully advocating for the City to declare a state of emergency in order to sanction needle exchange. It was a hard-won victory, but one that went on to influence other jurisdictions as the benefits of providing safer supplies became clear. 
The number of new AIDS cases among people who injected drugs reached a peak in 1992 with 212 cases; six years later, that number dropped by half. Since then, the number of people who inject drugs who are diagnosed with HIV in San Francisco remains low–largely due to the city's widespread adoption of syringe access and harm reduction. (In 2021, approximately 40 individuals who reported using injection drugs were diagnosed with HIV.) 
"San Francisco has made so much progress in getting to zero new HIV infections by ensuring that people have access to safer supplies to prevent sharing and reducing risks by switching to smoking over injecting–we can't backslide on this progress now," said Thomas. "We are glad that the city wants to address rising rates of overdose and bring more people into substance use treatment, but taking away and criminalizing the possession of supplies that prevent the spread of disease is not only the wrong way to go about it, but undermines our important public health victories so far."