Pedaling with Puro Pinche Papi on AIDS/LifeCycle
I caught up with a couple--Charlie Arreola and Alfredo Trejo III–who are participating in AIDS/LifeCycle this year with a team that centers the lives and experiences of BIPOC cyclists.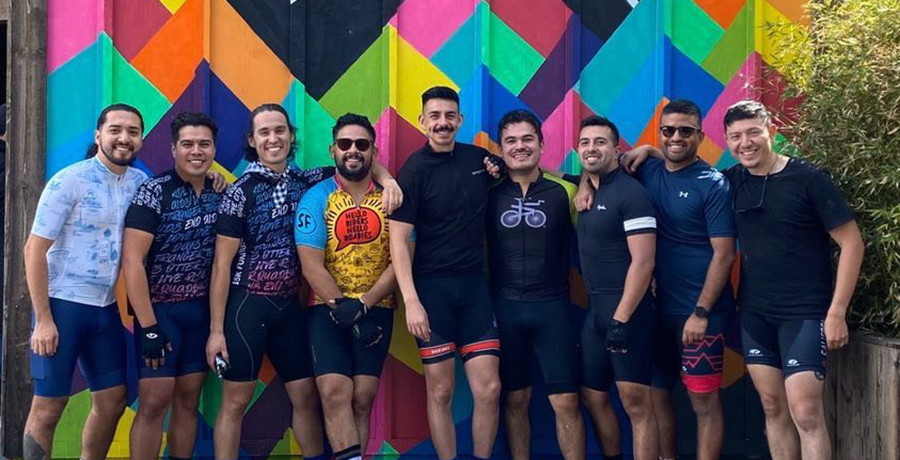 In June, AIDS/LifeCycle returns in-person after a two-year hiatus due to the COVID-19 pandemic. This fundraising event benefiting San Francisco AIDS Foundation and the HIV services of the Los Angeles LGBT Center involves thousands of Cyclists (with the support of volunteer Roadies) pedaling 545 miles down the coast of California from San Francisco to Los Angeles. The event draws people from across the country (and sometimes across the world), who come out to raise awareness about HIV and AIDS, raise funds to support people living with HIV, and enjoy a colorful and unique week with thousands of LGBTQ folks and allies.  
I caught up with a couple–Charlie Arreola and Alfredo Trejo III–who are participating in the event together this year with their team, Puro Pinche Papi. They represent one of a handful of BIPOC-led teams on the Ride, that center the lives and experiences of Riders and Roadies who are people of color.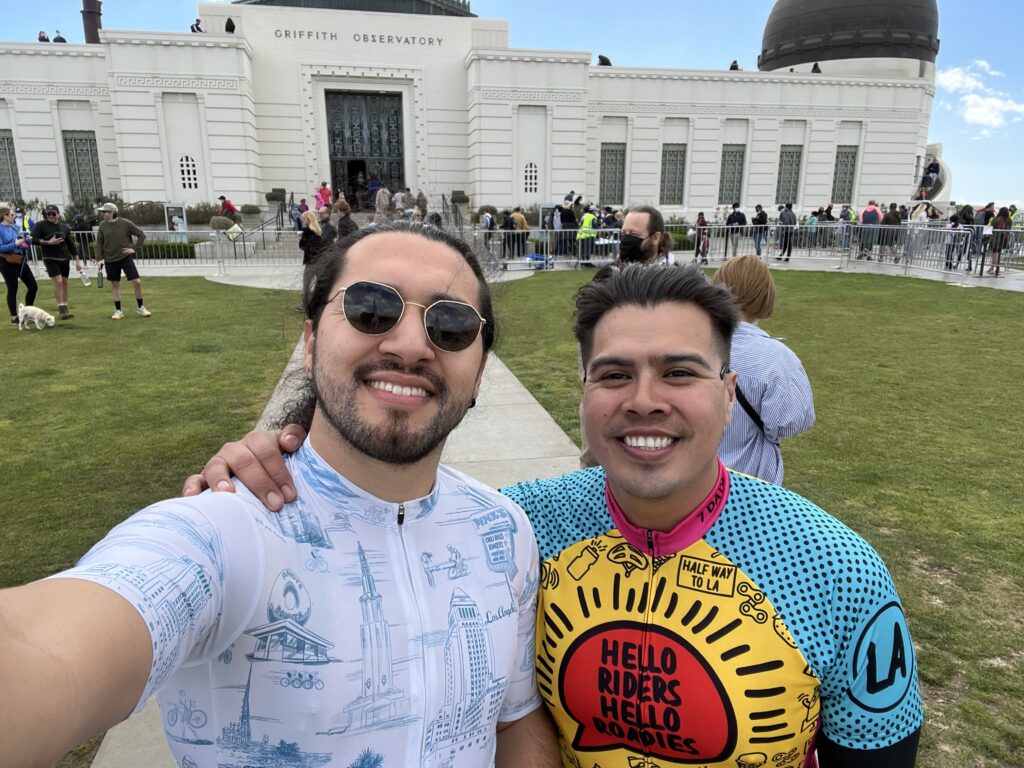 While HIV rates have largely declined across all groups within the United States, the virus still affects Black and Brown communities unequally. In a first-ever comprehensive analysis of lifetime risk of HIV infection rates, the CDC reported that as many as one in two gay and bisexual Black and one in four gay and bisexual Latinx men will contract HIV. For white gay and bisexual men, the rate is much, much lower — 1 in 11. The disparity is striking.
That disparity hasn't gone unnoticed by Charlie Arreola. Charlie had been riding in AIDS/LifeCycle for four years, and it's his identity as a Latinx rider that pushed him to participate initially. He wanted to go out to his community using his involvement in AIDS/LifeCycle as a conversation starter for meaningful discussion about HIV and sexual health. "Especially first generation Latinx communities, our families didn't talk to us about sex," Charlie says. While raising funds to participate in the ride, Charlie is working to destigmatize HIV and sexual health. 
AIDS/LifeCycle had been so important to Charlie's life that he actually brought up the topic on his first date with Alfredo Trejo III just before the pandemic struck. As a Latinx person living with HIV who maintains an undetectable viral load, Alfredo was also moved by the impact of AIDS/LifeCycle. He wanted his community to be represented, so it didn't take long for Alfredo to become excited about also joining Charlie for his next ride in 2022. 
In fact, Charlie and Alfredo's relationship grew stronger when practice rides through Pasadena, Alhambra, Playa del Rey and Palos Verdes also functioned as romantic dates. Quickly, the idea ballooned to the two of them founding a BIPOC team. Now named Puro Pinche Papi, their team is one of a few BIPOC-led teams participating in AIDS/LifeCycle.
"It's not just about cycling, though," Alfredo admits candidly. "The cycling becomes a way to introduce our communities to topics such as U=U and PrEP." 
Alfredo, a first-time rider, is having the same conversations with Charlie that he's been having with his own community for years. And it's also not just queer folks he's engaging, it's straight people too! 
"Many people are surprised to know that they should be tested regularly, and often on a three month basis if they're sexually active," Alfredo said. "It can take some time before an exposure can lead to a positive result on a test, so regular testing is a mechanism for detection and reducing spread of infections." 
Through AIDS/LifeCycle, Alfredo has connected more closely with the resources offered by the Los Angeles LGBT Center. Alfredo mostly attends the social activities, and recently enjoyed a documentary screening for LA queer history. He also knows that the Center offers sexual health screening and treatment, mental health and substance use support, and social workers who can assist with access to health insurance. In the Bay Area, San Francisco AIDS Foundation offers similar services. 
Puro Pinche Papi now has four riders from San Francisco, 11 from Los Angeles, with 12 total being first-time riders. Many of them wouldn't consider themselves cyclists per se, and came to the Ride without all of the expensive equipment that cycling can require. (Road bikes can sometimes cost thousands of dollars.) Some of the Riders have borrowed bikes, relying on organizations such as Bicycle Angels, which provides equipment to folks who are participating in charity rides and need support. Alfredo and Charlie say they've realized how difficult the sport can be to access for low income communities. 
So far, Puro Pinche Papi has collectively raised $66,000 of their ambitious $100,000 goal. Alfredo said, "Most of those dollars have come from Black and Brown communities." 
Puro Pinche Papi's success is already remarkable. When asked how that makes him feel, Charlie says, "I'm creating a space that I wished I had the last four years."
---
Find out more about AIDS/LifeCycle, and follow the Ride on social media June 5 – 11!