Our internship program is training future leaders in healthcare
"It's important for the program to bring in people who are connected to our priority populations to this work," said Jeremy Zondlo, who leads the training program.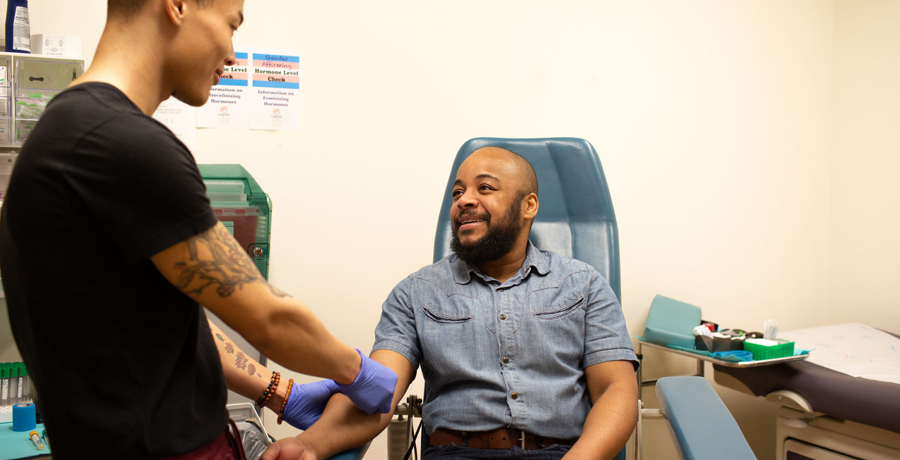 Our sexual health clinical training program at Strut, launched in the fall of 2018, is creating a path to full-time jobs in healthcare and continued education. This entry-level training program is bringing new opportunities to queer and trans individuals, people living with HIV, people of color, people with a history of substance use and others who are connected to populations served by our organization. By paying trainees, the program is providing job training to people in our community who might otherwise have difficulty building up the necessary experience to succeed in a competitive job market. 
"This is a really innovative program and we're seeing lots of success from it," said Jeremy Zondlo, manager of the volunteer and intern program. "Trainees get direct, on-the-job exposure to many different areas of our work in a short amount of time, and they have the opportunity to explore areas that are most of interest to them. And most if not all of our program graduates go on to find jobs in the field or continue their education afterwards. There really aren't that many immersive education opportunities like this where people are also getting paid."
So far, the program has trained three cohorts of community members in HIV test counseling, health education, service navigation, PrEP and HIV benefits navigation and community events. Trainees rotate through different roles at Strut, our health and wellness center in the Castro, supporting HIV test counseling, clinical services, social and educational events, and more. The program lasts six months, with 3-4 shifts per week lasting 4-6 hours. 
Gerald Borjas applied to the clinical training program after deciding he was ready for a career change. 
"I had worked in retail for about five or six years until that point. But I'm heavily tattooed and pierced, and it was like, 'If I choose to express myself, where am I going to be working?' But I had done a lot of volunteer work and I'm part of the Leather community, so when a friend told me about this opportunity, I knew it would be a good fit." 
Borjas said the program changed the trajectory of his life and gave him hope for a new future.  
"It allowed me to feel like I was worth something–and that I had talents that were recognized," said Borjas. "We live in San Francisco, and it can seem like there are an abundance of opportunities here. But it's not always clear what's actually available to you. People should know that there are good opportunities out there. They should know about programs like this."  
A few months after the program ended, Borjas accepted a full-time job offer as a service navigator at San Francisco AIDS Foundation, where he directs clients to appropriate programs and makes referrals to new services. He said the experience in the clinical training program gave him good preparation to step into his new role.  
"It's important for the program to bring in people who are connected to our priority populations to this work," said Zondlo. "People are more likely to access services when their provider looks like them, sounds like them, and at least appears to have a shared experience. You want to feel like you're an equal partner in your healthcare. 
"But it takes privilege a lot of times to become a provider. So many people get stuck in that catch-22 where they want to work in this field, but the job requires a certain amount of experience that they don't have. That's why it's so encouraging to see so many of our graduates go on to full-time positions in this work or back to school."