Meth, stigma and African American communities in San Francisco
Two harm reductionists discuss race, class, homophobia and other factors that influence Black men who have sex with men and who use speed.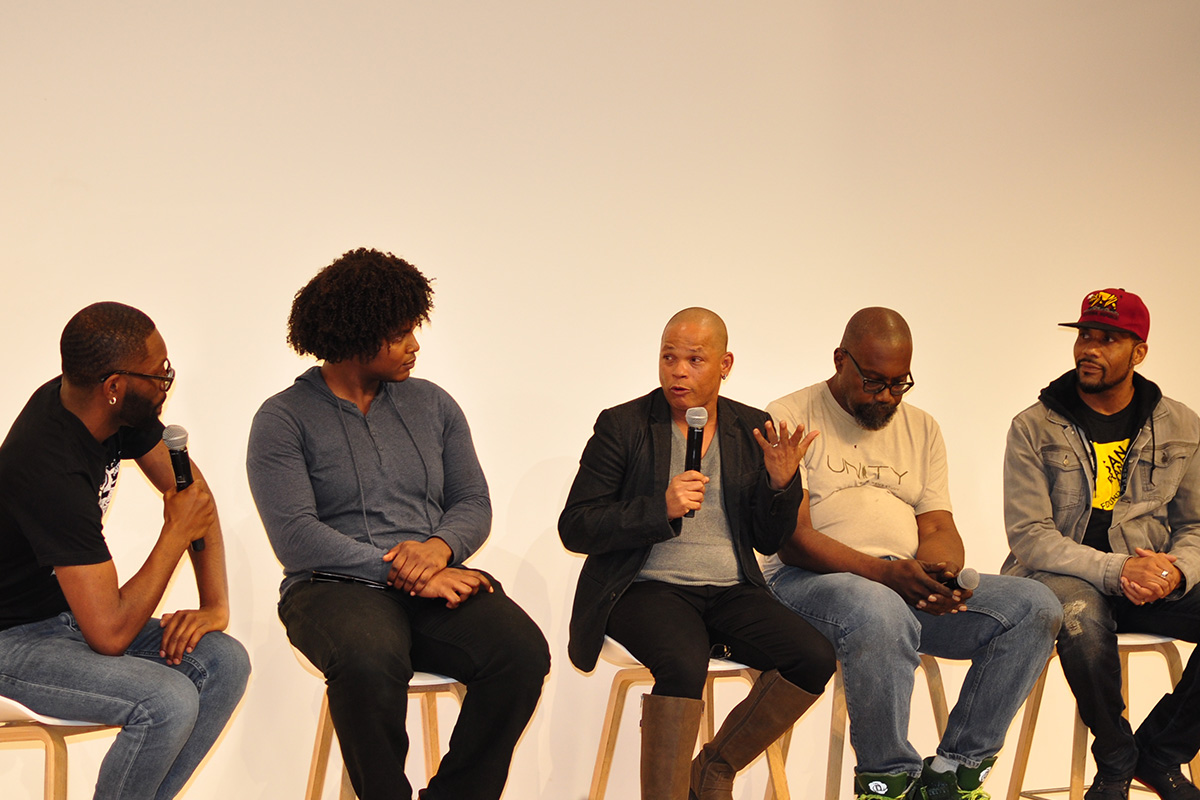 Meth is making a comeback in San Francisco according to recent news reports, stoking concern over addiction, overdose, public order, rising emergency room visits and meth-related deaths.
"It's really easy to use the term 'meth epidemic' to describe what's happening in San Francisco," said Alex Locust, MS, APCC, CRC, a substance use counselor for The Stonewall Project. "People say there's an epidemic to describe this 'crisis' around people who use drugs. But when you use it in that broad sense, you erase a lot of the inequity in the situation."
To dig into issues related to crystal meth use in San Francisco—and its effects of communities of color—SFAF and the Harm Reduction Coalition hosted more than 200 community members to a documentary film screening and panel discussion on March 14. Alex and Charles Hawthorne, from the Harm Reduction Coalition, debrief after the event, and discuss the effect that crystal meth has on queer men of color in the Q&A, below.
Why is it important to start conversations about crystal meth use in communities of color, and in particular among men who have sex with men?
Alex Locust: San Francisco is encountering a lot of challenges in our communities around meth, but it's important to try to shed light on the nuance and disparities within what is happening. Being able to screen a film that highlights a specific population—Black and Latino men who have sex with men—and elevate the racial dynamics, the class dynamics and the higher-level conversation around meth use in this community was exciting.
We really wanted to challenge people to elevate their thinking about meth use in our community, and think more deeply about what's going on, how we can provide support and how we can be more empathetic to people who are experiencing things outside our own identities.
Charles Hawthorne: What I loved about our panelists was that they shared harm reduction messages around methamphetamine and stimulant use. Oftentimes it's not about the meth use—it's about the social and structural issues that surround the meth use.
Problems stem from the fact that people feel like they can't talk about their meth use if it's stigmatized in their community. They feel like they will be ostracized by friends and family if they tell people they're using meth. Or it's about the fact that people feel isolated, because they're a queer person of color. Or it's because there is discomfort around sex and intimacy. How you interact with sex may impact how you interact with substance use. Pulling out those individual pieces related to meth use—instead of just saying that meth is the problem—is important.
What kind of nuances around crystal meth use did the panel or film explore?
Charles: I know many people who use meth, and I know many people who use it with sex. This is one of the only times I've had these conversations in a setting like this. Some of our panelists talked about recent or current meth use. We didn't want to host an event where the theme was, meth was the worst thing in the world, and now I'm sober. That only creates more shame and fear for people who are still using meth.
Alex: It definitely was unique to lift up the voices of people who have been through it, are going through it, or are supporting people going through it [meth use]. Isaac shared how he switched from injecting to smoking, but now injects only on special occasions. Instead of popping a bottle of champagne to celebrate something, he uses meth. He wasn't edited or censored. He had the freedom to share his experiences with authenticity.
Knowing that we can approach these topics in a destigmatizing way at a fun community event—and not during a lecture or really intense counseling session—was a revolutionary experience.
What's different about crystal meth in Black gay communities compared to in white gay communities?
Charles: It's important to note that these communities aren't exclusively separate, there is a lot of overlap. Meth use is stigmatized in both communities, but I think differently. In white gay communities, there are more spaces where people are comfortable talking about it and what they're doing. I think within the Black gay community, people are less comfortable talking about meth use. People are less likely to say something unless it becomes a huge issue.
Alex: It may be less about how meth impacts the communities differently, but about the intersections of other things that change the experience of meth use. White gay men in San Francisco who use have more privilege. They are more likely to have better paying jobs, be stably housed, or be more comfortable going into mental health services or treatment programs. You may be more able to use meth discretely with all of those privileges. That's why Black men who have sex with men may be disproportionately affected by their use.
How important are financial resources to insulating a person from the negative effects that meth can cause?
Charles: Different sociocultural factors—including things like poverty, racism, homophobia and transphobia—all impact most people's vulnerability to harm, as well as their capacity to effectively handle it. Having money isn't the only thing that can help insulate you from the negative effects of meth use, but it can help you use meth more safely.
It enables you to go into a pharmacy to buy new syringes. People may assume you're getting them for something like treating diabetes or injecting hormones, so they won't look at you like you're crazy or because you look poor. Money can help you buy high-quality drugs, so you're less at risk of them being cut with other harmful substances. Money can give you safe, indoor spaces to do your drugs, and more control of who's in your environment when you use. It can give you access to good medical care. If you get sick or get hurt when you're using, you'll be able to go to a doctor that doesn't treat you like shit because you're in the emergency room and you look homeless. Money definitely is an important factor, but it's not the only factor.
Alex: Money and access in San Francisco is such a big issue. People who are marginally housed are on the move a lot, which impacts health if you have to take a daily medication for HIV or another condition. Food is another issue for people who use. It's a harm reduction strategy because you need access to food when you're coming down. If you aren't connected to systems of care because you don't trust medical establishments, that's another vulnerability. All of these things are interconnected.
—
Are you interested in changing your relationship to crystal meth? The Stonewall Project offers a variety of groups and counseling services, and there is no requirement for you to quit or reduce your use to participate in groups or services.
PROP is a positive reinforcement program that provides structured community, counseling, referrals and support for gay, bi and trans men and trans women interested in addressing their speed/meth or cocaine use, with incentives for non-reactive urine tests.
Crystal Clear is a harm reduction counseling group for Black and African American gay, bi, queer, trans, heteroflexible, DL and other men who have sex with men who are interested in examining their relationship to crystal meth. Crystal Clear is held Tuesdays, 11:30 am – 1 pm, at 1035 Market St., Suite 400, San Francisco, Room 3E.
Find additional substance use services available from The Stonewall Project at San Francisco AIDS Foundation.