How Healing & Uniting Every Sista (HUES) Addresses Inequity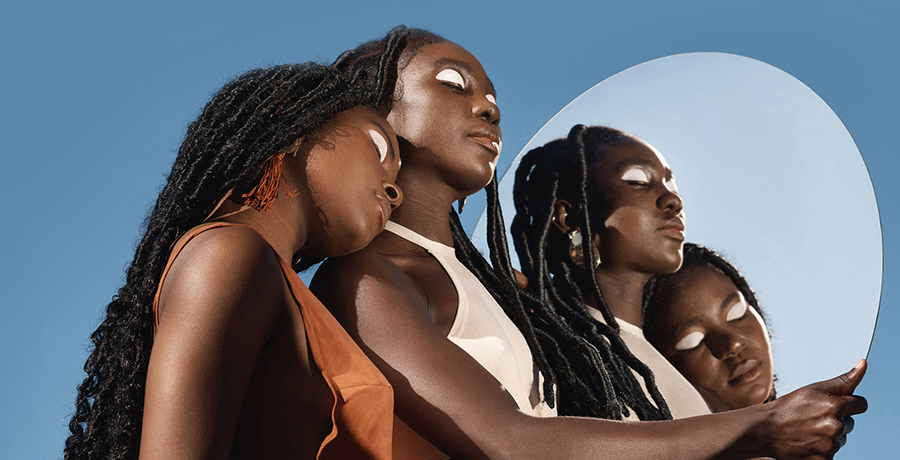 When acronyms "AIDS" and "HIV" entered into conversations in the 1980s, news outlets often picture white, cisgender gay men, and sometimes discussed the prevalence of the virus amongst people who used intravenous drugs. Yet, many people who acquired the virus never fell into these two limited buckets, including the millions of women who became infected through heterosexual sex, or the millions of Black women who particularly faced significant systemic challenges.  
"We must center the experience of Black women," Ebony Gordon said. Just this past September, she became the inaugural program manager of San Francisco AIDS Foundation's first-ever Black woman-centered program. It's called HUES, Healing & Uniting Every Sista, and functions as a national Black feminist collective committed to eradicating the HIV/AIDS epidemic in Black women, girls, and femmes through direct service, education, and advocacy. The name of the program, by the way, was co-created with current program participants. From the beginning, the messaging has been clear – this program exists to support them.  
While AIDS diagnoses and AIDS-related deaths among women in the United States have been decreasing over the past few years because of better HIV and AIDS prevention and medications, they have not been decreasing as fast as AIDS-related deaths in men. Among all women, systemic inequities have resulted in the gloomiest statistics for Black women living with HIV. Black women are more than twice as likely as white women to be diagnosed with HIV, and nearly three times as likely as Hispanic/Latina women, and the most likely to die from HIV-related causes.
PrEP (pre-exposure prophylaxis), a preventive medicine that can reduce the risk of contracting HIV, was a game-changing drug for millions – but its impact is weakened if the most vulnerable community lacks access to the medication. Black women have not been included in the conversation about the medication, and misinformation and stigma have influenced access to prevention and care services, leaving people of color, particularly Black women, at a disadvantage.
The inequity is clear, and the causes stem deeply in our society. First and foremost, there is a long history of racism and discrimination in this country that has made it harder for Black people to access quality health care. It's well-documented that Black people receive less medical care when compared to whites. The stigma surrounding HIV is still very strong, which can prevent people from getting tested and getting treatment if they do test positive, thereby compounding health access challenges.
Despite HUES's newness and despite the incredible systemic challenges her community faces, Ebony already has ambitious goals to address how Black women living with HIV have been uniquely overlooked and provide them with access to wellness programs and resources. "We want to bridge the divide between the medical community and Black women living with HIV by providing accurate information and sharing stories that can help others feel seen and heard," she says.
Whether it's through events such as going to see the feature movie Woman King and its all-Black, all-female cast, an afternoon checking out the latest exhibit at the Museum of the African Diaspora, or holding space for live panel discussions on Black health, HUES brings intergenerational women together to celebrate health, joy, and sisterhood. Many of these women have tried to find a home in other San Francisco AIDS Foundation programs, but because they didn't see themselves reflected in them, they left those programs and found others. Now, they're able to see themselves reflected in HUES, and Ebony can see the impact.
"We also know that we are the experts on our own lives, and so we center our work around Black feminist principles of self-determination, pleasure, support, joy, health, and safety," Ebony says. "For our ladies, it may be the first time they've been in such a space, and you can see the light in their eyes when they realize they're seen and are important."
Get involved in HUES
Follow us on Instagram!  @HuesatSFAF
Or contact Ebony Gordon, at 415-487-8024.