Happy 20th birthday, Magnet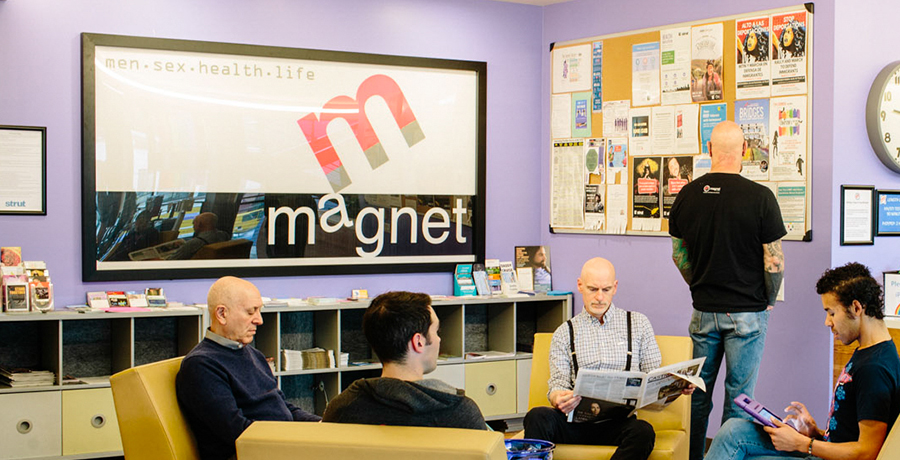 This year, our sexual health clinic Magnet turns 20. In 2003, Steve Gibson and Michael Siever, with a new vision for how to address the HIV epidemic among gay men. 
"We wanted to establish a health center that really understood gay mens' sexual experiences, especially in the post-AIDS-crisis time when we opened," said Gibson, who is now the Director of HIV Prevention at Alameda County Public Health Department, in an article published for SFAF's 40th anniversary.  "Many in the community had internalized the danger of expressing our sexuality, and the danger of AIDS. But we were living in a very different time–when health was no longer defined by the presence or absence of HIV. We needed to really reset what the community deserved, needed, and wanted at the time."  
Initially providing testing for HIV, syphilis, gonorrhea, and chlamydia, plus STI treatment and hepatitis vaccinations, Magnet opened in a retail storefront on 18th Street in the Castro. Businesses in the area and some community members were concerned by the choice, said Gibson, so his first hire at the agency was a community organizer who was tasked to gain community support. 
"People thought Magnet would devalue the other businesses in the area. There was also a thought that it might bring in a certain element of 'undesirable' people to the neighborhood. There was just this belief that persisted that sexual health services needed to be hidden and out of the way," said Gibson. 
Magnet quickly proved to be enormously popular in the community, with social events such as art shows, educational events, and non-judgmental, sex-positive testing and treatment services, and eventually PrEP.
"The foundation affirmed gay men's right to sexually satisfying lives and really backed that up by acquiring Magnet," said Gibson. "Magnet was kind of 'out there,' and some of the stuff we did was pretty radical at the time." 
Now, the clinic offers services to communities beyond gay men, with a focus on reaching BIPOC communities and communities that may lack access to affordable sexual health care. Magnet provides free PrEP and PEP services, linkage to HIV care, benefits and navigation services, gender-affirming care, and more. 
To this day, Magnet remains a critical resource built by the community, for the community–expanding and improving services to offer innovations like PrEP, doxy PEP, and gender-affirming care–all with the same open and accepting sex-positive approach that Magnet was founded on. 
Magnet began a visual arts program in 2003, the same year of Magnet's founding, in order to showcase art that inspires and uplifts our communities. In the last 20 years, the program has expanded to reflect a larger range of programs and the greater LGBTQ+ communities, with new work from queer artists showcased every month. 
To celebrate this anniversary, we are hosting an Art Show Reception on September 8, 2023 at 8 pm at Strut, 470 Castro St. in San Francisco. The event will feature work from 23 Queer artists including Joseph Abbati, Diego Gomez, SAPPHIC SCENES, Daniel Arzola, Mikhamik, De Kwok, Jordan Thomas Robinson, Brittany Maxste, Angel Angeles, Jasmine Liang, Luke Kraman, Greg Climer, Midori, Oscar Zamora Graves, Aron Bothman, James Dillenbeck, Meehaun Glasper-Wade, Nathaniel J. Bice,  Jovon Bright, Rae Senarighi aka Transpainter, Gabriel Garbow, Sina Grace, and Justin Hall. RSVP here.
---
Magnet, our sexual health clinic in the Castro, provides STI testing and treatment, HIV testing and linkage to care, PrEP services, anal health services and more.