Frontline Workers Share Their Experience Receiving the COVID-19 Vaccine
Frontline workers explain the importance of receiving the COVID-19 vaccine.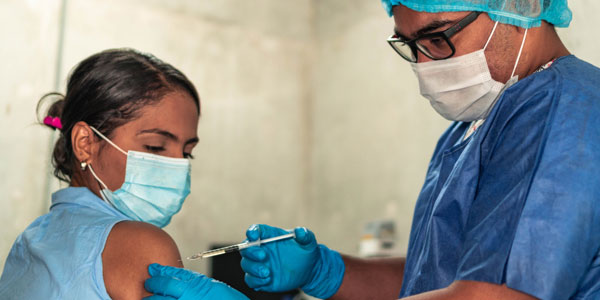 Earlier this year, SFAF received approval from the California Department of Public Health to administer the COVID-19 vaccine. Since then, frontline workers are being vaccinated so that they can continue to provide essential services. 
A few of our employees shared why receiving the vaccine is important and what this moment means to them.
Why did you decide to get the vaccine? 
Louis Smith (he, him, his) PrEP & HIV Benefits Navigator and Linkage Navigator: I got the vaccine not just because I've been getting vaccinated by this health system my whole life, but because I've been working in infectious disease science and public health for the past six years. And even after all that, I was still questioning getting the vaccine until checking out the Pfizer and Moderna publications. I remember making up my mind when reading the Pfizer study. The numbers were good, really good, surprisingly good. So, when they were taking names at work, I said sign me up. 
Vincent Crisostomo, (he, him, his) Director of Aging Services: While I'd like to say the decision to get the vaccine was strictly personal, the truth is I trust the science. On the personal part, I've lost several family members to COVID-19 including my dad in September 2020. My mom who has tested COVID-19 positive in August 2020 is in a skilled nursing facility. If I ever want to visit her, I would want to make sure I'm not putting her, the staff or any of the residents at risk. 
Why was it important to you to receive the vaccine? 
Kyle Temple (he, him, his) Senior Director, Stonewall Project: Getting the vaccine is not about protecting myself, it's about doing my part to protect the community.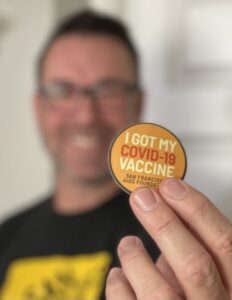 Vincent Crisostomo: Having lived with HIV since October 1987 this is the second pandemic I have lived through. There have been so many people lost to HIV and now to COVID-19 who won't have the opportunity to get the vaccine or benefit from its development. I did it for them as much as for myself. Plus my mother asked me to try and stay alive so we can see each other at least one more time.
Louis Smith: Getting the vaccine felt historic and like it was something that I could do independent of everyone else and everything else going on. My opinion on this disease is pretty simple, I want it gone. That felt pretty important. It wasn't about making a statement. It was really about doing something to try to stop this thing. 
What would you say to anyone who is hesitant about getting the vaccine? 
Vincent Crisostomo: I've lived with HIV for over 33 years. So far I've gone 11 months without contracting COVID-19. I am very clear that I do not need to live with another virus. Should I contract COVID-19, getting the vaccine will make the symptoms less severe. Plus, in all the studies they conducted to test the vaccines, no one died. That's significant. To stop the threat of COVID-19, as many people as possible should get the vaccine. That's the reason I encouraged my mom to get vaccinated and the reason I got vaccinated.
Louis Smith: How do you take care of yourself and who takes care of you? You have got to know why people are hesitating. Are there some good reasons for people to be hesitant? Of course there are! I sure hesitated. My health system aside from some middle-class health care growing up was my aunt. Anytime we were hesitant about something the doctor prescribed, we would call her. She is a pediatrician, so her recommendations were pretty in line with the federal government recommendations.
Kyle Temple: What has been made undeniable over the last year is the fact we are tethered to each other, and our well-being as individuals is tied to the well-being of my neighbors, friends, family and community members. Everyone cannot be safe until we have reached a tipping point of immunity. We will not reach that point until a certain percentage of our community has developed an immunity. Once that happens, I do expect (and desperately hope) I, along with everyone else, will be able to get back to hugging my loved ones, eating dinners inside and all the rest that is available to us when we don't have to be worried about contracting a deadly virus. 
—
San Francisco AIDS Foundation is are currently vaccinating front-line health care workers and people 65 years and older. To learn more, visit our COVID-19 Vaccine Appointments page. You can also call 628-877-1035 to make an appointment.