Changing policies to help people who use substances
Harm reduction activist Laura Thomas joins SFAF and plans to get you involved to advance policies to improve the health of people who use drugs.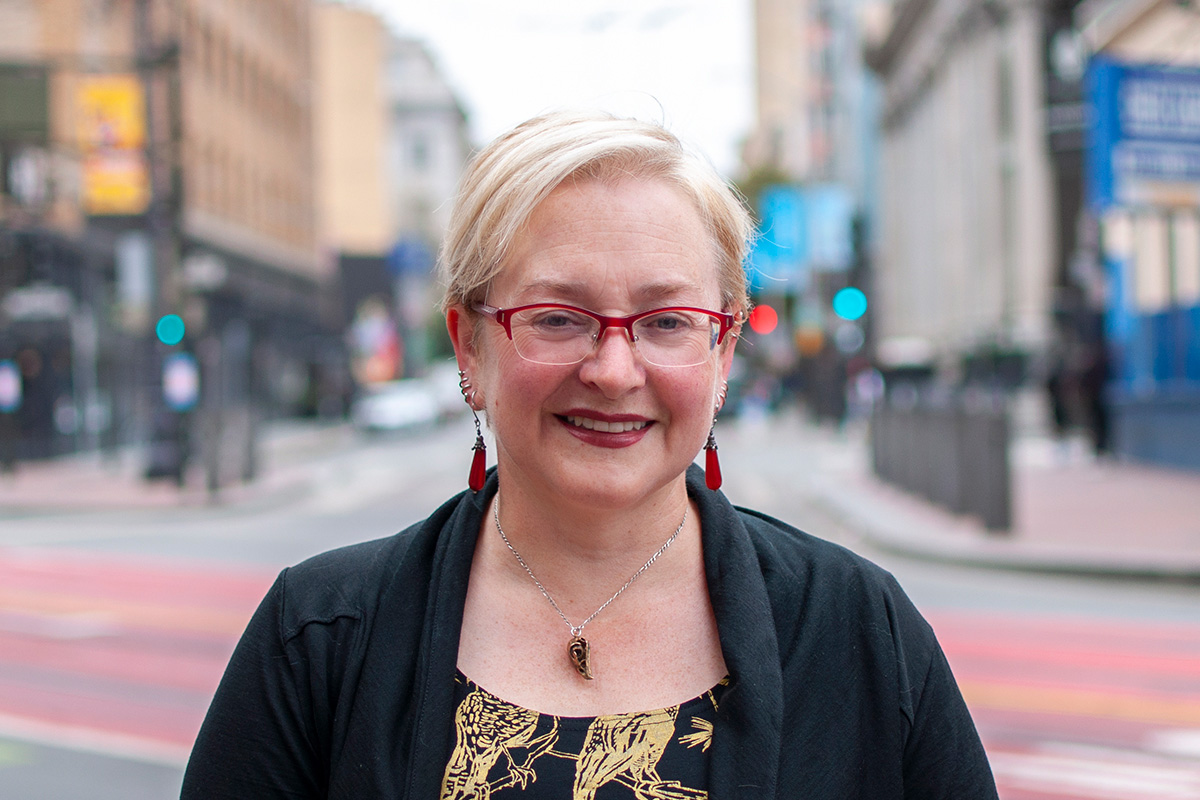 Joining the foundation from the Drug Policy Alliance, Laura Thomas brings her expertise to the policy and advocacy team this summer in a new role as director of harm reduction policy. Working at the intersection of drug use, HIV and homelessness, Laura will continue her decades-long work advocating for policies to improve the health of people who use drugs and the roll-out of safe consumption spaces in the coming years.
Here, she answered questions about the importance of bringing safe consumption spaces (also called supervised consumption spaces, safe injection sites or overdose prevention services) to San Francisco, the damage caused by drug use stigma, and advancing a harm reduction agenda to improve the health and lives of people city-wide.
You have a long history working to build support for harm reduction policies and practices in order to improve the health of people who use drugs. How has stigma related to substance use affected your work?
Laura Thomas: Stigma is always the biggest barrier. As Americans, we're very badly educated about drug use. People carry what they learned in seventh grade D.A.R.E. class into positions of authority and power, and they're still leaning on these really outdated, misinformed stereotypes about who uses drugs.
The reality is, as many of us know from our own lives, that the reasons why people use drugs and the reasons why people develop problems related to drugs are nuanced and complex. It's also not true that people have to hit some mythical "rock bottom" and that abstinence is the only way for people to achieve their goals related to drugs. Because of stigma, we don't get education around drugs, we just get fear-based messages.
What have you found to be effective ways to reduce stigma related to drug use, or change how people think about harm reduction?
It's helpful that we have a lot of research showing how effective harm reduction interventions are. I can cite numbers and statistics and data all day long, but I think ultimately it's always people's stories and narratives that make the difference.
When someone steps forward and says, "I used to be homeless and use meth, and then I went through The Stonewall Project. Now I have a job and a partner and a house, and I support supervised consumption services, and I wish they had been around when I was homeless and using." Those are the narratives that resonate with people.
The Health Commission had a hearing on supervised consumption spaces and people who use drugs came to stand up in front of the Commission to share things like, "I'm someone who injects drugs. I don't want to be out there on the street—I'd much rather have a place like this. Please give me an alternative to using drugs on the sidewalk." Those personal stories are what I think make a difference.
When might safe consumption spaces become a reality in San Francisco—and what might they look like?
Unfortunately, California Assembly Bill 362—which would have authorized San Francisco to pilot safe consumption spaces in California—was put on hold, which means the earliest the bill would go into effect is January 2021. We'll pick up where we left off in January and get it moving through the Senate, and hopefully to the Governor's desk for his signature.
It's frustrating and disappointing that it got put on hold, because I think we all know how bad things are in San Francisco and that this delay will cost people's lives. But I'm confident we'll be able to get this passed next year. The support is so broad—we all see the need for them every day when we're walking the city's streets.
As for what safe consumption spaces might look like, I see them as an extension of existing services. A place like GLIDE could add it to their existing harm reduction services. Our Harm Reduction Center could integrate the Suboxone clinic, hepatitis C services, syringe access and naloxone distribution to a safe consumption site. One of the challenges will be to make sure we provide these services at the scale they are needed. Opening one center that serves four people at a time isn't going to make a dent in the need.
How does your work intersect with HIV prevention and treatment, or the city's Getting to Zero initiative?
We're not going to get to zero HIV transmissions in San Francisco if we don't fully disrupt transmission among people who inject drugs. If you look at HIV incidence among people who inject drugs, it's stayed level year after year. Infections rates are as low as they are now because we have such excellent syringe access in this city. But in order to get infection rates lower, we have to do something else in addition to syringe access. And that must include supervised consumption services. We're not going to be able to achieve our HIV goals without fully addressing substance use and providing supervised consumption services.
I think many people will be excited to learn more about your work and to get involved. What are ways to engage?
One thing I'll be working on is making sure that participants at the Harm Reduction Center and Syringe Access Services can have a bigger role in our policy work. We want to make sure that their voices are heard in these policy discussions 
You can find out how to get involved by joining our HIV Advocacy Network.