Catching up with SFAF leaders about their work in 2023
SFAF leaders share what they're looking forward to in the new year, and their hopes for SFAF's work in race equity, harm reduction, HIV, sexual health, and more.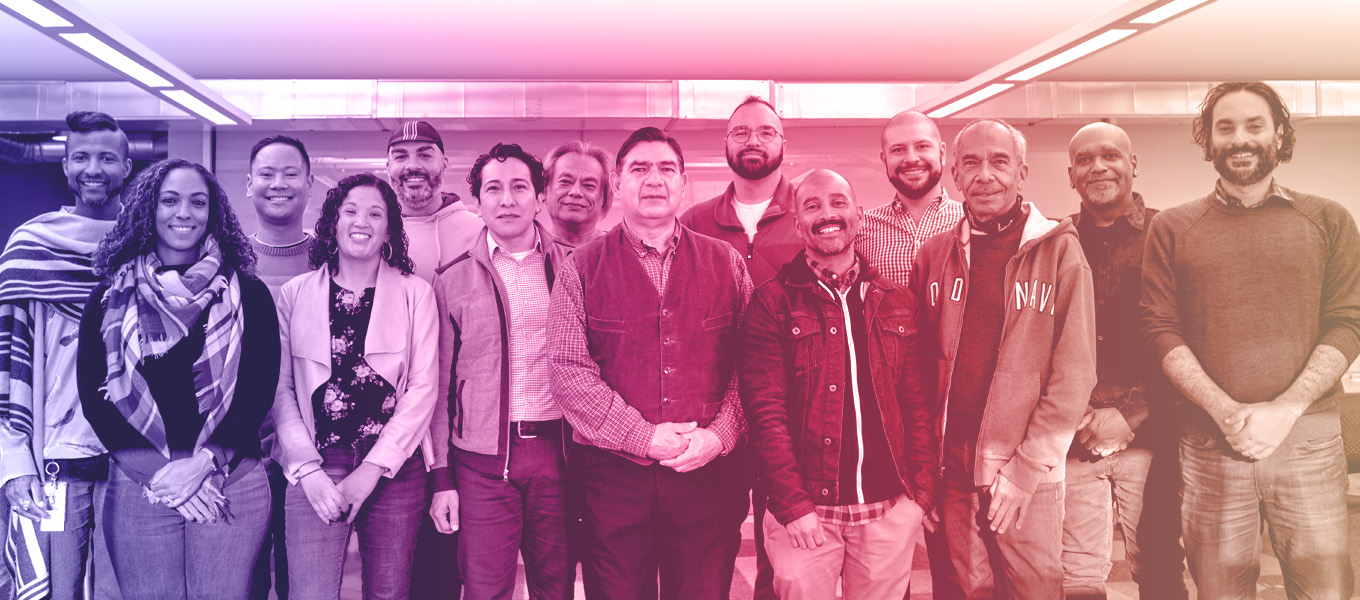 Last month, we shared a perspective from our CEO, Dr. Tyler TerMeer, on what's to come in 2023 for the work of San Francisco AIDS Foundation. This month, we turned to leaders across our organization, who shared what they're looking forward to in the new year, and their hopes for SFAF's work in race equity, harm reduction, HIV, sexual health, and more.  
"Every single day in 2022 was hard. Amassing the resilience to keep persisting and showing up with care, courage in the face of neverending pivots, and rigorous collaboration was a daily act of love for our communities," said Lara Honey-Brooks, chief program officer. "I'm really proud of what we accomplished because we did it together. In the year ahead, I am excited about authentically deepening the work with community partners and keeping muscles strong to activate in a crisis."
"It's very exciting to actually have a moment between crises," said Jorge Roman, RN, MSN, FNP-BC, AAHIVS, senior director of clinical services. "In the past year, we've confronted supply and inventory shortages because of Covid, and have had to change our lab procedures to deal with things like not having enough tubes available at the clinic. In the spring and summer, we were deep in the mpox response. It's really nice to have a moment of calm where we can reflect on how we're doing the work and focus on improving the things we've recently implemented." 
Roman shared that the clinic recently began prescribing doxycycline for STI prevention ("doxy PEP"), and an injectable PrEP option. In addition to getting the word out about these new options and increasing their availability through our clinic, he said he's also looking forward to partnering with community organizations to build up capacity in new communities. 
"Through some of our work with our Black and Latinx Health Teams, it's exciting to extend the reach of our clinical work in Black and Latinx communities by partnering with trusted organizations like Rafiki Coalition and Instituto Familiar de la Raza," said Roman.    
Taylor Quentin, a health educator with our contingency management services, also highlighted efforts to improve referrals across programs and services. 
"New this year, I'm able to be part of our community engagement programs including Black Brothers Esteem and TransLife," said Quentin. "If folks have questions or want to talk about substance use, I'm there to talk about concerns, and also give people information about how to get involved in our counseling and support services." 
Jorge Zepeda, who is the director of Latinx health, said his team is focusing on the intersecting issues of sexual health, substance use, overdose prevention, and hepatitis C in the coming year, integrating the work of teams across the agency to expand services to Spanish-speaking communities. 
Leaning on their success in bringing Covid-19 information and resources to Spanish-speaking communities during the height of the pandemic, the team will continue to do outreach in neighborhoods and places that may be underserved by traditional healthcare facilities. 
"What we learned during Covid is that some Latinx people live in spaces where they're more at risk of being isolated from services," said Zepeda. "It's a priority for us to establish connection to individuals living outside or in SROs in key neighborhoods, and train community members to do outreach at places where Spanish-speaking people go. One example of this work was establishing an outreach presence at a flea market in the Mission. We provided Covid vaccines and testing. The important thing is being able to go where people already are." 
Bringing overdose prevention information, hepatitis C testing and treatment, HIV and PrEP resources, and harm reduction information is a priority. 
"San Franciscans now have access to injectable PrEP and also injectable treatment for HIV," said Zepeda. "We have hepatitis C treatment that is very effective and also comes with far fewer side effects than the interferon treatments from 15 years ago. We have Narcan for overdose reversals. These are things that everyone–including Spanish-speaking communities–should be aware of. We can say, 'Hey, have you talked to your doctor about these things?' We can at least start the conversation." 
Claudia Figallo and Anibal Mejia, with the Stonewall Project, also highlighted their ongoing work to reach and engage Spanish-speaking people in the counseling and support services offered at Stonewall. 
"We've created spaces for Spanish-speakers who use drugs, and have had services available in Spanish for many years," said Figallo. "Now, we're working on refining and improving those services, and making sure we get the word out there to other agencies who work with Spanish-speaking communities." 
Mejia, who is in a new role of client services manager, said he is looking forward to improving the registration process for new Stonewall clients, particularly people who are monolingual Spanish-speakers, Black folks and other people of color, and those who identify as trans or non-binary.   
Camilla Bolland, director of Harm Reduction Services, said she is exceptionally proud of the Pick Up Crew team, who show up every day to improve syringe disposal in San Francisco, and also distribute Narcan and reverse overdoses that happen on the streets where they work. 
"We have such a remarkable team of driven and caring individuals," she said. "They distribute so much Narcan, directly to people who need it. And they do Narcan trainings in the middle of the chaos on the street. They do it frequently, and they do it well. They also reverse overdoses, and they bring so much resiliency to their work." 
Joseph McCarter, a shift supervisor with the Pick Up Crew, shared his experience working with the team to distribute Narcan and reverse overdoses when needed. 
"It can get hectic," he said. "We're not just out there looking for needles. We're also checking on folks we see slumped over and not moving. We're trying to talk to them, asking them if they need something, and if needed we can respond. It's stressful, but it's also important work. We know that we've saved lives." 
Preston Vargas, PhD, senior director of community engagement and partnerships, highlighted the planned return of a revamped clinical assistant training program operating out of our health center at Strut and our main office. The program, which will prioritize BIPOC and TGNC+ folks, will provide training in administering clinical services such as HIV testing out of our health clinic Magnet. In collaboration with our community engagement programs including Black Brothers Esteem, TransLife, and Apoyo Latino, the program will also give real-world experience and training in community engagement facilitation skills such as motivational interviewing and event organization. 
"We're really looking forward to building up a community health workforce through this program," said Vargas. "And, it's paid, which I love. Not only are you offering training, but you're compensating people for their valuable time and contributions." 
Ben Cabangun, vice president of the new division "People & Culture" said he is most excited about the intentional investments in learning and development for SFAF staff, and how closely this is tied to the equity and health justice work of our entire agency. 
"With new staff including a director of people and culture, a new director of equity & health justice, and our learning and development team, we're equipped to really understand the needs of our employees, our emerging leaders, and design pathways for people to succeed in their careers," said Cabangun. "Another thing I'm particularly excited to launch is an equity and health justice committee, which will be part of decision-making policy design for the organization. We want to get to the place where once a policy is institutionalized, it's gone through an entire decision-making process that encompasses that equity lens."