Am I drinking too much? Partying too hard?
Two of our counselors with the Stonewall Project shared their thoughts about when the "right time" might be to talk to someone if you're questioning your use of drugs or alcohol.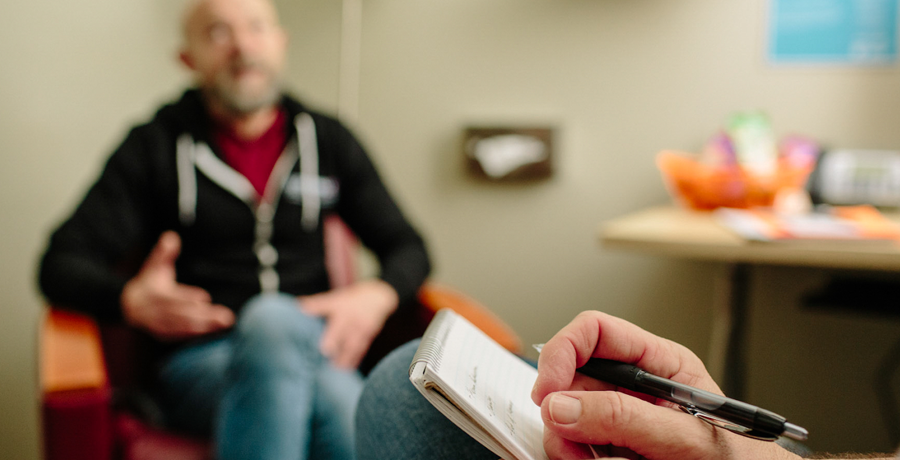 Maybe it was after you got into a particularly bad fight with your partner while you were high. Or waking up and realizing you blacked out the previous night and can't remember how you got home. Or realizing–again–that you did things the night before that you're now regretting. 
Whatever the reason, many people get to a point when they wonder, "Is now the right time to talk to someone about drugs and alcohol?" Or, "How do I know when it's all 'too much,' and time to make a change?"
Sharleen Phillips, AMFT and Aaron Martin, MS, AMFT, both counselors with the Stonewall Project at San Francisco AIDS Foundation, shared their thoughts about when the "right time" might be to talk to someone if you're questioning your use of drugs or alcohol. Spoiler alert: The "right time" is up to you–and it's never too early or too late to explore your relationship to substances, they say. 
"We see a lot of people who are in this gray area with their relationship to substances," said Martin. "They come in to talk about their drinking, but they're not even sure if counseling is right for them. There may be some ambivalence, but there also might be a strong desire to take action. So part of what we do is validate both parts of their experience. Just asking the question about if your substance use is problematic can be a powerful first step." 
"It's always a good time to seek counseling or get some support for your substance use," said Phillips. "I think oftentimes, we think we have to have a big problem–capital P–before we reach out for help. But it's really helpful to reach out for support before you get to that point.
"It's helpful to be aware of how you're currently using–your patterns and habits. And then to notice if things are changing. Maybe you're using more than you used to, you're using more frequently, or you're noticing more negative consequences to your use. Are you hung over at work? Or is your substance use challenging your relationships? Those are some signs that you might want to look at what's working or not working with your substance use," said Phillips. 
Martin said it's important to acknowledge that a big part of queer culture can be focused on substance use, drinking, and partying. But just because you've had some bad experiences with drugs and alcohol, and are thinking about making changes, doesn't mean you have to identify as an "alcoholic," an "addict," or must sign on to abstinence as a way to make improvements. 
"We don't require any type of behavior change from people," said Martin. I think many people have already tried 12-step programs, and have decided it's not for them. But there are many ways to make a change, even if you want to continue drinking or using. We make it easy to come in, and get a taste of what therapy is like." 
"Stonewall is a harm reduction program, which means that we don't tell folks what they should be doing or what steps they need to be taking," said Phillips. "We work with folks to find the best path forward for them. I tend to work with people to identify which substance or substances are causing the greatest harm or most problems, and that's where we start." 
The Stonewall Project Counseling Services
The Stonewall Project is a state-certified drug and alcohol treatment program providing harm reduction-based counseling that integrates substance use, mental health and HIV prevention and education. Everyone's goals are welcome and can range from complete abstinence to controlled or safer use based on a desire to improve health, relationships or functioning in the world.
During COVID-19, Stonewall counseling services are available virtually. To join a group or speak with a counselor, see the Drop In Schedule, call the main line at 415-487-3100, or email stonewall@sfaf.org.