A note about our controversial posters
We stand in opposition to the new San Francisco city policies to arrest, detain, and force substance use treatment upon people who drugs--and our posters reflect this stance.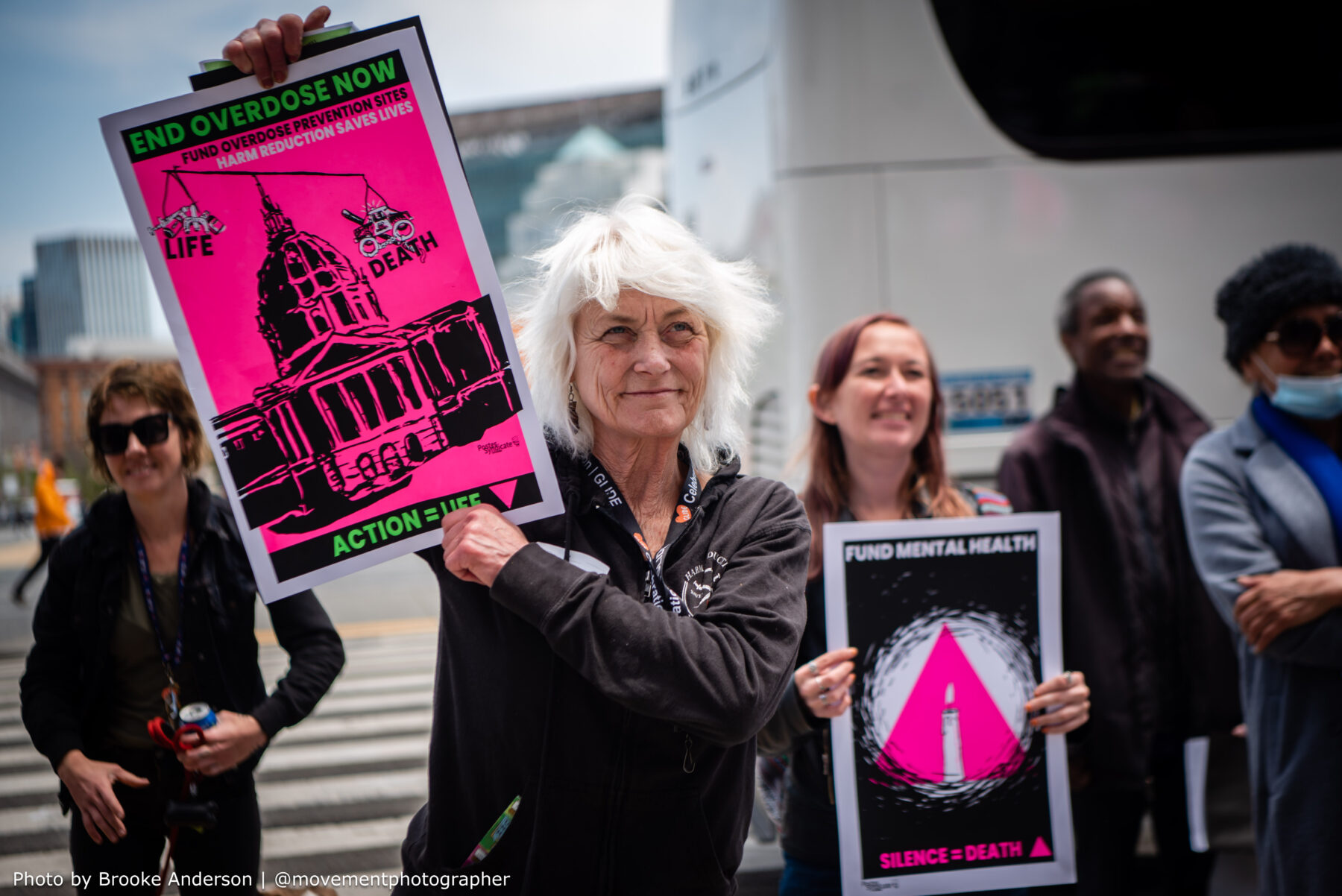 Recently, you may have seen some commentary in the media about Supervisor Dorsey's objections to advocacy posters we created for a recent march and rally at City Hall–which you can see in the image above. San Francisco City Hall appears as the fulcrum, balancing harm reduction supplies (labeled "life") against imagery symbolic of criminalization (police car, handcuffs, baton, "death"). 
We're happy the posters created for a one-time activism event did their job–to mobilize and bring together our supporters, provoke a bit of healthy controversy, and continue conversations about the overdose crisis–and we also want to be sure our supporters have the facts about our position on criminalization of people who use drugs and our stance on the creation of these materials. 
SFAF's work is guided first and foremost by our values and by the communities we serve. One of those values is justice: We strive for diversity, equity, and inclusion of communities most impacted by HIV in our programs and across all levels of the organization. We are committed to recognizing, interrupting, and addressing oppression. 
We stand 100% in opposition to the new San Francisco city policies to arrest, detain, and force substance use treatment upon people publicly using drugs. In the last week, nearly 60 people–the majority who are Black, Indigenous, and people of color–were arrested under health and safety codes related to public intoxication, drug possession, and drug paraphernalia, and the San Francisco Chronicle reports that not a single person accepted substance use treatment upon release. 
Forcing substance use treatment upon people through carceral measures simply does not work (decades of public health research supports this statement) and can cause incredible harm to those arrested. Not only are people who are arrested far more likely to overdose upon release from jail, new research shows that drug arrests actually increase overdose rates in areas surrounding drug arrests for up to three weeks afterwards. Thus, criminalization = death, which is symbolized in the posters we created. 
San Francisco AIDS Foundation has a long history of activism to end HIV criminalization–knowing that, in addition to violating our human rights, criminalization hinders public health efforts to prevent HIV infection, promote testing, and connect people to care. We apply this same logic and evidence to the current situation: criminalization of drug use only serves to drive drug use underground and separate people who use drugs from valuable public health, harm reduction, and overdose prevention services. 
There are many evidence-based measures the city could take to improve the situation on our streets, prevent street level crime, and at the same time prevent fatal overdose and help people who use drugs, which are outlined in a plan developed by the city in 2022. Arresting and forcing drug treatment on our most vulnerable residents should not–cannot–be part of this plan. 
Finally, we challenge the assumption that San Francisco AIDS Foundation is unwilling to forge productive and respectful relationships with the San Francisco Police Department in service of our communities. In fact, the opposite is true: for years, we have maintained productive and fruitful relationships with SFPD and the Police Commission. This history of collaboration goes back decades, as SFPD were integral to the success of early harm reduction efforts to curb the transmission of HIV by injection drug use. 
It is unfortunate that the meaning and intent of these posters have been misinterpreted, but we stand firm in our statement that criminalization of people who use drugs only causes harm, and we stand behind our activism on this issue. 
You can read more about our position on criminalizing people who use drugs here.