San Francisco AIDS Foundation applauds new blood donation policy recommended by FDA
The finalized recommendations no longer defer people from donating blood based on sexual orientation, sex, or gender.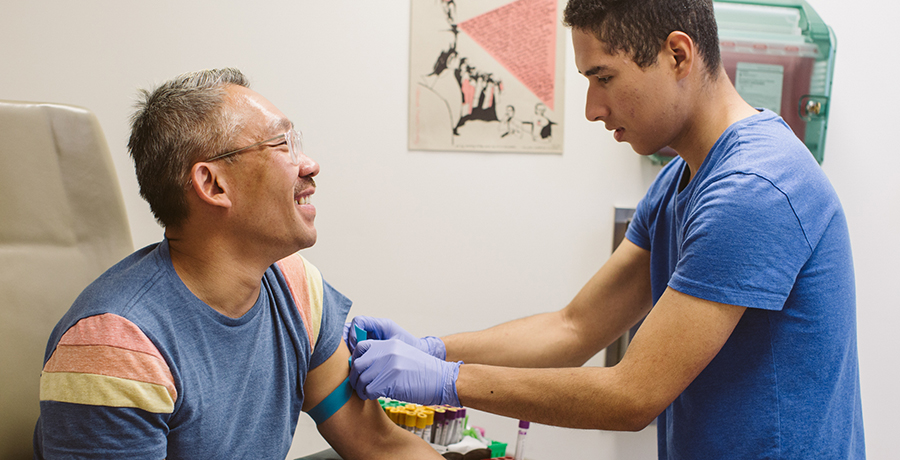 Contact: media@sfaf.org
SAN FRANCISCO, May 12, 2023–San Francisco AIDS Foundation applauds the U.S. Food and Drug Administration for finalizing blood donation eligibility recommendations that no longer rely on discriminatory practices of exclusion based on a person's sexual orientation, sex, or gender. Individual "risk-based questions" will assess a person's risk of transfusion-transmitted HIV, and will be the same for every potential donor. 
"Under these new guidelines, gay and bisexual men and other men who have sex with men will no longer automatically be prevented from donating blood for a certain amount of time after their last sexual encounter," said Tyler TerMeer, PhD, CEO of San Francisco. "While universal bans on blood donation for people who may have been at higher risk for HIV may have made sense in the very early years of the HIV epidemic, these changes to blood donation rules are long overdue. We are glad to see an end to stigmatizing and discriminatory practices, and a move toward science-based policies." 
"Activists and members of the LGBTQ+ and HIV communities advocated for these changes for many years, and we are glad this era of discrimination based on sexual orientation has come to an end," said Ernest Hopkins, senior strategist and advisor at SFAF. "We are gratified by FDA leadership's review of the significant public comments in light of current science and practice, to our community that mobilized and advocated for this outcome, and look forward to continued evaluation by the FDA of donor eligibility of people taking PrEP."
Under the new guidelines, prospective donors who report having a new sexual partner, or more than one sexual partner in the past three months and anal sex in the past three months would be deferred from blood donation. People taking PrEP and people living with HIV who are taking antiretroviral therapy will also be deferred. (The FDA notes that people should not stop taking PrEP medication in order to donate blood.) Read more about the finalized guidelines. 
# # #